To improve the accessibility of our content, please find the audio version of this blog post.
ST is making digital power supplies vastly more accessible thanks to a new ecosystem developed in partnership with Biricha, a Canadian company and member of the ST Partner Program. The unique ecosystem assists engineers in designing a digital power supply, regardless of their experience level. Beginners can start with a Discovery kit, the B-G474E-DPOW1. At the same time, engineers with more experience can attend workshops from Biricha that use specific software such as the ST-WDS and ST-PLD, as well as a dedicated development board created by our partner. Finally, experts can rely on ST's power supply units and power factor correction loops to start working on their design. Today's announcement is thus highly symbolic because it brings years of work and collaboration together to ensure that teams have an ecosystem that's much greater than the sum of its parts.
It is very easy to underestimate the importance of an ecosystem. Using digital control techniques, instead of purely analog components, is increasingly popular in switched-mode power supplies, thanks to the inherent gains in robustness and flexibility. However, there are still many traps that can delay a product or cause severe headaches. For instance, too many always rely on PID (Proportional + Integral + Derivative) controllers because they are easy to use, even if they offer worse results than Type II or Type III compensators, as Biricha explains in a white paper. Hence, obtaining the right expertise in hardware, software, or control theory is challenging and requires a lot of experience. As a result, having demonstration boards and support from ST as well as documentation, software, and workshops from Biricha enable teams to acquire the knowledge and experience, and that would elude them if they were stuck with datasheets only.
ST and Biricha: D-Power Board, ST-WDS and Documentation For Beginners to Advanced Users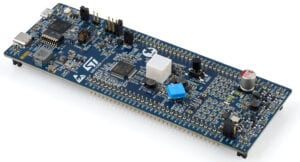 The B-G474E-DPOW1, a member of our D-Power product line, is an ST board loaded with a demo application that can control four LEDs or turn the platform into a buck/boost converter. Biricha is also working on a "getting started" guide and additional documentation for the D-Power. The company previously released the video below, showing how to design a buck converter with the Discovery kit and ST WDS. Biricha originally wrote WDS to assist engineers in taking its workshop. To streamline specific design considerations, WDS automatically computes coefficients and plots graphs that users can then verify by superimposing loop measurements from Bode 100 Analyzer. The ST WDS is a version of WDS for STM32 MCUs that Biricha offers for free to facilitate developments on our devices.
Today's announcement of our digital power ecosystem is the culmination of years of investment in this rising trend. Indeed, the D-Power board uses an STM32G4 microcontroller, which embarks a high-resolution timer for greater precision in LLC resonant topologies, among other features. This device is one example of our investments in digital power and our desire to make it more accessible. Another is the D-Power board itself. Indeed, Biricha developed its custom PCB for its workshops, and we looked at making it available to the public. However, ST settled on the D-Power Discovery Kit because we wanted to provide a platform that was more accessible to engineers with less experience. Additionally, we also strengthened our partnership with Biricha to ensure that the ST development board would have more documentation and resources. We are also preparing webinars with the Canadian company to help engineers further.
Biricha and ST: A Unique Workshop and Resources During Pandemic Confinement
Another aspect of our ecosystem is the intensive four-day workshops from Biricha. Traditionally, engineers are either familiar with hardware design or software architectures. However, a digital power supply requires substantial experience in both, on top of a solid understanding of control theory. The workshops deal with all three aspects in-depth to build on existing professional expertise. The seminar is also more extensive as it uses ST WDS and ST PLD, Biricha's utility for designing power factor correction stages. The software is very similar to ST WDS, but it doesn't allow users to import measurements from Bode 100 Analyzer. Moreover, although the D-Power Discover Kit could serve as a pedagogical tool to understand PFC, the platform itself doesn't allow the creation of such a stage. Engineers interested will have to go through the workshop as this is a more complex subject matter.
The pandemic forced Biricha to cancel upcoming workshops, and it is impossible to know when things will get back to normal. The company is, however, looking to port certain aspects of its workshop online. Additionally, the new collaboration with ST will lead to the production of new documentation, content, and webinars, which will help engineers work on their designs. We also have a MOOC on the STM32G4 of the D-Power board, and Biricha has an interesting introduction to digital power supplies. Hence, the ST ecosystem for digital power supplies is unique in the industry because of how comprehensive and accessible it is, even amid a worldwide pandemic.