When ST originally launched FD-SOI technology, we followed the normal process-technology playbook and focused on high-volume consumer markets. We knew the technology's intrinsic robustness had broad appeal to the automotive market and needed to move down the cost/volume curve. In delivering FD-SOI chips and building volumes in consumer markets, FD-SOI confirmed its benefits as an ideal technology to address automotive applications. It is better than traditional CMOS technology at geometries below 28nm and is now set to be used widely in automotive products.
High-end computing SoCs started their journey into the automotive market via the Infotainment segment. But now high-end computing SoCs are at the core of Advanced Driver Assistance Systems (ADAS) and Semi-Autonomous Drive systems. High performance, without compromising electrical and thermo-mechanical robustness, long-term reliability, and operational safety is an absolute requirement.
And naturally, the semiconductor processes used must allow cost-effective deployment of such features beyond niche and high-end cars.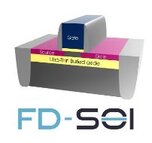 FD-SOI technology is well suited to the needs of ADAS systems. The body bias control it enables is much greater than is possible in CMOS. Body bias makes it possible to modulate the characteristics of the transistors to optimize the speed/power operating point for the particular application while avoiding excessive stress. This feature can be set at electronic wafer sort (EWS) and the product can also be tweaked over its lifetime.
Body bias is used during the design stage to avoid over-design. Traditionally bulk CMOS SOCs were designed to reach specified performance or operating frequency at the slowest process corner. That required using lots of low-threshold transistors that were leaky and made massive use of buffers. With body bias we know that the slowest process corner can be corrected by bias moving those wafers to a standard corner, and we can design to reach specified performance at that point.
That approach enables the design of smaller dice with more stable characteristics. This improves yield and means that product characteristics are less varied in the final systems. In addition to these design/operating benefits, 28nm FD-SOI is 100x as resistant to neutron-induced soft errors (SER) as 40nm CMOS, so it offers big benefits in terms of reliability.
Today ST has SoCs in almost all automotive application segments. Our pillars are microcontrollers for Engine Control and Body as well as for Audio and Infotainment; GNSS positioning processors; radio and baseband for AM/FM/DAB and Satellite Radio. SOCs for ADAS include vision processors, RF radar and baseband processors, as well as for vehicle-to-vehicle (V2V) and vehicle-to-infrastructure communication.
Learn more about FD-SOI technology from the video below
ARVE Error: Mode: lazyload not available (ARVE Pro not active?), switching to normal mode