For the first time, ST will have a Sustainability Technology Zone at a trade show in Asia, making the upcoming electronica China 2023 (July 11 to 13) highly symbolic. Among the many presentations, we will show the ST car, an electric vehicle with multiple domains powered by our solutions, such as the X-in-1 e-powertrain domain controller, 22 kW onboard charger and DC-DC combo, traction inverter, zonal control unit solution, ADAS – front view camera solution, P-BOX, OLED interaction display solution, and more.
It serves as a comprehensive approach to EVs and demonstrates the importance of sourcing devices from one manufacturer to simplify design processes, optimize qualification operations, and shorten the time to market. Furthermore, as the industry wrestles with its environmental impact, the demo proves our commitment to democratizing the technologies that boost sustainability.
The ST Car at electronica China 2023
Improving efficiency
Faithful readers of the ST Blog will remember the '67 by Charge Car, one of the most impressive electric vehicles ever to grace an ST booth at a trade show. Interestingly, we showcased that demo at electronica 2022 in Germany and primarily focused on its battery management system, which included our L9963E. The '67 had a limited run of only 400 units and was priced at nearly half a million US dollars. Conversely, the ST car on display at electronica China 2023 represents a mainstream vehicle developed by our Competence Center. It contains our devices in nearly all major domains, representing an object lesson to new and established OEMs.
For instance, the vehicle on display at electronica China 2023 showcases a 22 kW on-board charger and DC-DC converter combo. The system uses a Stellar E microcontroller, which is fast enough to drive silicon carbide and gallium nitride transistors. Indeed, while the new materials enable us to increase energy density, they require significantly faster switching frequencies. The MCU also supports over-the-air updates to allow for further optimizations during the system's lifecycle, thus further reducing its environmental impact over time. The module also includes the L9396 power supply IC that houses a buck pre-regulator to further minimize the system's overall consumption.
Improving autonomous driving
The EV we're showing at electronica China 2023 also includes entire ST modules, such as our P-Box, which debuted at electronica South China 2022. The model in our EV still runs positioning algorithms on the STA1385 processor and uses two ASM330LHB inertial sensors to support ASIL-B applications. Furthermore, the P-Box uses our STA9100 multi-band GNSS receiver to provide global positioning capabilities. The system is, therefore, a reference design accurate enough to support level 2 and level 3 autonomous driving. Consequently, carmakers can implement complex assisted driving mechanisms and reach highly autonomous driving capabilities.
So many more improvements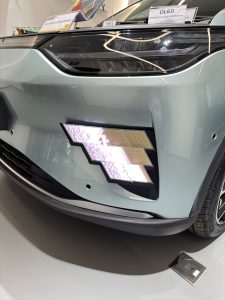 The ST car showcases many other of our technologies, such as our solutions dedicated to advanced driver-assistance systems (ADAS) thanks to a front-facing camera that uses the Journey 3, an SoC by Horizon that houses an ST MCU, PMIC, power supply IC, and more. It thus testifies to the unique opportunities we create when collaborating with our partners. The car also includes other domains powered by ST, such as our OLED drivers for front and rear lighting solutions and our smart gateway. We also have other solutions not present in the ST car, such as our CAN bus protectors. electronica China 2023 thus allows us to start a conversation with attendees to meet their needs.
Overall, the ST car we showcase at our Sustainability Technology Zone at electronica 2023 is one of the best examples of EV democratization currently shaping the industry. By creating this demo, our Competence Center is proving that the building blocks to mainstream EVs are increasingly accessible and affordable. Our numerous partnerships highlight the new trends transforming the market and the importance of being early. It's also our call to invite more attendees to participate in the sustainability revolution.
Other ST demos
DC charger pile: another solution driving sustainability
There are many other demos at our Sustainability Technology Zone, such as a DC-charging pile, which serves as the building block for charging stations. The solution relies on silicon carbide MOSFETs for greater efficiency and the STGAP2SICSA gate driver, which provides galvanic isolation to improve the robustness in harsh environments. Furthermore, the power-factor correction module uses ST high-voltage MDmesh M5 and MDmesh M6 superjunction MOSFETs. Hence, the DC-charging pile is an excellent example of how superjunction and silicon carbide devices co-exist to bring the best of both worlds.
Let's not forget IoT, factory automation, and other industrial applications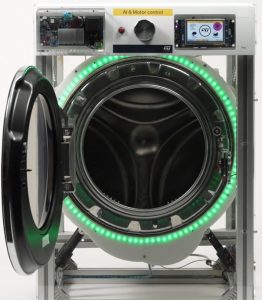 electronica China 2023 will also allow us to talk to the local community about many other demos, such as our traction inverter that utilizes our STPOWER IGBT devices or the washing machine demo we first showcased at this year's STM32 Summit. Some presentations will also revolve around a safer automotive experience, like our driver-monitoring system based on our VD1940 image sensor. Others will showcase our latest motor controllers, like the STSPING4, and our IO-LINK transceivers for factory automation. Put simply, while we are proud of our new Sustainability Technology Zone, we want to reach the local engineers and decision-makers looking for solutions in other key markets, such as IoT or industrial applications.