Smart technologies are spreading worldwide amid heavy market demand and investment by high-tech companies During the 2018 Smart City Summit & Expo, ST organized the Smart Living Forum at the Taipei Nangang Exhibition Center and shared with participants the company's smart-living roadmap and technologies.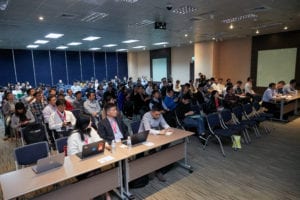 Commenting on smart-living technologies, Product Marketing Manager Terry Yu highlighted that microcontroller technologies have matured but their application continues to expand into smart technologies. Leveraging a powerful and easy-to-use ecosystem and a broad line of devices that cover the full spectrum of ultra-low power and extremely high performance, the STM32 microcontroller family has earned great reputation globally, finding wide application in energy management, lighting control, smart buildings, smart homes, image processing, and many other areas. Yu said that while smart-living technologies have various applications, each requires a different balance of power consumption, size, communications standards, and performance. With 12 series, more than 20 product lines, and over 800 devices provide the industry's most comprehensive selection of products and service.
Automotive electronics will also contribute to smart living and Marketing Manager Patrick Chen spoke to the great opportunities available with the emergence of electric vehicles and driverless cars. Moving from more than 97 million vehicles produced in 2017, analysts from Strategy Analytics estimate that worldwide vehicle production will reach 110 million units by 2023, with average silicon content per vehicle worth US$397. With the quality and performance of its comprehensive product lines recognized by the industry, ST's automotive electronics currently account for roughly a third of total revenue and have a clear direction for future development as Connected Cars, ADAS, digital service, and security are all trends of great importance to vehicle manufacturers.
MEMS—Micro-Electro-Mechanical Systems—are a critical piece of the smart-living future. Technical Marketing Manager Morris Chen said ST has been a pioneer in this technology and its products have earned trust among customers in all segments of the business. ST has sold over 13 billion units of MEMS devices, cumulatively and the technology continues to find innovative new applications in the digital era. So far ST has introduced MEMS-based sensing elements like gyroscopes, accelerometers, pressure sensors, magnetometers, and all are products of excellent quality with 10-year committed availability, in many cases. Commenting on the future of sensors, Chen said that in the past the market's demand for sensor technologies focused on package miniaturization and low power consumption. Now, smart systems require a greater emphasis on algorithm accuracy, so accuracy has become a stronger requirement in the market that Chen bets is most likely to continue into the future.
As for smart living, analysts project that the number of connected devices will surpass 20 billion by 2018. Marketing and Application Director David Lucchetti credited smart technologies with changing people's lives. For example, as the world's population increases and people move to urban environments, smarter cities are beginning to make our lives more convenient by managing traffic, lighting, and deliveries and pickups, as just a few examples. Amid these changes, semiconductors are a key enabler because semiconductors devices continue to improve their performance, levels of smartness, connectivity, and security. With a wide range of semiconductor product lines in the areas of digital, analog, sensors and control, ST, in particular, will continue to develop new technologies and help customers speed up their roadmaps for smart technologies.
As smart living spreads more quickly than ever around the globe, it is also enabling innovations in semiconductors. With its deep background in semiconductors, ST has and will continue to introduce products for all of its focus segments that build on the accumulated professional experiences of its marketing, applications, and design teams, as well as expertise and requirements of its tens of thousands of customers.