Teseo: To improve the accessibility of our content, please find the audio version of this blog post.
What role do GNSS (Global Navigation Satellite System) modules, like the Teseo family of products, play in IoT? This is a fundamental question because, in 2021, ST is going to extend the Teseo-LIV series. The upcoming components will better address low-power applications and multi-band solutions for IoT and Industrial markets. Additionally, a new family of modules, named Teseo-VIC3x, will target the automotive market. Thanks to an embedded dead-reckoning system and on-board sensors, it will offer an entirely new feature-set. It is thus essential to look at the state of the industry and the current solutions the Teseo devices provide engineers as we wait for the new modules to arrive.
This blog post is also critical because the industry raves about sub-gigahertz networks, 5G, and so many other protocols that it becomes vital to help experts understand the place of GNSS within this context. Are there problems that no other category of devices can solve? For this exposition, we will use the Teseo-LIV3 family as an example. The devices are small (9.7 mm x 10.1 mm x 2.5 mm) and support all major-satellite constellations. The Teseo-LIV3F includes 16 megabits of flash for data logging and firmware upgrades. ST is also offering the Teseo-LIV3R, which comes without the flash memory to reduce the bill of materials.
Teseo and Its GNSS Applications
The Engineer's Nightmare
Some engineers face a tough design challenge: offering a precise, compact, and cost-effective tracking system. For instance, when monitoring the geolocation of a fleet of company vehicles, an LPWAN is too imprecise to be useful. Similarly, some asset tracking devices must offer precision and be small enough to fit in tight spaces. This last use case is a special kind of nightmare for designers. Not only must they develop a positioning system, but they must design a custom PCB, create a reliable RF implementation, pass regulatory certifications, and more. The Teseo modules are thus unique because they take care of everything.
An Expansive Ecosystem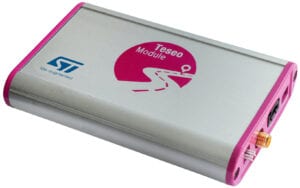 Teams can start working on a Teseo-LIV3x by grabbing an evaluation board, like the EVB-LIV3x or the X-NUCLEO-GNSS1A1. In conjunction with the Teseo software, the platforms enable the rapid creation of a proof of concept. The PC utility can help with data visualization as well as testing scripts. The pre-programmed modules save time by facilitating certification operations. And the function pack FP-SNS-AGNSS1 includes a precompiled binary for the 32L496GDISCOVERY board, so running a demo application that showcases the abilities of the Teseo-LIV3 is as easy as dragging and dropping a file.
We recommend that engineers not begin their application from scratch since the X-CUBE-GNSS1 package includes roughly 80% of the code developers will need to take advantage of the Teseo-LIV3. Similarly, by using our modules, teams benefit from good performances, with a hot time to first fix (TTFF) shorter than two seconds. This benchmark measures how long it takes for the GNSS module to calculate its position after being off for at least one hour. A TTFF of less than two seconds remains one of the best in the industry.
Teseo and Its Timing Applications
Finding an Atomic Clock
Another fundamental challenge that many engineers face revolves around accurate timing. In sensitive applications, like a cellular antenna, precise logging of specific time events is essential. Similarly, some financial applications rely on keeping an exact time. A few microseconds of discrepancies may have tremendous monetary repercussions. In many of these cases, an atomic clock would be ideal, except that it would be overwhelmingly expensive. The next best thing is, therefore, to use an atomic clock without having to build one. It's in such a time as this that a module like the Teseo-LIV3 shines bright.
Using Teseo to Track Time
When a GNSS module calculates its global position, it pings three satellites. By computing the time it takes for each of them to respond, the component determines three different distance radii that intersect at one point: its geographical location. Hence, to compute their latitude and longitude, Teseo modules must accurately track time by communicating with a fourth satellite that relies on an atomic clock. As a result, many engineers use a Teseo-LIV3 component for its timekeeping capabilities. Indeed, thanks to its internal processing, the gap between the time reported by the satellite and the time outputted by the Teseo is only 12 nanoseconds. Additionally, while an atomic clock has a precision of 10-13 seconds, the Teseo-LIV3 has an accuracy of 10-9 seconds at a fraction of the cost.
Using a GNSS module also means being able to track time while safeguarding an application against environmental factors. During earthquakes or extreme conditions, a real-time clock may suffer from a drift that can lead to inaccuracies. A Teseo-LIV3 module is immune since the time comes from an object in space. Moreover, such a solution is so cost-advantageous that engineers often use multiple Teseo devices for redundancy purposes. Application engineers can also rely on sleep modes to keep power consumption down. Designs that prioritize timekeeping don't need the embedded flash since they utilize external memory to record data. As a result, many choose the Teseo-LIV3R since it offers the same performance as the Teseo-LIV3F for less.
You Are Here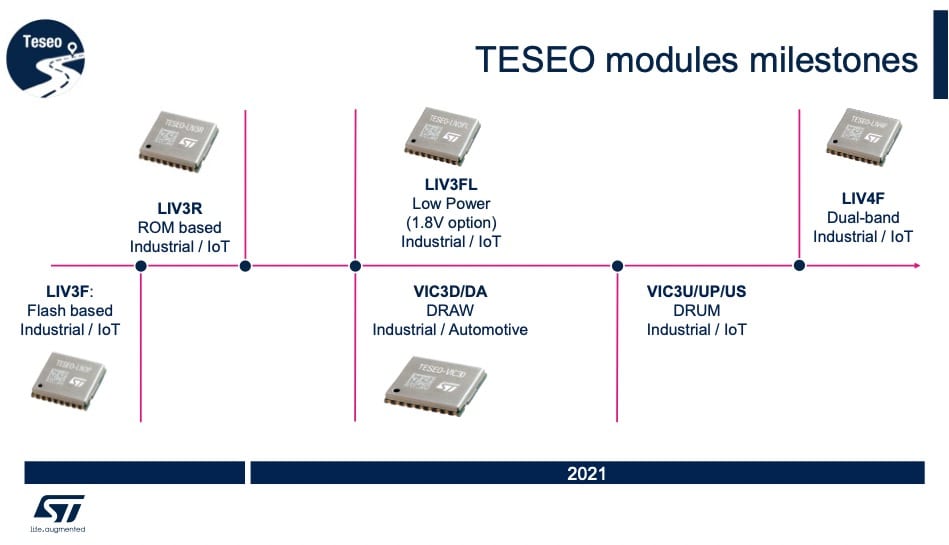 GNSS modules still have numerous applications that benefit from their unique capabilities. It explains why our teams are also working on new Teseo models to solve upcoming problems. Engineers can thus expect modules with greater efficiency (Teseo-LIV3) and accuracy (Teseo-LIV4), even when satellites are hard to reach, thanks, for instance, to sensor fusion technologies in dead-reckoning algorithms (Teseo-VIC3x) in industrial and automotive applications.