Printing any 3D shape from the comfort of one's home is a dream we all share, but it is no longer the stuff of science fiction. 3D printers are becoming more affordable, printing centers are popping up in more communities, and even Microsoft has deemed 3D printing so mainstream that they made it a central part of their next Windows 10 Update, named Creators Edition. When the software editor deploys the new OS in early 2017, consumers will have access to new tools to design in 3D and easily save their creation for 3D printing. Hence, it has never been more relevant or urgent to build 3D printers, and the STEVAL-3DP001V1 reference design is an amazing solution to help enthusiasts and big corporations alike be part of this new era.
The STEVAL-3DP001V1 is so feature-rich that any attempt at exhaustivity in a blog post is futile. The community has praised the presence of a Wi-Fi module and embedded web server that make it easy to print remotely or from a smartphone. The board's ability to drive an external LCD and keypad, its USB and microSD modules, as well as its debugging solutions mean that engineers can quickly and efficiently add features that will make their printers powerful and practical. Furthermore, at about US$ 120 online, the STEVAL-3DP001V1 is a very affordable reference design, enabling more enthusiasts and startups to build their first project. In this blog post, we will focus on three of the many features that help explain the enthusiasm surrounding the STEVAL-3DP001V1 : its MCU, stepper motor drivers and heated bed management.
A Powerful STM32F4 MCU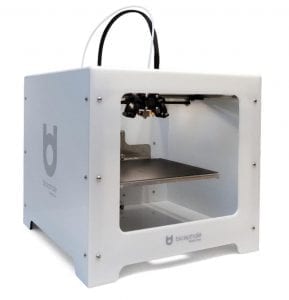 The STEVAL-3DP001V1 includes an STM32F4 microcontroller (MCU), like the one in the SPEEDY Board, which means that users will have access to a powerful system, while keeping cost and power consumption at a minimum. Furthermore, the STM32F4 is so capable that it can power any kind of 3D printer, even Delta models.
For simplicity's sake, we will only mention the two major types of 3D printers : Cartesian and Delta. On Cartesian printers the extruders (the printer's heads) often move along the X and Y axes, while the hot bed on which the structure is printed follows the Z axis by moving up and down. Delta 3D Printers are Cartesian, but their hot bed is immobile, because the extruders are handled by three arms that move along the three axes. Because a Delta printer is faster, users can create more complex designs in a shorter time. However, the geometrical computations needed to drive the system are far more intensive than a traditional Cartesian model, which means that the MCU must be powerful enough to handle it. By choosing the STEVAL-3DP001V1, engineers won't have to worry about it. They'll know it will just work right out of the box.
Powerful Stepper Motor Drivers
We've come across discussions in certain communities in which engineers explain that they have acquired a set of powerful stepper motors, but are on the hunt for compatible stepper motor drivers, often scratching their heads to figure what board will be good enough. The STEVAL-3DP001V1 includes six ST L6474, each providing 2 A to drive everything from NEMA 08 to NEMA 23 stepper motors. This is important, because it means that this board becomes a one-stop solution for all sorts of 3D printers, big and small.
Furthermore, six stepper motor drivers open the door to a wide variety of setups. For instance, one printer could have a stepper motor for the three axes of the Cartesian coordinates plus three extruders, or manage four axes and two extruders to benefit from an even greater freedom of movement while still enjoying a dual extruder system. ST makes it easy to enjoy many extruders because having more than one means the structure will print quicker thanks to the continuity of the flow. Having multiple filaments ready means the printer doesn't need to wait for one to be ready.
Powerful Multi-Zone Hot Bed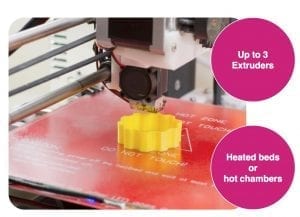 The STEVAL-3DP001V1 can power a heated bed at up to 24 V, which is fundamental for the integrity of the print. Heated beds enable the 3D structure to stick while printed to ensure it doesn't warp or come loose under the force applied by the printer's heads. However, many boards don't provide a high enough voltage. A low temperature will mean that some structures won't be possible and some materials won't be usable. By providing 24 V, ST's board enables the use of 350 W heated beds, which means that users will now be able to use certain polycarbonates that wouldn't work on weaker beds, and they will also be able to print faster.
To top it off, ST's reference design can manage three different zones. One fundamental problem with a lot of heated beds is that the temperature measured at the center is very different from the one in the outer region. For instance, although the center reaches 110 ºC, the edge could be at 90 ºC. This temperature difference is enough to limit the 3D printer to the center of the bed because going further would risk warping or detaching the structure. By offering the ability to control different regions of the heated bed, the STEVAL-3DP001V1 ensures that the entire structure is at the same temperature, which means that a bigger surface of the bed can be actively used to create even more impressive structures.
Powerful Creations
In conclusion, enthusiasts, students and companies who are learning how 3D printers can help them now have access to a powerful reference design that will enable them to build the most complex systems. And to top it off, the STEVAL-3DP001V1 comes with a special firmware, Marlin4ST, which means users can handle 3D print from G-codes and take advantage of the features offered by the reference design right out of the box. On the other hand, startups and corporations have access to ST's resources that will enable them to easily modify the design to fit their needs, saving development resources and reducing time to market.
To learn more about the STEVAL-3DP001V1, please visit ST's website.