With an important design and manufacturing site in Agrate, just outside Milan, Italy, ST has had many productive cooperative activities with the Politecnico di Milano (Milan Polytechnic), one of the city's most prestigious technical institutions of higher learning. Now, ST's Analog, MEMS, and Sensors (AMS) Group is strengthening the longstanding relationship between the school and the company by adding what may be the most exciting new project between the parties. Earlier this year, Politecnico di Milano Rector Ferruccio Resta and AMS President Benedetto Vigna signed a new five-year collaboration agreement that will extend to the Polytechnic the use of highly sophisticated equipment installed in their clean rooms to support a new MEMS Lab.
With this agreement, the Polytechnic will expand and enhance its PoliFab, a center for micro and nanotechnology, to effectively meet the innovation needs of the MEMS (Micro-Electro-Mechanical Systems) sector, which is among today's most promising technologies. The agreement supports plans by the Polytechnic to expand the 400m2 clean rooms by an additional 200m2 by the third quarter of 2019. The agreement also supports the place of an innovative 3D printer by the end of 2018. Using innovative Aerosol Jet® technology, the state-of-the-art printer enables the deposition of various materials, starting with inks in a wide range of viscosities. One of its incredible features: a minimum size that it can print is on the order of 10 microns.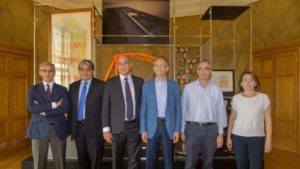 This new collaboration envisages a focus on combining materials science with the use of fully robotized equipment to build new MEMS.
In particular, the research in the new MEMS Lab / clean room will focus on developing lead-free piezoelectric materials with the same performance as those that are used today to manufacture MEMS actuators, such as those for smartphone autofocus and inkjet heads for industrial printers. The European Union requires the elimination of lead by June 2021, and ST will work with Politecnico di Milano to identify appropriate materials without it.
To carry out this and other complex projects, the agreement calls for the Polytechnic to dedicate 4 researchers from the Departments of Electronics, Information, and Bioengineering; Mechanics; Civil and Environmental Engineering; and Physics. The broad-based effort, across these 4 departments is necessary to meet the multi-disciplinary approach that is key to winning the challenge of lead-free piezoelectrics; the multidisciplinary approach is also a strong characteristic and feature of the Milan Polytechnic.
The researchers at the Polytechnic will be joined in the MEMS Lab by 4 Ph.D. students for each year of the agreement's duration. In addition, 4 Ph.D. students will manage the equipment that ST will grant on free loan to the Polytechnic, including the 3D printer.
The Analog, MEMS, and Sensors Process and Technology R&D team, based at ST in Agrate Brianza will coordinate the activities between ST and the Politecnico.