The Applied Power Electronics Community (APEC) event took place from June 14 to 17 and was entirely online. ST joined APEC 2021 as a Diamond Partner and held presentations, demos, Q&A sessions, and more. The goal was to address issues of immediate and long-term interest to currently practicing power electronic engineers.
RAP Session: Distributed vs. Centralized Control for Micro-grid and Nano-grid
One example of the discussions attendees can rewatch if they register with APEC is a RAP session debating the merits and challenges of distributed and centralized control for micro- and nano-grids. Vipin Bothra, Director of Systems Engineering in Industrial Business unit at ST, was one of the panelists. The talk is relevant for today's engineers because, historically, grid optimizations mainly focused on production, distribution, and their combination. However, adding more types of energy resources to the grid creates new challenges. For instance, it increases complexities in payments processing and capacity forecasting, thus hindering optimal utilization. Today's micro-grids can serve as a solution but cannot be fully distributed. Ultimately, the debate around centralized vs. distributed will have an impact on reliability, capacity, security, payment systems, and the environment.
Let us explore some of the other important conversations that took place during APEC 2021 by focusing on two major topics: efficient topologies and Gallium Nitride.
APEC 2021: Efficient Topologies
Paper/Presentation
Voltage Unbalance Investigation in HERIC Inverter and MOSFET Role (Domenico Nardo, Alfio Scuto, Simone Buonomo, Santi Agatino Rizzo)
The paper looks at a popular topology in photovoltaic conversion systems, the Highly Efficient and Reliable Inverter Concept or HERIC. More precisely, our engineers studied the switch-off transient in the HERIC inverter and the importance of the MOSFETs on the active leg as well as their impact on various capacitances. Their conclusions show how engineers can optimize systems to avoid any voltage unbalance between terminals.
Intrinsically Self-Powered, Battery-Free and Sensor-Free Ambient Light Control System (Roberto La Rosa)
Another presentation dove into the STDES-BFTAG01, a battery-free sensor node powered by a solar cell. The board itself is impressive because it houses an STM32L0, a BlueNRG-M2SP Bluetooth LE 5.2 module, and an HTS221 temperature/humidity sensor. The energy-harvesting mechanism is efficient enough to only need an ambient light of 200 lux or more to power all these components. Additionally, the system also acts as an ambient light sensing element. Indeed, as soon as the photovoltaic transducer captures light, it turns on the Bluetooth module that then sends a beacon. As a result, by counting the number of spotlights, a system can determine the light intensity in an area with a battery-free system that does not require maintenance.
Wide Bandgap Technologies: Enabling a Broader Power Application Domain (Edoardo Merli)
When talking about more efficient topologies, it's impossible not to talk about wide bandgap materials, such as Silicon Carbide (SiC) and Gallium Nitride (GaN). For instance, Silicon Carbide devices are transforming traction inverters and electric car chargers, among other things. To better help attendees migrate to such technologies, Edoardo Merli, Power Transistor Macro-Division General Manager and Group Vice President of ST's Automotive and Discrete Group, held a keynote that showed what problems wide bandgap devices solve and how engineers can use them today. Improving the performance-per-watt ratio of a design remains one of the toughest challenges for engineers. Knowing when and how to adopt SiC, for instance, can lead to smaller, lighter, and more efficient power electronics with a lower total cost of ownership solutions.
Demos
STBuck
APEC allowed ST to showcase other efficient and dense topologies. For instance, we demoed the STBuck, a 48 V to 12 V converter targeting data centers. Indeed, thanks to the STPRDC02 full-bridge MOSFET driver and the PM6779 digital loop controller, engineers can create a more efficient power stage.
Mixed Signal Microcontroller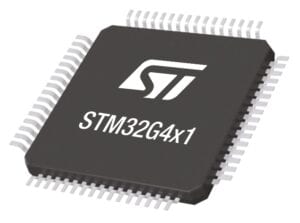 The conference also gave ST a chance to demo the STM32G4 in a digital power converter. Thanks to its high-resolution timers, this mixed-signal MCU can drive highly precise power supplies. Additionally, the presentation also focused on Biricha, a member of the ST Partner Program that offers tools, documentation, and other services to assist engineers working on their power supplies.
APEC 2021: GaN
Presentations
High Voltage Integrated Smart GaN Boosting Consumer Applications (Francesco Gennaro, Francesco Ferrazza)
ST held a presentation showing how to use Gallium Nitride power devices in real-world applications. The presentation demonstrated how to work with an integrated 600 V GaN device and how it can make a difference. The system-in-package includes gate drivers and E-mode GaN transistors, reminding us of our MASTERGAN series. The paper itself focuses on consumer applications. As a result, one of the schematics shows how to implement ST's solution in an active clamp flyback converter.
Integrated Smart System for GaN-Based Class D Amplifiers for Low Voltage Automotive Applications (Francesco Gennaro, Filippo Scrimizzi, Giuseppe Longo)
Researchers gave another presentations on the benefits of GaN, but with a focus on automotive applications. In a nutshell, ST explored high-power low-voltage applications in cars, such as Class D amplifiers or wireless chargers. The paper explains, among other things, the necessity of keeping the high frequency-related effects under control to benefit from GaN's inherent electrical properties. Similarly, the gate drivers and GaN transistors ought to be as close as possible to reduce parasitic inductances. The presentation thus offered practical guidelines that will help engineers design their power stage.
Demos
MASTERGAN
ST showcased two demos featuring MASTERGAN devices. For instance, we had a demo with a MASTERGAN1, an L6699 high-voltage resonant controller, and an SRK2001 adaptive synchronous rectification controller in a 250 W LLC high-voltage DC converter. The demonstration showed how Gallium Nitride enabled engineers to increase the power density immensely. Similarly, we had a demo with a MASTERGAN4 and a current mode LED controller (HVLED002) in a high-voltage buck converter. Finally, we had a presentation featuring a VIPerGaN45 in a compact switch-mode power supply and an integrated solution in the form of an STi2GaN power device. Hence, attendees got to see the many ways Gallium Nitride is already changing the industry.