ST held its Developers Conference on October 4 in Santa Clara, California. In anticipation of this event, we published a series of blog posts to preview some of the sessions' topics and introduce the engineers, managers or experts that made this day special.
Reading this blog, one can easily see that ST is famous for its microcontrollers, MEMS, or power chips, among many other things. However, what makes these products special are the tools developed alongside these amazing components to make them more powerful and easier to use. Nowhere will this be more tangible and evident than in the sessions led by Roberto Sannino at the Developers Conference as he will cover topics such as SensorTile, BlueCoin, Bluetooth Low Energy audio streaming, and beamforming.
Roberto is the R&D manager of the Audio and Sensor Platforms Lab in Agrate, Milan in Italy. A musician at heart (giving him a guitar could transform your Developers Conference into a memorable experience), he leads a team that focuses on audio solutions, such as system-level architectures, algorithms or software. As his group realized the growing importance of audio in IoT a few years ago, he started working on groundbreaking solutions.
Engineering a Smart Speaker Is Now Easy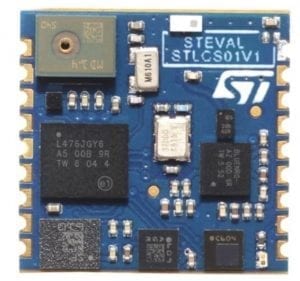 For instance, Roberto has led the front in the creation of technologies for the ST microphone array found in BlueCoin, a development system built on a STM32F4. Because ST makes the hardware, his team of researchers was able to optimize  solutions for one of the smallest microphone arrays in the industry to create features like ASR-optimized beamforming (Automatic Speech Recognition), a technology that filters ambient noise to focus on a sound coming from a specific direction, like the voice of a person. The solution can then immediately send the audio capture to the cloud for processing using a speech recognition engine. Hence, it has never been simpler to add speech to text to a piece of software or develop an always-on device that activates when the user says a specific catchphrase.
Roberto's talk entitled Smart Home & building: voice remote controls, source localization, beamforming ASR will guide attendees through the principles behind products like smart speakers.
He will show how ST's audio libraries take care of the most complex tasks, starting from PDM to PCM conversion, required to directly connect MCU to digital MEMS microphones, to the most advanced algorithms already optimized to match the microphones' sensitivities. He will also show how algorithms are already in place to match the microphones' sensitivities. Attendees will not only be able to understand these solutions, but download them, play with them, and use them as they follow Roberto's talk. They will leave knowing how to combine these tools to quickly and efficiently design their smart home devices or wearable.
Endless Number of Applications
He will give another presentation on streaming high-quality music and voice over Bluetooth Low Energy (BLE). Today, engineers wishing to implement these features must use legacy systems, as the BLE standard was not designed for such application. His team worked on solutions that solve this problem by enabling the use of modern ST technologies that ensure high-quality streaming while keeping power consumption and costs low.
He will also delve into SensorTile, another development platform in the shape of a 13.5 mm x 13.5 mm board packed with sensors that offer powerful features to make IoT devices smarter. Attendees will learn how they can immediately connect a SensorTile or BlueCoin to an iOS or Android device and use ST's libraries to develop applications in a record time. There are even example programs in C to jump-start the development process and Roberto will offer concrete demos, like the creation of a voice-controlled TV remote that requires only a few components like ST's microphone and the BlueNRG-1 network processor.
To Be Ready
The presentations will be high-level enough to make them accessible. However, those who wish to prepare to make the most out of them can enjoy the following videos where Roberto presents some of the key concepts that will shape his talks:
From Sensors 2016 show – SensorTile, 10 degrees of freedom

From Sensors 2016 show – BlueCoin, audio processing and BLE

BlueVoice voice streaming over Bluetooth low energy
It would also be useful to visit the web page dedicated to Open.Audio, which catalogs the major audio technologies that rely on ST's MEMS and MCU. Finally, we highly recommend the paper entitled BlueVoice: Voice communications over Bluetooth Low Energy in the Internet of Things scenario, co-authored by Roberto, and published in Computer Communications.
Roberto Sannino is currently scheduled to give the following presentations :
SensorTile: IoT Design Lab on the Tip of a Pencil
Solutions for playing high-quality music and voice over BLE
Smart Home & building: voice remote controls, source localization, beamforming ASR
You can learn more about the other sessions, get the agenda, or register by visiting the website for the ST Developers Conference.