Embedded World 2017 is closing its doors today, and it has been a great opportunity to show in a very practical way, the many products and technologies we cover on this blog. It has also been a wonderful time to meet the engineers, enthusiasts, and partners that take what we build and create something a lot bigger than the sum of its parts.
S2-LP Transceiver in Action
One of the fascinating demos at the ST booth explained what it took to implement a smart parking solution. Using the Sigfox network, and a ST platform, a system could detect if a car was occupying a parking space or not, and send that information to an application receiving and displaying updates in real time using a cloud service.
This was all made possible thanks to a system relying on the S2-LP transceiver we've previously covered on the blog. Compatible with a breadth of sub-gigahertz standards, it has the amazing property of only drawing 6.7 mA in receiving mode, and 10 mA when transmitting in 10 dBm, thanks to its integrated power management unit. The demo also showed how infrastructure designed to last a very long time with little maintenance, such as a parking lot, could rely on such a component.
Driving Automotive Security
Embedded World 2017 was also an opportunity to show how ST continues to work on all the different aspects of the automobile of tomorrow. We have already discussed the technologies around "smart driving", and the platforms for making vehicles safer and more autonomous. ST has also focused its efforts on security, and the launch of its Telemaco3 line of products was accompanied by an initiative to facilitate over-the-air updates, to keep systems protected and patched.
ST now also showcases the SPC58. Destined to be one of the main MCUs in a car, it integrates on the same silicon die a HSM (Hardware Security Module) that can act as the secure element of the platform to store keys, and protect them from hackers. It also contains a crypto-core to optimize encryption and decryption operations.
Embedded World 2017 : It's All About You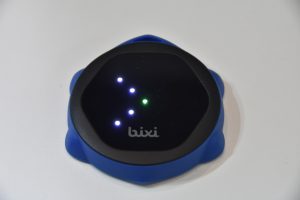 This conference was also a time to let our partners show to the world what they have been able to make, thanks to different ST products, and the tools at their disposal. For instance, we got to see a very impressive 3D printer from GH Enterprise using their SPEEDY Board that we love so much on this blog. They've also been using the STSPIN, the world's smallest single chip motor driver, and ST's Wi-Fi module, to create a special 3D printer, designed for the aerospace industry, which is capable of printing upside down in zero-gravity environments.
Another mind blowing device relying on ST components was Bixi, a touch-free sensor that detects hand gestures and translates them to control a phone, so drivers keep their eyes on the road. It was recently launched on Kickstarter, and received almost five times its funding goal. It has also won many awards, because its smart use of a Time of Flight sensor, like the VL53L0X, allows it to completely change the way users interact with their device.
Community
Finally, this year's Embedded World was particularly special, because ST had a Fan Zone celebrating its new community found at https://community.st.com. It provided a space to honor its recent launch, the first 5,000 members that joined in the first 24 hours, and the 40,000 members that are now making it an amazing place to get answers, and collaborate. Students, teachers, engineers, ST employees, and enthusiasts with a drive to build and create, have already made this community truly special.
ST took this opportunity to present new features designed to make it even stronger, like the University, a place where educational establishments will post courses, exchange content, and allow students, and their mentors, to come together in an innovative approach to teaching and learning. The Community has also got an Activity feature that enables members to better advertise projects using ST products, to allow them to gain better visibility, and a new "Partner" area offers companies working with ST a dedicated space where the whole community can learn what they are doing, and how.
To learn more about all the ST technologies showcased, please visit the Embedded World 2017 playlist on ST's YouTube page.