ST recently released the FDA903Q single-channel class-D audio amplifier for automotive, thus completing the FDA903 series, which already included the FDA903D and FDA903U. The FDA903 series is very similar to the FDA803 as they both target identical automotive applications. The former has a current sensing feature destined for higher-end vehicles. Hence, while many car manufacturers already use the FDA803, the FDA903 can help bring more functionalities to customers. Furthermore, to ensure our products are easier to use, the FDA803 and FDA903 are pin-to-pin compatible. Both series have D, Q, and U models with PowerSSO 36 pad down, VFQFN 48, and PowerSSO 36 pad up packages, respectively.
Class-D audio amplifiers have been thriving in cars for years, which explains why we qualified ours for such applications. However, electric vehicles recently created new use cases and an even bigger reliance on these devices. Firstly, class-D audio amplifiers meet EVs' objectives of efficiency, flexibility, and reliability. Secondly, audio amplifiers make electric cars safer. Indeed, electric motors are largely silent, which may be fantastic for drivers' comfort but lethal for pedestrians or other drivers who won't hear the car approaching. The industry thus created the acoustic vehicle alerting system (AVAS), which simulates engine noise to alert others on the road. Let us, then, explore how the FDA803 and FDA903 solve these issues.
Why Class-D Audio Amplifiers and Where Can We Find Them?
Reason 1: 90% Efficiency
In its most basic form, an audio amplifier takes an input signal, processes it, and then converts it to an analog signal before sending it to speakers. The challenge is to ensure that the output is faithful to the input and that the amplification is energy efficient. The last consideration is particularly important in EVs that must save energy to increase range. There must thus be as few distortions as possible, and devices must use as little power as possible. Class-D devices stand out because they have the best electrical efficiency of all other classes at more than 90%. The amplifiers typically use pulse-width modulation or a sigma-delta modulation to generate the output signal.
Reason 2: Flexibility in Smaller Designs
There are a lot of applications that use class-D audio amplifiers. Small speakers in cars and consumer products tend to prioritize these devices due to their efficiency. Hence, TVs, computers, and many other types of small or battery-powered speakers use them. The device's tiny packages also help shrink designs so they can even fit in hearing aids. The FDA903Q only measures 7 mm x 7 mm x 1 mm. Class-D devices also have a low operating voltage compared to other classes. Additionally, the fact that they are efficient means they generate less heat, enabling makers to create smaller entertainment systems, a boon for carmakers always looking to save space to improve range or fuel economy.
What Do the FDA903 and FDA803 Series Have in Common?
Reason 3: Versatility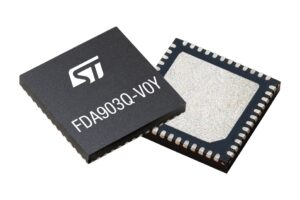 Both FDA803 and FDA903 are AEC-Q100 fit numerous automotive use cases to help carmakers use them in multiple designs. For instance, they include a 108 dB digital-to-analog converter to power speakers inside and outside the vehicle. They also support a wide voltage range (between 3.3 V and 18 V). Engineers can thus power them from the car battery, an external step-down converter, or a small battery cell. Hence, the ST amplifiers can still output alerts or chimes to inform drivers, even after the car battery dies. The two FDAs also offer diagnostic capabilities to increase their robustness and flexibility. For instance, the system can detect a speaker short-circuit or protect the amplifier from overheating.
Reason 4: Performance
Both series can target high-end audio systems as they both accept up to 192 kHz sampling frequencies. Our engineers also included a "feedback after filter" to improve the signal-to-noise ratio, enable a flat frequency response, and low output distortion. In a typical class-D device, the input signal will first pass through the modulator, as we already mentioned, then to the output stage. After that, the signal goes through a low-pass filter to clean it up before sending it to the speaker. By adding feedback after that last filter, the amplifier can take some measurements on the speaker to account for aging components or optimize the sound curve.
Why Current Sensing on the FDA903 Matters?
Monitoring Speakers
The one feature that differentiates the FDA903 is its current sensing capability. In a nutshell, the device can monitor the current going to the speaker. It's a feature that customers were requesting because it gives them the ability to optimize the analog signal sent to the speaker. Engineers don't have to build an external sensing circuit, thus simplifying and shrinking their design. The FDA903 can also detect if the speaker is receiving the signal or if there's a problem. Finally, the current sensing system can help adjust equalizers based on the speaker's behavior. Hence, developers can improve sound quality with a more dynamic approach instead of using fixed speaker parameters.
Reason 5: The Safety Benefits of Current Sensing
Current sensing is, in part, an answer to the latest challenges posed by electric vehicles. For AVAS to be pertinent, it must be reliable and efficient. In a nutshell, the sound must be loud enough to alert pedestrians, despite ambient noises. The system must also be reliable. Drivers can't take their cars and be unaware that their outside speakers don't work, leading to catastrophic consequences. By offering current sensing, on top of the diagnostic matrix, the FDA903 can ensure a new level of safety and reliability. Additionally, its high power capability and optimization features enable it to be loud enough for outside speakers while remaining energy efficient.
Getting Started
The best way to start experimenting with the FDA803 and FDA903 series is to grab an evaluation board. The EVAL-FDA903Q helps engineers test both FDA803Q and FDA903Q. As a result, designers can see if their system will benefit from the current sensing capabilities of the latter. The board offers a single audio channel, the ability to configure the device using the I2C bus and send sound using I2S. We are also offering the EVAL-FDA903U for those who wish to test the PowerSSO-36 slug-up package and the EVAL-FDA803D which uses the slug-down version. Hence, with just three boards, engineers can test all configurations and price points to see which will best fit their projects.