Today, the ESIEE Connect Project, located in France, is opening registrations to its accelerator program designed for startups, medium-sized businesses, and spin-offs, all focusing on MEMS, RF, nanotechnology, smart cities, and IoT, among others. Concomitantly, ST is also announcing that ESIEE Connect is now a member of its ST Partner program launched last September at the Developers Conference 2017. It's the first accelerator to join this rank hereby opening the doors of our network and ecosystem to future engineers looking to make a difference. However, companies interested in joining the ESIEE accelerator initiative are advised that there are very few seats available. Each candidate must submit their application by mid-January, and only five of them will go through.
Startup accelerator programs have become increasingly popular because they provide the tools, knowledge, training, and contacts to ensure small teams can come up with a viable prototype, or a product ready for mass production, in a much shorter timeframe than if they had stayed on their own. It is also a great way for industry players to get ahead of the curves and join forces to participate in the next big "thing" rather than fight it. Generally, accelerator programs have a short coursework, and the one from ESIEE Connect is no exception, but its breadth is particularly astounding.
Accelerator Program for More Than a Prototype
Given that the primary goal of the program is to introduce candidates to clean rooms, manufacturing processes, and nanotechnology, it is not surprising that over the course of five months, candidates will get the necessary training and certifications to operate the machines and work their way around their new environment. However, since the ESIEE Paris Engineering School is a co-founder of the initiative, the education far exceeds what is traditionally available at regular accelerator programs; a recurring feedback from the previous attendees. Furthermore, since the other co-founder is Agoranov, a public incubator that fosters the development of deep-technology startup companies linked to scientific laboratories, attendees can expect coaching and networking with industry leaders.
Experts or professors at the top of their field manage the classes, and the school even created some unique workshops specifically for this initiative. On top of it, the experience is unique and personal since there can only be three persons per company attending the program. It also ensures that the people receiving the courses pass some of their knowledge on to other members of their organization, the idea being to promote the transmission of expertise. The coursework is unusually extensive since there are even topics on the psychology of innovation and disruption, the latest scientific advancements in neuroscience, as well as the new financial imperatives of engineers and the latest management styles for a changing industry. Hence, it's one of the only accelerator programs that look way beyond the company's project to train attendees for the rest of their careers.
From the Clean Rooms to the ST Partner Program
The other part of the accelerator program takes place in the clean rooms of ESIEE Paris with about 70 machines dedicated to the front end as well as the back end of production, all of it spanning across 650 m2 (or 7,000 square feet). There are scanners working on 2", 4", 6", or 8" SOI (Silicon-on-Insulator) wafers and teams will have the ability to grow and handle carbon nanotubes, graphene sheets, or diamond, to significantly improve the properties of their design. Furthermore, on top of the typical photolithographic processes, attendees get a chance to work on masks and different deposition techniques. There are also classes on quality assurance by Hanafi Amly, Field Quality Manager at ST who made it his mission to impart real-world knowledge and experience to new generations of engineers.
ARVE Error: Mode: lazyload not available (ARVE Pro not active?), switching to normal mode

The fact that ESIEE Connect is a member of the ST Partner program also means that startups have a chance to develop much more advanced projects than in any other accelerator program today. Indeed, whereas a similar initiative stops at the prototyping stage, ST can introduce attendees to its network of partners so they can already start working on certifying their RF or use ST-approved companies to plan for mass production, something unheard of in any other accelerator framework. Furthermore, the close relationship between the STM32 EMEA (Europe, Middle East, and Africa) group and ESIEE Connect means attendees get direct expertise from our engineers on our microcontrollers and development platforms, even on the most recent architectures, like the STM32L4+ only launched two days ago. As Sylvie Boube-Politano, Marketing Program Manager for Microcontrollers and Memories, explained:
"Our objective is to ensure fast and optimal relations between ST and the accelerators, helping them fulfill their goals for development and scaled-up operations."
French Tech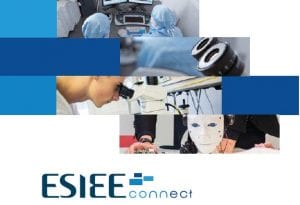 Among the current attendees that participated in the last accelerator program, there are a lot of exciting projects. For instance, MagicBox is a set-top box for hotels that serves as a secure Wi-Fi access point, a hub for all sorts of home automation, like smart locks, blinds, and thermostats, as well as a traditional interface for the multimedia content displayed on the room's TV. The union of all the different communication protocols and secure transmission makes it an exciting challenge with many applications. On the other hand, Styckr works on a micro tracker that serves as an inventory management system and an anti-theft device. Finally, Inverseo is a genuinely unique application that tracks procreation cycles in women using non-invasive methods to optimize their chances of conceiving and to be more in sync with their body and health.
The accelerator program from ESIEE Connect is a remarkable opportunity to bring engineers, companies, educators, and technologies together for genuinely disruptive innovations. In its current form, the campaign is in French and requires that the participants have a structure in France. Small businesses and startups only pay €13,000 for the tuition part of the program, while the fees for medium-sized corporations are €20,000, and €25,000 for spin-offs of more significant organizations. There's also access to the clean rooms for 22 days at a discounted price, with a possibility to stay longer if desired. Companies can submit their application on the program's website. The accelerator program is expected to run from March to July.
In the meantime, future candidates, as well as attendees of the current accelerator program, can start checking our STM32 platform, our MEMS, and Sensors, and start using the design tools on our website to jumpstart their prototypes and better optimize their designs.