IEEE Sensors 2021 just closed its doors. ST presented five papers covering a wide range of topics (complete list available below). However, one field of research stood out. Entitled An all-in-one 64-zone SPAD-based Direct-Time-of-Flight Ranging Sensor with Embedded Illumination, and presented by Fabrice Martin, the paper opened up the VL53L5 to offer technical details not yet public.
IEEE Sensors 2021: Revealing the VL53L5
Range Characteristics
Unveiled at the end of 2020, the VL53L5 is ST's first Time-of-Flight (ToF) sensor to monitor 64 zones. After IEEE Sensors 2021, the public has a better grasp of the device's technical details. For instance, ST showed that using a 4 x 4 or an 8 x 8 grid had minimal impact on performance. Both have a maximum range of four meters in the dark and about one meter at 5,000 lux, which would be bright in a standard room. Additionally, the 4 x 4 grid captures 60 frames per second while monitoring 64 zones limits capture at 15 Hz. Engineers can thus better understand the tradeoffs inherent to each mode.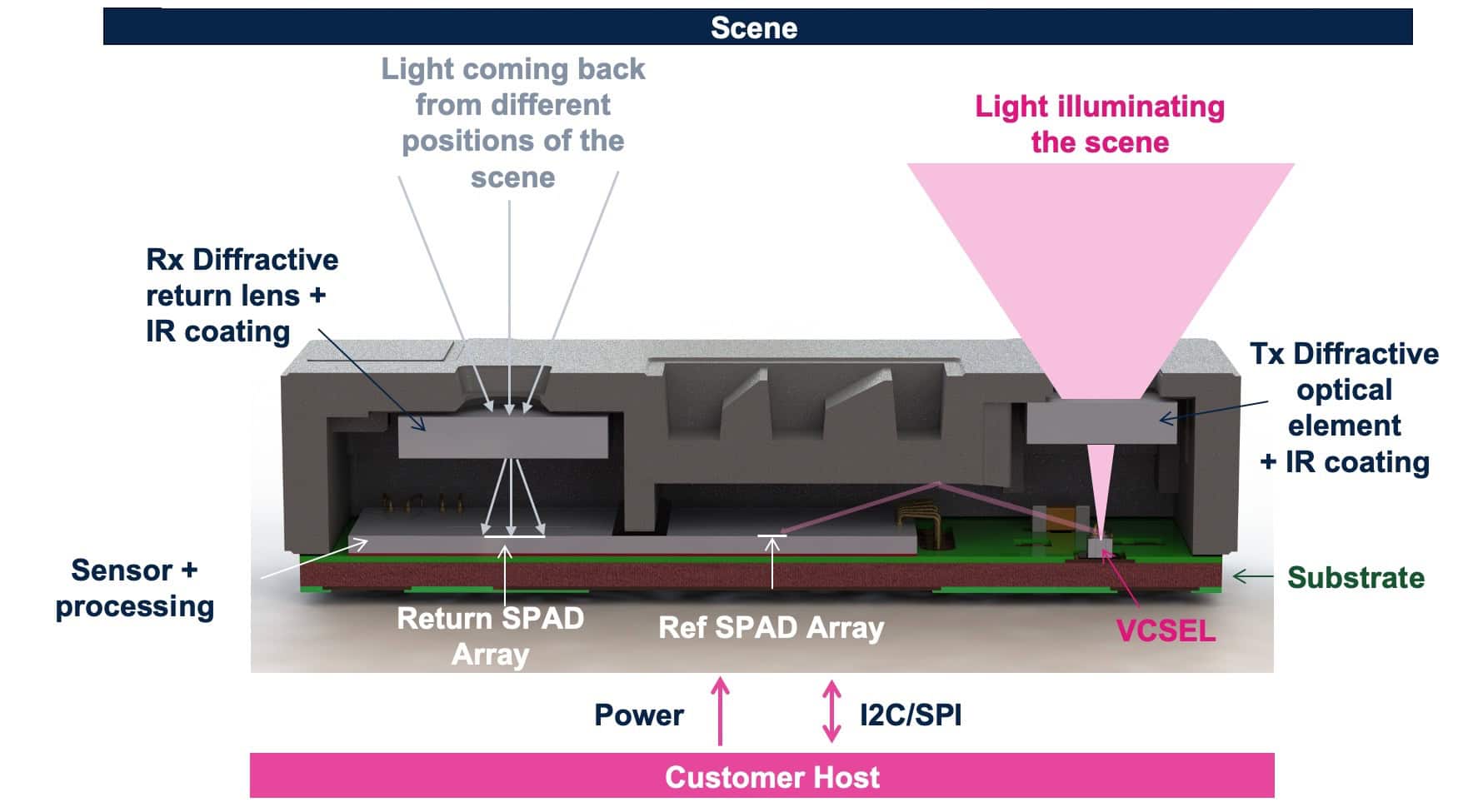 At the Silicon Level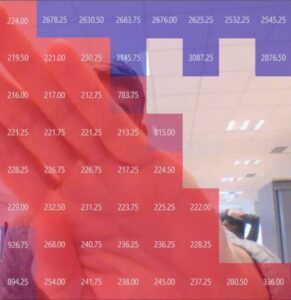 We also treated attendees to a cross-section of the ToF sensor and various diagrams to help them understand performance. Hence, regardless of their familiarity with such a device, participants got to grasp its inner workings better. For instance, the cross-section explained the role of the diffractive element in zone detection. Our teams also showed the VL53L5's silicon. Thanks to its return SPAD array, 32-bit microcontroller, VCSEL driver, and more, ST can offer a more flexible system. For example, the MCU performs many parallel computations that are essential when increasing the number of zones. It also explains why the VL53L5 computes signal data instead of relying on an external microcontroller.
IEEE Sensors 2021: Peaking at Future Products
Self-Powered BLE Sensor
Among the other papers ST presented at the event, one of them showed a light-sensing device working without a battery or external power supply. Additionally, the sensors could draw enough energy to power a Bluetooth Low Energy module to send its data. The idea is not new, but the paper used off-the-shelf components, making such a device commercially feasible. To achieve such a feat, the component employed a photovoltaic transducer that converts light into an electrical current. Moreover, the BLE radio only worked in beacon mode to save energy.
Piezoelectric Particulate Matter Detector
Another field of study was the miniaturization of particulate matter detectors. Traditionally, such devices are quite large. ST's paper thus breaks ground by looking at using a micro electromechanical system (MEMS) using a piezoelectric sensing element. Put simply, a circular membrane with a piezoelectric layer on top and placed between two electrodes has a lower resonating frequency when particulates land on the piezoelectric layer. The paper is interesting because it serves as a feasibility study. It shows that it is possible to create a much more mobile particulate matter detector. Researchers still need to optimize the system, but current results open the door to sensors that could fit on wearables.
All the ST Papers at IEEE Sensors 2021
Piezoelectric MEMS For Microparticles Detection, Francesco Foncellino
Miniaturized Quadruple Mass Gyroscopes: Challenges and Implementation, Luca Falorni
Intrinsically Self-powered, Battery-free, and Sensor-free Ambient Light Control System, Roberto La Rosa
On Amplitude-Gain-Control Optimization for Lissajous Frequency Modulated MEMS Gyroscopes, Andrea Donadel
An all-in-one 64-zone SPAD-based Direct-Time-of-Flight Ranging Sensor with Embedded Illumination, Fabrice Martin