ST is holding its inaugural Industrial Summit (event page in English and Chinese), a premier event that will take place on May 29, in Shenzhen, China. This specially curated technology showcase will bring together key industry leaders, medium and small size enterprises, ST partners and industry associations from the wide-ranging industrial markets to explore and push the frontier of smart innovations addressing the segment focus of Motor Control, Power and Energy and Automation. The one-day event will demonstrate how our solutions and those of our partners come together to shape the technologies that will drive tomorrow's innovations.
Industrial markets around the world are stable but highly fragmented, and China is no exception. Companies have the egregious task of sourcing components from a myriad of actors, thus lengthening prototyping phases, increasing costs, and creating uncertainties. The Industrial Summit is here to prove that ST as the global leading semiconductor player is well positioned in all key product areas to drive the industrial end market to greater heights of technological advancements and developments.
What Will Transform Smart Industries? Robots, Cobots, and Highly Automated Factories
The Industrial Summit will be home to two cobots and four robot arms, showing how each can optimize factory operations and improve working conditions. They are also a great example of how our various devices come together to foster smarter innovations. Robots can also use our STGAP IGBT gate drivers to offer flexible galvanic isolation with diagnostic features and a plethora of parameters, and our high-density power drivers. We also offer our STSPIN motor drivers, such as the STSPIN830, a favorite in industrial settings as its ability to either drive three or six inputs means that it's possible to certify it for a vast range of applications. Additionally, developers can use our insulated-gate bipolar transistors (IGBT) with Trench Field Stop as well as specific devices targeting motor control. We are also offering SLLIMM (IPM) and ACEPACK (IGBT Power Module) solutions for a more compact design.
Another major showstopper will be our new smart factory, which will help us highlight essential innovations such as our IO-LINK transceivers. The protocol is successful because it is efficient and practical, and the fact that we offer development boards, such as the STEVAL-IDP004V1 or the STEVAL-IDP003V1, reduces the time to market. Similarly, the Industrial Summit will also enable us to tailor to new trends, such as the increased popularity of high-side power switches. Historically, the Asian Pacific region favored low-side switches, like the IPS4260L, our first quad low-side power switch. However, more and more engineers in China and nearby countries want to take advantage of high-side devices which offer safer switching operations because the power supply connects to the ground rather than the load. We are thus answering this new trend by bringing components and expertise.
What Will Improve Our Daily Lives? Smart Home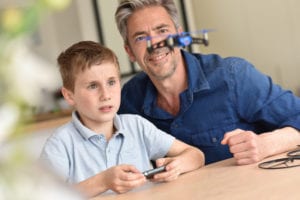 The Industrial Summit is also a great place to learn about the ST Motor Control and Industrial Competence Center, in Shenzhen, that specializes in solutions for home appliances and the development of industrial applications. We will also showcase a smart home with smart appliances running real-world applications thanks to our power devices or motor control systems. One particularly exciting demo takes the form of an intelligent mirror capable of displaying information from the Internet. We will also be showcasing our new STKNX transceiver, the biggest revolution in smart building, and we will be using this Summit to develop relationships with partners looking to popularize this protocol in the region, automating all the smart appliances of a home or building with this communication protocol.
What Will Improve our World? Smart Cities and Electric Vehicles
And beyond our showstoppers, the Summit will also present components that are making the world smarter. For instance, we will demonstrate Silicon Carbide (SiC) devices that are already making electric vehicle more cost-effective as well as more accessible. We are also launching the new STPOWER brand to help users find the power transistor that best suits their application. Whether they are looking for wide bandgap devices, power MOSFETs, IGBTs or power bipolar models, they can more easily find the component that meets their specific requirements and also use eDesignSuite as they are drawing their schematics.
We will also have demos to bring smart cities to life, such as a smart street light using our power devices to convert and store solar energy to power the bulb at night. Similarly, our motor control demos will show what engineers can do with our Electronic Stability Control (ESC) systems for drones with dual motors. They will also feature our STEVAL-FKI001V1 to help engineers build IoT system with both Bluetooth LE and a sub-gigahertz network, making devices more feature-rich and future-proof, thus highlighting exactly how the Industrial Summit will carry its hundreds of participants to new heights of real-world experience with ST smart technology and innovations.