Executives traveling in ST limos to and from the private STMicroelectronics demo suites at a hotel on the Las Vegas Strip are enjoying an upgrade in service while helping show off the benefits of the LoRa low-power, wide-area network.
Collaborating with myDevices and Senet, ST has outfitted the limos with its TESEO III automotive-navigation ICs integrated with STM32L0 MCUs and STM32Cube firmware operating the LoRaWAN™ network stack. This first-of-its-kind demo shows ST technology converting GPS data from the ST TESEO III to AES-128 encrypted packets for security before broadcasting the data through the Senet LoRaWAN to customized application dashboards created by myDevices. With this, ST is personalizing and streamlining its car service and improving event ROI. Other potential uses of the technology include agriculture monitoring, asset tracking, and smart buildings.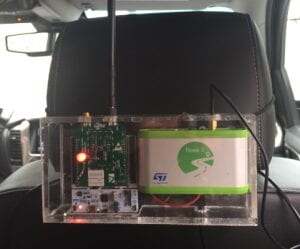 This innovative, live demo illustrates the rapid deployment of a commercial low-cost, low-power wide-area network (LPWAN) that covers the 7km Las Vegas Strip, as well as the Convention Center and surrounding areas and the ease in which developers and manufacturers can bring fully functional real-world IoT solutions to market. Senet deployed fully operational LPWAN coverage in Las Vegas in less than 30 days from start to finish, leveraging its broad experience in nationwide network rollout and its resources for rapid expansion. The demo also used the asset tracking capabilities of myDevices' Cayenne IoT project builder to visualize real-time and historical sensor data to display the locations of the limousines transporting guests.
The technology utilized in a LoRaWAN network is designed to connect low-cost, battery-operated sensors over long distances in harsh environments that were previously too challenging or cost prohibitive to connect. With its unique penetration capability, a LoRaWAN gateway deployed on a building or tower can connect to sensors more than 10 miles away or to water meters deployed underground or in basements. The LoRaWAN protocol offers unique and unequaled benefits in terms of bi-directionality, security, mobility and accurate localization that other LPWAN technologies do not address. These benefits will enable the diverse use cases and business models that will enable deployments of large scale LPWAN IoT networks globally.