Snuza Pico®, a smart wearable movement monitor for infants, reminds us that technology is most special when it completely fades in the background until you suddenly realize it was at the center of a life-changing experience. The device is unique because it comes from Snuza®, the first company in the world to commercialize a portable baby movement monitor and a baby breathing monitor. Since 2002, Snuza has been developing solutions for a very specific purpose: to offer parents and guardians the peace and tranquility that comes from knowing their child is under the caring hand of a small device that monitors their baby's movements or breathing, and it is a great honor for ST to be at the center of this technology.
Clipped onto a diaper, Snuza Pico measures the belly's movements and vibrates if the abdomen hasn't moved for 15 seconds. If the stimuli helped the baby resume breathing, a little red dot on the device will alert parents of the incident. However, if the belly remains immobile after five seconds, an alarm will ring to ensure people nearby can quickly attend to the child. Furthermore, Snuza Pico is the first smart Snuza device, meaning that it connects to a smartphone using Bluetooth, and a mobile app shows the infant's position, or it can send an alert if the subject has fallen.
Snuza Pico: At the Crossroads of Power Consumption and Ultimate Precision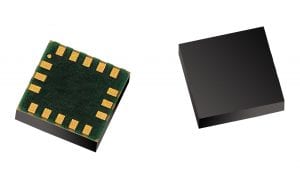 The movements are measured by ST's LIS3DH, a three-axis accelerometer, which was chosen because its ultra-low-power mode has a current consumption of only 2 µA at 1 Hz, and its typical supply voltage is only 2.5 V. As a result, the Pico is tiny and comfortable, while its small lithium polymer battery offers up to 40 hours of continuous use on a single charge.
As Tielman Terblanche, Senior Electronic Engineer at Snuza, explains:
"There's a lot of competition and we were aiming for a very low power consumption, and a small footprint. The LIS3DH met our expectations with both requirements, and the fact that we were already familiar with it made it an easy choice."
The accelerometer used by the Snuza Pico also has to be very precise to be effective, because the movements measured are naturally very small, and the system must detect motions that are sometimes less than one millimeter. Hence, the LIS3DH was a great choice because it is extremely sensitive.
Snuza Pico: At the Crossroads of Power Consumption and Signal Strength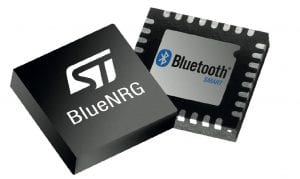 The Pico's power constraints also explain why it uses ST's BlueNRG-MS, a very low-power Bluetooth 4.1 Low Energy module with a current consumption of 1.7 µA. Its transceiver only requires a TX current of 8.2 mA, its Cortex-M0 microcontroller (MCU) is highly efficient, and the maximum input current of only 15 mA at +8 dBm means it works very well with coin cell batteries, for instance.
When Snuza's teams were designing the Pico, the BlueNRG-MS was the first module to have such a high output power (+8 dBm) despite its low power consumption. This was particularly important because they needed to get the maximum signal strength possible. Bluetooth has a naturally short range, and reducing it would seriously impact the product's effectiveness. Hence, given the size and power constraints of the device, the teams had to select the most efficient Bluetooth controller possible.
An Integrated Balun Can Make All the Difference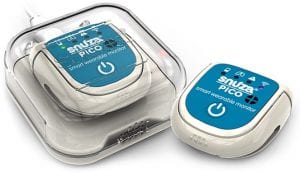 Snuza was also looking for a separate network processor because, at the time of design, there was no microcontroller that provided the number of IO and specific types of peripherals needed. Additionally, reusing existing device drivers and software frameworks for a known MCU was the simplest and quickest path to commercialization. Developers didn't have to familiarize themselves with a new SDK. They could just focus on the network's specifications and its utilization by their application. This solution does require a little bit more of real estate on the board, but as Mr. Terblanche points out:
"The amount of extra real estate needed was not that much since the compatible balun [BALF-NRG–01D3] that came with the BlueNRG-MS required a lot less space than a component based RF matching circuit to the antenna. Additionally, we have to outsource a lot of that work, since we don't have any RF engineers on the team. Using the integrated balun allowed us to design the entire layout in-house and simply use an external company to tune it, which greatly saved time and money."
Furthermore, what made the process even more efficient was that it was intuitive. Snuza first used Nucleo boards and BlueNRG development platforms to start prototyping. Then, as engineers put everything together, they simply used the balun on top of the Bluetooth module they had already mastered, to optimize their design and processes.
Breathing Innovation
Snuza has been designing baby movement and breathing monitors for more than a decade, and even though Snuza Pico is a wonderful chapter in the company's history, it's certainly not the last. Engineers are already hard at work on the next generation of devices, and they are looking at ways to connect to more smartphones. One solution would be a base station with a link to the Internet, which could use the power of the cloud to enable remote monitoring, among many other things. Snuza will also be using much more precise accelerometers to receive the appropriate certifications for a breathing monitor.
The next devices will be even more feature-rich and will cater to a much wider user group. At this time, Snuza is exploring new product ideas, some of which are service-based, and include sleep analytics, and predictive diagnostics for early detection of various developmental and health related issues.
To know more about Pico, we invite you to visit Snuza's website.
You can also check out ST's website to know more about its accelerometers and Bluetooth modules.