Stickntrack from Sensolus, a Belgium company, is a family of geolocation trackers that sticks to assets to connect them to a Low Power Wide-Area Network (LPWAN), such as Sigfox, thus bringing the Internet of Things to non-powered assets that businesses do not traditionally connect to the web. The platform easily enables the real-time remote monitoring and geo-localization of any industrial asset, from pallets, goods, and equipment to any other item that could benefit smarter and globally IoT connected technologies. For instance, Stickntrack can determine when a garbage bin is ready for pickup and send a notification to the cloud, thus helping the service provider save costs by reducing the number of containers to empty each day. Since the trackers are about the size of a pack of cigarettes and can last up to 10 years in the field, they fit a wide range of products and maintenance is relatively minimal.
ARVE Error: Mode: lazyload not available (ARVE Pro not active?), switching to normal mode

Asset tracking can take many shapes. It is common to see trackers rely on NFC or a GPS, but until recently, most of them needed to use a SIM card to communicate with the cloud, which was incredibly inefficient when it came to power consumption. Using a cellular network can also get very expensive and wasteful in this particular use case. Most of the time the tracker is off until a movement or a timer wakes it up. Additionally, the messages are small, making a GSM/GPRS network inappropriate for this particular scenario. The rise of LPWAN network explains the increasing popularity of these solutions that benefit from an efficient and inexpensive network and that can quickly send small packets of information. However, because these new devices stay in the field for such an extended period of time, it is crucial to select the right components.
An Ultra-Low-Power Transceiver
It is no accident that Sensolus chose the S2-LP, our ultra-low power long-range transceiver that can last up to 10 years on a single battery. It has a sleep mode of only 600 nA and a standby mode of 350 nA. These savings mean a lot when a product has such a long lifespan and spends most of its time in a power-saving mode. To arrive at such low power consumption, the S2-LP integrates a Switch Mode Power Supply Regulator.
The transceiver is also quite rare in the industry because of the quality of its RF output stage and antenna circuitry, which enables it to reach an output power of up to 16 dB. This is particularly important because, in the Sigfox Global networking world, anything above 14 dB is excellent. Hence, Sensolus was able to use an output of 16 dB and reduce the input power to further save energy. The S2-LP is also compatible with the vast majority of sub-gigahertz protocols and networks around the world, covering frequency bands from 413 MHz up to 1055MHz. Such a flexibility is absolutely essential for assets that cross the globe.
The S2-LP also offers Sensolus the ability to be protocol-agnostic. Currently, Stickntrack products use the Sigfox Global network. However, if a customer needs a different LPWAN protocol in the future, the S2-LP is able to accommodate it. As Kristoff Van Rattinghe, CEO and Co-Founder of Sensolus explained:
"Our customers want agnostic platforms because they are not only buying solutions for today, but also for tomorrow, and they need to have the assurance that our products can easily receive upgrades or can adapt to emerging trends."
A Flexible Bluetooth SoC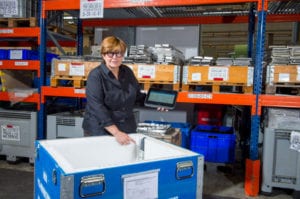 The need to offer a platform that can easily receive upgrades pushed Sensolus to adopt our BlueNRG-2, our first Bluetooth 5-certified System-on-Chip that is compatible with Over-the-Air firmware upgrades. It is thus possible to easily update a system to quash a bug, patch a security vulnerability, or adapt to new protocols. This is extremely important for devices that will remain in the field for up to a decade. As Kristoff highlighted:
"One of the biggest challenges with LPWAN today is that specifications are changing very rapidly and so are regulations. We thus chose to always include an ST Bluetooth System-on-Chip in our designs, so we can perform OTA updates. Since LPWAN protocols lack the bandwidth necessary for such a feature, we use the BlueNRG-2 to bypass this limitation and remain future proof."
Another major advantage of the BlueNRG-2 is that its Cortex-M0 core and its comprehensive set of input/output interfaces allowed Sensolus to use it as the main host of their system. A reduction in microcontroller dramatically simplifies the design, reduces costs, and lowers the power consumption of the product even further. Because Sensolus was outside the realm of the typical reference design, they had to rewrite a lot of their code and genuinely optimize their system, which demanded additional developments. However, the energy savings were so important that it was easy to justify the investment in the new software. Moreover, the dual-radio SDK from ST was a great contributor to the adoption of BlueNRG-2 and S2-LP, enabling Sensolus to leverage a Sigfox Ready and pre-certified solution that uses a robust and industrial-grade reference platform.
The Sensolus Difference
Too often, decision-makers fail to look at the long-term use of their tracking system and consider only the hardware price and short-term investments. However, when your tracker lasts five to 10 years, it is essential to look further into the future, which is exactly what Sensolus continues to do. Thanks to a flexible and ultra-low power design, the Stickntrack family of products represents a solid investment that requires less maintenance while being capable of receiving substantial upgrades. Too often, companies focus so much on tracking their assets that they forget to track the investment they made in the trackers themselves. With Sensolus, corporations don't only know where their assets are worldwide, but they have the assurance that they will still know it a decade later.