To ensure developers can deal with the rise of connected cars, Raed (pronounced as "ra'ed") Shatara from ST will hold a lecture on V2X communication at the next Developers Conference that will take place on September 6 in Santa Clara, California. V2X means Vehicle-to-Everything, and it's a term that encompasses a broad range of communication systems, such as V2V (Vehicle-to-Vehicle), V2I (Vehicle-to-Infrastructure), V2P (Vehicle-to-Pedestrian), V2D (Vehicle-to-Device), V2G (Vehicle-to-Grid), or V2M (Vehicle-to-Motorist). Since the beginning, cars have been hubs of communication. Whether it is the engine reporting a failure on the dashboard, or drivers using headlights to signal one another, we all know that cars communicate. However, with the rise of connected devices, sensors, and autonomous driving, communication now includes a much wider range of scenarios.
Understanding V2X's Importance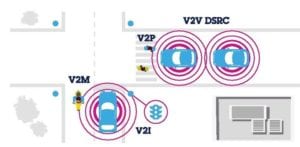 One example would be to augment GNSS (Global Navigation Satellite System) position by using V2X range measurements from OnBoard Units (OBU) in a vehicle and static Roadside Units (RSU). Combined with dead-reckoning algorithms, which use the car's motion sensors to maintain accurate heading and distance traveled under conditions of severely degraded (i.e. multipath conditions) or missing GNSS signal, this technology improves geo-localization and ensures the user's exact position in the various environment. For instance, the same V2I systems could tell the driver that maintaining a certain speed would mean getting all traffic lights green, which would save energy, reduce pollution, and increase productivity. It would also be absolutely essential to autonomous systems.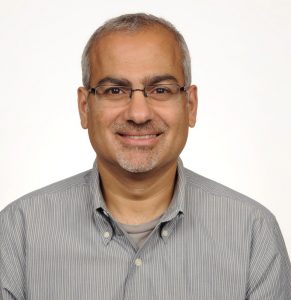 The biggest challenge for an engineer jumping into this industry is grasping the numerous standards that shape it. Hence, there's no better person to give this talk than Dr. Shatara, Market Development and Sr. Principal Engineer at ST. Having obtained a doctorate from Bundeswehr University in Munich, Germany, his research focuses on mobile communications, receiver design, receiver diversity, and signal processing. He has always been very close to the automotive industry, having acquired extensive experience at GM, Raytheon, and Delphi, before coming to ST where he leads efforts in RF, Software Defined Radio (SDR), and V2X, among other things.
Understanding V2X Infrastructure
As soon as we sat down with Dr. Shatara to learn more about his presentation, two things became apparent: it'd be virtually impossible to find a lecturer more knowledgeable or more enthusiast about V2X than him, and any talk on the topic needs to start with an overview of its standards. IEEE 1609 is the family of standards on Wireless Access in Vehicular Environments (WAVE) that defines the interfaces and services ensuring encrypted and high-speed communications over a range of about 300 m at high speeds between 135 km/h to 195 km/h (0.19 miles between 85-120 mph). The transmissions' physical layer rests on an IEEE 802.11p Dedicated Short Range Communications (DSRC), which is a Wi-Fi like medium adapted for vehicle environment and which uses the FCC allocated spectrum at 5.9 GHz.
SAE J2945/1 standard specifies onboard system requirements for V2V safety communications. Once the communication channels are in place, connected vehicles use the SAE J2735 standard- defined Basic Safety Message (BSM) over DSRC wireless communication link. The messages then become the foundation for application designers and equipment manufacturers as they build interfaces and smart systems.  Most demonstrations today center around safety, such as preventing collisions by detecting hidden vehicles or obstacles to alert the driver or engage automatic breaks, for instance. However, the applications of the future will cover much more varied use cases.
ARVE Error: Mode: lazyload not available (ARVE Pro not active?), switching to normal mode

The First Building Blocks
In a 2013 study, ABI Research estimated that 70 % of vehicles shipped in 2027 will use DSRC and V2X technologies. Among the solutions that are already adopted by manufacturers, Dr. Shatara will briefly go over the SECTON, and CRATON2, two V2X chipsets ST has manufactured in cooperation with Autotalks, a fabless semiconductor company specializing in V2X communications. The strength of this solution resides in its flexibility and security.
The SECTON is an add-on chipset that makes life a lot easier for engineers that already have a design with a host microcontroller (MCU), and are only looking to add a V2X secured modem to their system. However, teams looking for a more comprehensive approach could use the CRATON2, which includes a single or dual Cortex-A7 to run a full V2X middleware.
Both systems include an 802.11p transceiver also compatible with 802.11 a/b/g/n/ac 2.4 GHz and 5 GHz for communications of up to 433 Mbit/s, and they integrate a Hardware Security Module (HSM) to optimize an Elliptic Curve Digital Signature Algorithm (ECDSA). The above V2X chipsets also have evaluation kits (EVK) to help companies jump-start their project and facilitate the development of crucial security features like Over-the-Air updates and secure boot. Finally, this solution is highly efficient since a CRATON2 with V2X RF Transceiver IC needs less than 1.5 W of average power consumption, and about 52 µA in standby mode at 85 ºC, while only requiring a PCB of less than 40 mm x 40 mm.
Communications on V2X
For those wishing to know more about V2X to get the most out of the ST Developers Conference, here are a few useful links:
To attend Raed Shatara's talk entitled Overview of Vehicle-to-Everything (V2X) Communications, register to the ST Developers Conference 2017 as tickets are limited.