ST has launched ST-Up, an 18-month accelerator program for hardware startups in Israel.
The accelerator aims to provide priority access to companies that ST selects for their compatibility and synchronization with ST's long-term vision and technology roadmap.
ST-Up has been established to identify future hardware-intensive unicorns and foster long-term collaboration and mentoring. The accelerator program is backed by ST's three Product Groups (Automotive & Discrete; Sensors & Analog; Microcontrollers & Digital) and coordinated by Nunzio Abbate, Program Manager of ST-Up.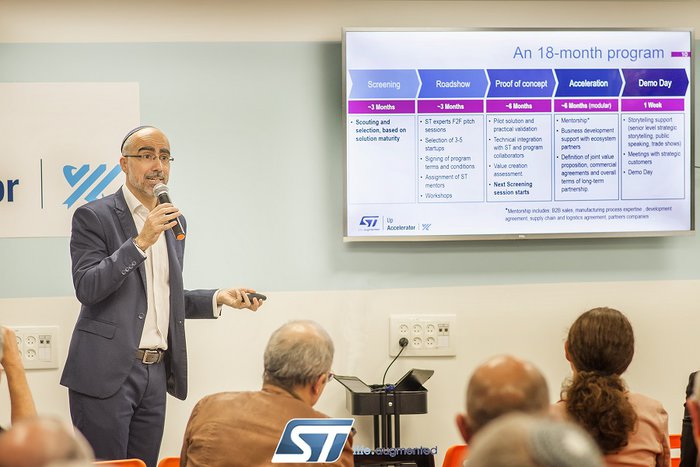 Stephane M. Chouchan, Israel Country Director and General Manager of ST-Up spoke to customers, partners, suppliers, and other stakeholders from the Israeli technology ecosystem, emphasizing the tailor-made approach that this program will enable: "We have built a 5-step program that goes from the initial outlining of the vision to developing a proof of concept to industrialization of that concept and the definition of the go-to-market strategy. Companies accepted into the accelerator will get access to ST internal resources and experts in marketing, R&D, manufacturing, and test who will be able to provide guidance, support, and mentoring in B2B sales and marketing. The program also introduces our selected partners to the broader ST ecosystem of suppliers, partners, and global OEMs."
Acceptance into the accelerator will also include access to Impact Labs, the hardware fab/lab hosted by WeWork Hazerem in Tel Aviv.
Apply at https://www.st.com/content/st_com/en/stupacc.html
Photo credits: Denis Kappel, DKmedia