To improve the accessibility of our content, please find the audio version of this blog post.
Riverdi, a TouchGFX Implementer, recently showcased its line of STM32 Embedded Displays at Display Week, a conference that closed a few days ago. The product comprises a 10.1-inch IPS display with a resolution of 1280 x 800 and a brightness of 800 nits next to an STM32H7 board. Additionally, Riverdi displays are available within TouchGFX Designer, so developers can use them immediately to create their user interface. The company provides the option of benefitting from air bonding, a touch surface, and a mounting frame. Hence, engineers can tailor their configuration and thus adjust the price depending on their needs. Moreover, Riverdi is one of the only companies to offer such boards at low volumes.
Why Do Displays Still Challenge Embedded Systems?
Sourcing Issues at Low Volumes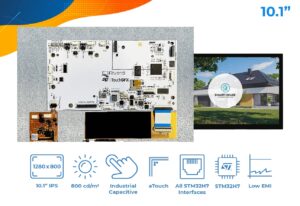 Sourcing a display remains one of an embedded system's most expensive and complex aspects, especially at low volumes. Indeed, makers don't know how to fulfill orders for only 1,000 or 10,000 units or can't guarantee them for extended periods. As a result, smaller companies must either take huge risks by ordering large quantities or risk having the part they need to be discontinued, forcing them to redesign their system. However, graphical user interfaces are increasingly popular and more accessible than ever. Frameworks like TouchGFX vastly simplify development operations, which lowers the barrier to entry. The challenge is to work with display makers whose manufacturing processes hugely favor high volumes of orders.
Creating an Ecosystem With Answers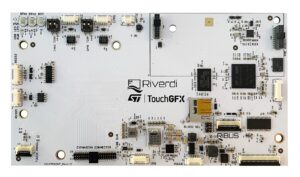 It's precisely to answer this challenge that ST came up with the X-NUCLEO-GFX01M2 and X-NUCLEO-GFX02Z1. The two display boards aim to help companies find components that keep their bill of materials down. However, they also target applications that live on smaller displays. Riverdi thus fills the gap by offering an HD screen on a development tool ready out of the box. It also explains why ST and Riverdi worked together to ensure the STM32 Embedded Displays are available within TouchGFX Designer and already benefit from a TouchGFX board support package. Consequently, developers can run demos in a few clicks and even use the other ST tools, such as STM32CubeMX and STM32CubeIDE, to build their applications.
How do STM32 Embedded Displays Solve This Challenge?
Making HD Displays Ubiquitous
Riverdi chose a dual-core STM32H747XIH6 with 2 MB of flash and 1 MB of RAM. It also includes up to 64 MB of external QSPI flash and 8 MB of external SDRAM for graphical assets and frame buffers. Moreover, the system has a micro-SD card slot for greater expansion storage. Riverdi chose this MCU because its dual-core architecture meant it could also drive two displays. Hence, the company added a RiBUS port to simplify the conception of an embedded system with multiple screens, something extremely rare in this industry. Finally, Riverdi worked on shielding its solution from electromagnetic interferences to help customers meet their regional certifications.
Helping Engineers Tailor Their Design
Engineers can tailor their STM32 Embedded Displays by choosing whether to use a touch panel, optical or air bonding, the shape of the touch detection, and whether to add a frame or not. It should, therefore, help teams better price their system according to their needs. The company also offers an STM32 evaluation board with no display. The PCB comes with a Riverdi EVE4 module that supports the company's displays from 3.5-inch to 10.1-inch. Hence, designers looking for smaller screens can still bypass the market's challenges to source components in lower volume. Additionally, Riverdi is also working on STM32 Embedded Displays with a lower resolution and a MIPI DSI interface.