The STM32 Power Shield (X-NUCLEO-LPM01A) launching today is ST's most accurate ultra-low power monitoring board for IoT (Internet of Things) devices. Featuring dynamic measurements ranging from 100 nA to 50 mA, it has a very high sampling rate ever for such a tool since it can reach 3.2 million samples per second. And because to know the Power Shield is to immediately embrace it, the Embedded Microprocessor Benchmark Consortium (EEMBC) chose the X-NUCLEO-LPM01A as their newest reference platform for their ULPMark benchmark.
This is a significant accomplishment because managing the consumption of ultra-low-power devices is one of the hardest challenges and teams can seamlessly optimize performance, choose the right battery, or select a pertinent microcontroller (MCU), with an accurate and reliable view of their device's power draw. This issue is so fundamental that papers have been written on the importance of modeling "the energy consumption of IoT applications at the pre-deployment and pre-production stages"[1], and companies often invest in expensive equipment to get the job done. Today, ULPMark has proven itself as a fantastic benchmark to accurately evaluate the efficiency of microcontrollers (MCU), and the STM32 Power Shield provides an affordable alternative to high-end solutions without sacrificing functionality.
What Makes the STM32 Power Shield Special?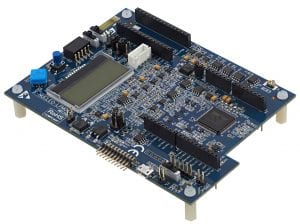 IoT devices cover vastly different applications. For instance, some designs need to always draw very little power to offer continuously functioning features, whereas others require a sudden burst of performance to fall back into a sleep mode as soon as possible. This is a problem for engineers who are trying to get a faithful picture of their product's power consumption but must ensure the test suites they employ are pertinent to their use case. Hence, the STM32 Power Shield will quickly win the heart of engineers thanks to its STM32L496VGT6 MCU, which houses a Cortex-M4 architecture running at 80 MHz and three fast 12-bit ADC (Analog-to-Digital Converters).
Furthermore, aside from its impressive dynamic measurement range, the board has a power consumption measurement range between 180 nW and 165 mW. It also has a static current measurement range extending from 1 nA to 200 nA and a programmable voltage source that can oscillate between 1.8 V and 3.3 V. This basically entails that the board is capable of capturing highly detailed results in a wide variety of test environments to ensure the users will be able to make better-informed decisions.
Standalone Mode: The First Introduction to STM32 Power Shield
The STM32 Power Shield also shines in its ability to offer a compelling standalone mode that makes use of the integrated screen. Hence, engineers don't even need external tools to start obtaining measurements. They can just power the X-NUCLEO-LPM01A using its micro-USB port and use wires to connect it to the target device, regardless of its manufacturer. The Power Shield supplies power and automatically runs the ULPMark benchmark to get a score as well as an average current. At a glance, engineers can thus see if results in the field match the expected specifications. Furthermore, teams using an STM32 Nucleo board can directly plug the Power Shield on the board's Arduino connector, instead of having to figure out which wire connects to what pin, substantially augmenting the ease of use and the overall attractiveness of the ST ecosystem.
The standalone mode offers a first impression of the target device and is also an exciting way to get to know the STM32 Power Shield itself if one is new to the board. For instance, the screen displays the power consumption and the measurements from the integrated thermometer to track the environmental conditions associated with the performances reported. The standalone mode even ensures users can change the voltage sent to the target platform, by alternating between pre-defined values (1.8 V, 2.4 V, 3 V, 3.3 V), to get a first glimpse of the evolution of the power consumption under different situations.
All the Features of the Power Shield at Your Fingertips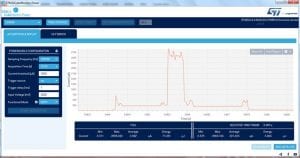 Once engineers have been acquainted with the standalone mode, they will surely want to move to the next step of their relationship with the STM32 Power Shield by connecting it to a PC and launching STM32CubeMonitor-Power (STM32CUBEMON-PWR), the graphical tool aimed at setting measurement parameters and visualizing the data captured. The program also installs a command line module so developers can just use their favorite scripting language to exploit the information in their own applications.
It's at this point that users will quickly realize that the power of this software, available on Linux, macOS, and Windows, resides in its ability to capture and project an enormous amount of data points, even on low-power PCs. ST has implemented particularly advanced algorithms to optimize acquisition and parsing operations to flawlessly process the millions of measurements captured every second by the STM32 Power Shield without requiring expensive computers or equipment.
What Will Be Your Story with the STM32 Power Shield?
And this is why the Power Shield seduced EEMBC to the point of becoming their reference platform. What demanded training and expertise became simple, and even intuitive, thanks to graphical user interfaces, a standalone mode, and a tutorial video (see below). What represented significant investments in time, manpower, and expensive equipment, is now accessible to even enthusiasts since the Power Shield costs US$70. The first boards will be available through the ST website, while most distributors and retailers are expected to carry them a few weeks later.
ARVE Error: Mode: lazyload not available (ARVE Pro not active?), switching to normal mode

---
Martinez, Montón, Vilajosana, "The Power of Models: Modeling Power Consumption for IoT Devices," IEEE Sensors Journal, Volume: 15, Issue: 10, Oct. 2015.↩