TouchGFX Designer 4.17 just became available for download. The new version features a user interface overhaul to make the application more intuitive. For instance, the new lobby provides a better overview of the boards and templates, which helps start projects faster. There are also numerous quality of life improvements to streamline various processes. One example of such an update is the new tree view that makes locking items a lot more obvious. Another example is the presence of a new dark theme and new keyboard shortcuts for better workflows. Ultimately, it's vastly more than a simple coat of paint but a significant improvement to the creative process.
---
---
TouchGFX Designer 4.17: What Should Developers Look for Now?
TouchGFX Designer 4.17 is unique because it represents a significant chapter since ST acquired TouchGFX in 2018 and since TouchGFX 4.13 became a member of the X-CUBE family in 2020. The new version is now using a color palette similar to that of other ST utilities. It also represents a new direction that better optimizes processes. For instance, new icons at the top of the screen help access various categories quicker. Hence, with the latest version, inserting an image is as straightforward as clicking an icon and selecting files. Similarly, all properties are now present in a panel on the right side of the screen for easier access. Developers can thus expect a more organic system with far fewer frictions.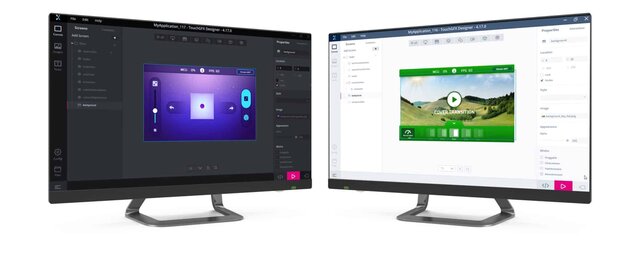 When ST asked Hans Peter Haastrup-Nielsen, Project Consultant at Erhvervsakademi Sjælland, to try TouchGFX 4.17, he said,
"My first impression of the new TouchGFX Designer 4.17 is primarily a visual update to improve and simplify the user's workflow. And it's a success! For the technical users, more subtle additions come in the shape of better tooltips and keyboard shortcuts to ease navigation in the workflow."
Similarly, Eyal Goltzman, Managing Partner at Embedded Partners declared,
"I like TouchGFX Designer 4.17 very much, and here is why: It is new, but it feels very familiar, and it was easy for me to adjust to the new design. The TouchGFX team has made meaningful iterative enhancements and added features that improve my day-to-day work, such as the new Widget menu and easy access to my files."
TouchGFX Designer 4.17: What Can Developers Look Forward To?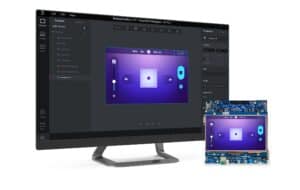 The new TouchGFX Designer 4.17 is also a pivotal release for ST because it embodies our desire to work more closely with our community. Interestingly, customers are expressing a desire to understand what the platform can do rather than what applications they can write. Hence, instead of traditional demos that showcase real-world software, like a thermostat, we released showcases that feature what developers can do when they combine TouchGFX and an STM32 microcontroller.
One example is a dice that demonstrates how to efficiently use texture mapping. The demo shows how to optimize a system when switching from 2D to 3D or zoom in and out. A second example is a new screen transition demonstration featuring a list of animations. Lastly, TouchGFX 4.17 also contains ninja robot game showing interesting effects that only require simple bitmap graphics. TouchGFX Documentation is already up-to-date with new guides and screenshots of TouchGFX Designer 4.17. Developers thus can thus rapidly become familiar with the new interface and be confident that we will walk them through future changes as we make them.