The VIPERGAN50, VIPERGAN65, and VIPERGAN100, are ST's first high-voltage GaN converters in the VIPerGaN series to offer 50 W, 65 W, and up to 100 W, respectively, in a wide range of operating voltages (9 V to 23 V). We are also announcing the release today of the EVLVIPGAN100PD, our first VIPERGAN100 evaluation board for USB-PD application. VIPerGaN devices use a 650 V gallium nitride (GaN) transistor, which, among other things, means they need less than 30 mW in standby mode with the adaptive burst mode on. Their QFN 5 mm x 6 mm package also makes them one of the smallest devices in the industry for such a power output.
While the devices are similar, the greater output power is possible thanks to a GaN transistor with a lower R DS(ON) (450 mΩ for the VIPERGAN50, 260 mΩ for the VIPERGAN65, and 225 mΩ for the VIPERGAN100). The VIPERGAN100 will only provide an output power of 100 W in the European voltage range (185-265 VAC). Otherwise, it will provide 75 W (85-265 VAC). Moreover, all devices are pin-to-pin compatible, so engineers can rapidly interchange them without drastically changing the PCB layout or design. Our teams thus hope to lower the barrier to entry to GaN by offering a more practical portfolio of products.
Why a QR ZVS Flyback Converter?
Applications Keep Requiring Greater Power Density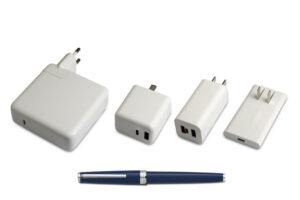 In our application note AN1326 (L6565 Quasi-Resonant Controller) from November 2002, we explained that engineers often used quasi-resonant (QR) zero voltage switching (ZVS), also called valley switching at turn-on, in the switched-mode power supply (SMPS) of TVs and other appliances. While still true today, the topology is now in a lot more products. The reason is that power envelopes have gotten significantly denser with each passing decade. For instance, TVs now push more pixels while having even more stringent power consumption requirements. Similarly, while 50 W chargers are not new, consumers demand supplies that don't look and feel like giant hot bricks and fast-charge laptops, tablets, phones, and more.
QR ZVS Flyback Converters Keep Needing Greater Efficiency
The industry often turns to QR converters because of their efficiency. In traditional PWM converters, the device turns on when the voltage is at its highest, which causes power losses that are compounded as switching frequencies increase. Engineers can mitigate this with a snubber circuit, but the best way to improve efficiency is to soft-switch, meaning to switch when the voltage, or current, is at zero. To do that, a resonant (inductor-capacitor or LC) transforms the square-shaped signal into a sinusoidal waveform. In ZVS, turn-on happens at the bottom, or valley, of the curve. Over the years, engineers attempted to improve the efficiency of QR ZVS flyback converters, and GaN just gave them a new answer.
Why VIPERGAN50, VIPERGAN65, or VIPERGAN100 Today?
The GaN Transistor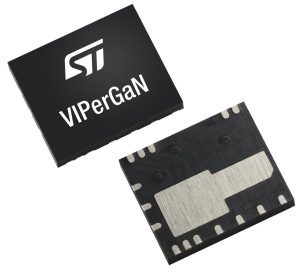 The VIPERGAN50, VIPERGAN65, and VIPERGAN100 use the same 650 V GaN transistors as the MASTERGAN series and thus offer similar benefits. For instance, GaN's high electron mobility means that the devices tolerate high switching frequencies. Consequently, they can handle greater loads while suffering far fewer losses. GaN thus enables the creation of supplies that can output more power while shrinking their overall footprint. Historically, VIPERGAN50 was the first to come out. Then, ST demonstrated its commitment to GaN by releasing models with greater output power.
The Multi-Mode Operations
The new devices optimize their performance thanks to multi-mode operations. In a nutshell, the VIPERGAN50, VIPERGAN65, or VIPERGAN100 adapt their switching frequencies according to their load. During a heavy load, the quasi-resonant circuit synchronizes the GaN turn-on with the transformer demagnetization (ZCD pin) to minimize losses. Similarly, a heavy or medium load will trigger valley-skipping. In a nutshell, the transistors can skip one or more valleys when the load decreases. In this scenario, the switching frequency decreases to limit losses.
Similarly, the frequency foldback mode lowers the frequency during medium and light loads but ensures it remains above a certain threshold to prevent noise. Finally, burst-mode, at light or no load, can limit the switching frequency to a few hundred hertz while keeping a constant peak current to prevent noise. In this last mode, the VIPERGAN50, VIPERGAN65, and VIPERGAN100 have a quiescent current of only 900 µA. The new devices can thus help meet new environmental regulations that demand greater power efficiency to save global resources.
The Protection Features
Traditionally, engineers add external devices to provide safety features and protect their circuits. The fact that VIPERGAN50, VIPERGAN65, and VIPERGAN100 vastly increase efficiency means ST had room to include more safety functionality. Designers thus need fewer components on their boards, reducing their BOM. For instance, the new devices are the first in the VIPer Plus series to offer input overvoltage protection (iOVP) to protect against sudden voltage spikes. Similarly, the brown-in/brown-out feature monitors the supply voltage to shield the system against unreliable mains by setting the minimum input voltage that will start operations and the minimum one that will stop it. And these features are on top of more common over-temperature and overload / short-circuit protections.
How to get started?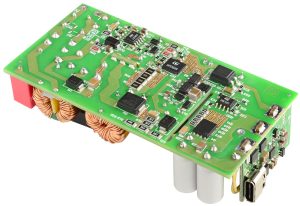 The best way to get started is to grab an evaluation board. Today, we are launching the EVLVIPGAN100PD, a reference design for 100 W USB-C applications using Power Delivery 3.0. The board comes with five power delivery profiles: 5 V at 3 A, 9 V at 3 A, 12 V at 3 A, 15 V at 3 A, and 20 V at 5 A. Hence, teams get a hardware platform with schematics to jumpstart their custom PCB and profiles that will be close to what they will use in their application. The system has a peak efficiency of more than 90%, even at 50% of the load, whether at 115 V or 230 V at the mains.
The board also uses a power factor correction system based on an L6564 to limit distortions.
Prior to today's launch, we had already released two PCBs with a VIPERGAN50. The EVLVIPGAN50PD will help engineers working on a 45 W USB Power Delivery application. It even comes with power profiles and can serve as a reference design. Teams can also grab the EVLVIPGAN50FL, which implements a 15 V / 50 W flyback converter. This board thus serves more general applications than the platform dedicated to a USB system while still enabling engineers to jumpstart their applications. Finally, we also have a board with the VIPERGAN65, the EVLVIPGAN65PD, which also targets USB Power Delivery power supplies.