What if it was possible to pick the brains of experts to figure out where AR, VR, and MR, are going and how to take advantage of the new trends? That's what XR Day 2021 sets out to do with keynote speakers, panel discussions, demos, and more. The event will take place on November 18, 2021. Leaders from ST, Amazon, academia, Meta, and others will offer their take and share their vision. In preparation for the event, we sat down with Marie Tors, CEO and co-founder of Graffiti, a French startup specializing in Augmented Reality. The company released a Test Flight application on iOS called reeveal. The software uses AR to show consumers information on products they encounter on supermarket aisles. Marie is also working closely with ST to create compelling experiences using our hardware.
XR Day 2021: Shaping Mindsets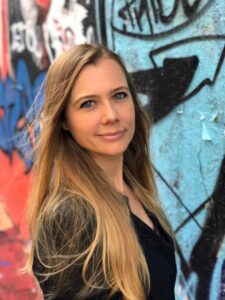 Many users see demos and ideas without a clear explanation of why they would adopt them. Indeed, proofs-of-concept around augmented reality or virtual reality abound. However, consumers may not have a compelling reason to seek them. The video game industry is riding on popular applications. Niche markets, like industrial or health care, are exploring these technologies. However, many still wonder why anyone would use AR or VR at all. Hence, Marie explained that her company first looked at solving real-world problems. As she explained, the goal shouldn't be to figure out what is possible but what is helpful. As a result, her company's application currently focuses on displaying pertinent information to consumers. For instance, the system shows nutritional values or environmental data. As she works closely with ST, she's hoping to bring the same philosophy to move from products to experiences.
XR Day 2021: Envisioning Experiences
XR Day 2021 will be an excellent opportunity to see hardware products from ST and our partners. Last year, the event showcased AR glasses, laser beam scanning, micromirrors, and more. Hence, this year's event will show the essential evolutions that happened during the pandemic. However, this year is also highly symbolic because ST is putting a renewed emphasis on experiences and not just hardware, thus reflecting efforts behind the scenes such as the partnership with Graffiti. Marie shared how her startup previously worked with Deutsche Telecom on AR glasses and their users' challenges. Too often, teams tend to focus on hardware problems, such as image resolution or movement detection. And those issues are essential. However, ST and Graffiti are partnering because it is critical to adopt a holistic approach, which explains why there are so many varied presenters at this year's XR Day.
To go further, check out our conversation below with Marie Tors and Bharath Rajagopalan in charge of strategic marketing at ST. They both explore where AR, VR, and XR are heading and how they are preparing for it. It'll be the first taste of things to come during XR Day 2021.
Conversation on AR, VR, and more: Marie Tors and Bharath Rajagopalan