We are announcing the validation of the first STM32G0 microcontroller, the STM32G071, for the Alexa Connect Kit (ACK), which can simplify the prototyping of connected modules for smart systems that use our MCU. To start building devices with the ACK, engineers need to grab an USI MT7697H Development Kit, which embarks a connectivity module, and the Amazon software development kits. Thanks to this validation, developers can also get a NUCLEO-G071RB development board and trust that our new drivers and firmware, available upon request, will support the wireless shield and enable them to rapidly write applications that will take advantage of Amazon's services. As appliance makers, wearable designers, and connected systems start to integrate the STM32G0, our first mainstream 90 nm, its validation for the ACK is a highly significant step toward the massive adoption of connected systems.
Why Consumers Will Care? Alexa Connect Kit to Answer Technological Acceptance Challenges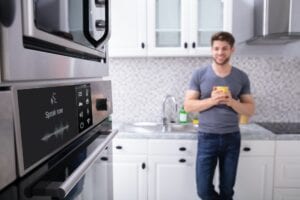 The idea of connecting a fridge or an oven to the Internet is ever more popular, and 20 years ago1, the IEEE was already publishing articles to help engineers realize this vision. More astonishingly, scholars at Newcastle University explained that smart home products could "improve socialization and even help users overcome the feeling of isolation,"2 thus establishing the broad benefits that come with these solutions. And yet, the same researchers explained at the British Academy of Management's annual conference in 2019 that increasing the number of smart devices in one's home can lower its inhabitants' satisfaction levels. One reason could be that, as their research showed3, "Perceived Ease of Use" is one of the most influential factors in accepting and enjoying smart home technology, often above "Perceived Usefulness".
The research clearly shows that merely offering new features, smartphone companion apps, and wireless connectivity is not enough. One reason smart home devices are not yet more ubiquitous could be their inherent complexity, which is precisely what ACK aims to solve by opening engineers to Amazon-managed clouds and Alexa-controlled systems. As a result, using the ACK means developers can integrate Amazon's Wi-Fi Simple Setup, which can help customers set up their devices in fewer steps. For instance, an Amazon Echo can act as a mediator between the user and a smart coffee machine built with ACK. The consumer starts brewing by talking to the smart speaker, or the appliance could reorder filters with Amazon Dash Replenishment Service to further increase the consumer peace of mind and the product's ease-of-use.
What Developers Will Crave? An STM32G0 and the Alexa Connect Kit Because Simple is Best
Another reason smart appliances are not more ubiquitous is that they represent a complex engineering problem, and therefore demand time and expertise. As a result, validating an MCU like the STM32G071 for the Amazon Connect Kit removes a lot of that complexity. Moreover, since the Nucleo-G071RB is about $10 and the Wi-Fi shield is currently less than $200, it takes very little money to start a project. The STM32G071RB present on the ST development board is also in more and more appliances, which means that developers can start writing their code on a device that will be identical or very similar to the one that ends up on their final PCB. And since the component supports USB-C and includes two UCPD interfaces, manufacturers can add a Type-C connector and offer Power Delivery without requiring an external controller.
With STM32G0 software support, developers don't have to setup pins, work on the clock tree, or implement complex frameworks to get their demo working. We'll also provide documentation and MCU support for over-the-air updates. For large teams, using the STM32G0 Nucleo board and the ACK enables them to test Amazon services and understand how supported capabilities can benefit customers as well as device makers. They can then potentially select a different host STM32 as long as it meets Amazon's minimum requirements, which are, among others, 20 KB of Flash, 4 to 8 KB of RAM, and a half-precision (16-bit) FPU. On the other hand, smaller teams will also get to use the schematics for our development board, study our source code, and reuse the connectivity module of the ACK shield to hasten the development of a final PCB.
Next Step
A. Schmidt and K. van Laerhoven, "How to build smart appliances?," in IEEE Personal Communications, vol. 8, no. 4, pp. 66-71, Aug. 2001. doi: 10.1109/98.944006 ↩︎
Davit Marikyan, Savvas Papagiannidis, Eleftherios Alamanos, "A systematic review of the smart home literature: A user perspective", Technological Forecasting and Social Change, Volume 138, 2019, Pages 139-154, ISSN 0040-1625, doi: 10.1016/j.techfore.2018.08.015. ↩︎
Yang Lu, Savvas Papagiannidis, Eleftherios Alamanos, "Exploring the emotional antecedents and outcomes of technology acceptance", Computers in Human Behavior, Volume 90, 2019, Pages 153-169, ISSN 0747-5632, doi: 10.1016/j.chb.2018.08.056. ↩︎