A webinar hosted by DH electronics will show how engineers can use an STM32MP1 System-on-Module (SOM) and Candera's CGI Studio for graphical user interfaces to prototype faster. Repeat readers of the ST Blog will remember DH electronics. The ST Authorized Partner is a SoM maker that relies on the STM32MP1 and the open source community. Candera, also an Authorized Partner, joined the ST Partner Program last October. The webinar will highlight what teams can do when Authorized Partners come together to shape the latest engineering trends. Indeed, as prototyping phases shorten, teams must adopt new tools and practices.
Candera, DH electronics, and ST: How Can Engineers Prototype Faster?
Rapid Prototyping Challenges
A cursory glance at the scholarly literature reveals that "rapid prototyping" continues to be all the rage. Component-based methodologies advocate that designers must validate specifications as early as possible1. Whether teams are designing something as complex as a spacecraft2 or as "simple" as a DC motor3, rapid prototyping tremendously influences projects. Indeed, time and monetary constraints are increasingly unforgiving. Hence, very often, the hardware at the start of a project must often be close to the final product. Similarly, software tools must be pertinent for most of the design phase. The trend also explains the rise in simulators as they can help experiment more efficiently.
Working With an STM32MP1 SoM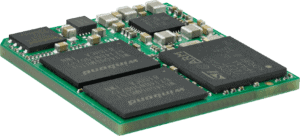 Meeting the challenges of rapid prototyping often means adopting a development board that can easily scale. Hence, for many working on the STM32MP1, it often comes down to choosing a SoM that already solves a lot of the design challenges, such as the DRAM implementation, and can scale easily. DH electronics' DHCOR and DHCOM modules use up to 1 GB of DDR3 and the STPMIC1 power consumption management IC. They also come with flexible configurations to tailor a final design without needing a hardware overhaul. Moreover, the company can ship a few development boards to tens of thousands of modules. DH electronics thus answers rapid prototyping challenges and offers a mainlined Linux board support package.
Creating With CGI Studio
Another answer to rapid prototyping challenges is comprehensive UI development tools. The more a tool can do to achieve a final design, the better. Indeed, many teams will take higher licensing fees if it means hiring fewer people for a project or finishing it faster. CGI Studio includes tools, such as the Smart Importer, that will work with designers that have little to no programming experience. Teams can import Photoshop projects and use graphical interfaces or collaboration features to optimize their UIs. While competing tools would require developers to implement functions in C++, for instance, Candera bridges the gap between designers and developers with automation features to meet rapid development challenges.
CGI Studio, DH electronics SoM, and STM32MP1: How Do Partners Work Together?
When Starting From the UI
The webinar will not only cover the solutions from each partner but delve into how they work together. Indeed, some teams may start their project on CGI Studio, which Candera optimized for the STM32MP1. Designers could begin in Photoshop or Sketch and use the Smart Importer, which handles mapping operations and detects elements like gauges or sliders to create automatic functions. Designers could also conceive scenes, states, and logic until they have a nearly completed front end. Afterward, developers can bring their project over to DH electronics, who works with Candera to advise clients on the fit for the UI. Developers can also benefit from the SoM maker's expertise in optimizations or its board support package implementation.
When Starting From the Hardware Development Kit
Inversely, companies may create a proof-of-concept on a DH electronics development board. Engineers may decide to work on the back end and gauge the impact of a display or RAM on power consumption. Some may also want to focus on implementing a network stack and a connection to the cloud. The next step would be to use CGI Studio to work on the UI, knowing that the close partnership between Candera, DH electronics, and ST hastens developments. Indeed, the software maker can make recommendations based on the hardware chosen. Additionally, engineers can outsource the UI to designers while working on low-level systems, which has its financial incentives.
Greater Than the Sum of Its Parts
To make the webinar more tangible, DH electronics and Candera will showcase three different HMIs (Human Machine Interface), including a 3D coffee machine application. The presentation will also feature a coffee machine application. The example highlights how a DH electronics board with an STM32MP1 and a touch panel can work with a UI made with CGI Studio and its Smart Import functionality. Ultimately, attendees will see how ST Authorized Partners come together to hasten prototyping. Candera and DH electronics are also working on a bundle to help teams get started faster. In a nutshell, the union of Authorized Partners highlights an essential feature of the ST ecosystem: the total is greater than the sum of its parts.
P. Tessier, S. Gerard, C. Mraidha, F. Terrier and J. -. Geib, "A component-based methodology for embedded system prototyping," in 14th IEEE International Workshop on Rapid Systems Prototyping, 2003. Proceedings, 9-15, https://doi.org/10.1109/IWRSP.2003.1207024. ↩
G. Labrèche, D Evans, D. Marszk, T. Mladenov, V. Shiradhonkar, V., Zelenevskiy, "Agile Development and Rapid Prototyping in a Flying Mission with Open Source Software Reuse On-Board the OPS-SAT Spacecraft", in AIAA SCITECH 2022 Forum, 2022, https://doi.org/10.2514/6.2022-0648 ↩
R. Delpoux, L. Kerhuel, V. Léchappé, "On Chip Rapid Control Prototyping for DC motor", in J3eA Volume 20, 2021, 2021, https://doi.org/10.1051/j3ea/20210001 ↩