ECMF2-40A100N6 and ECMF4-40A100N10 are ST's first common-mode filters with ESD protection supporting a 10.7 GHz bandwidth for high-speed serial buses like HDMI 2.1, USB 4, DisplayPort, and more. The new devices meet the latest standards IEC so consumers can benefit from smaller form factors without negatively impacting their experience. Both devices are very similar except for their number of pads and protection levels. The ECMF2-40A100N6 can manage a contact discharge of up to ±9 kV and ±20 kV on air discharge. Comparatively, the ECMF4-40A100N10 handles ±10 kV and ±25 kV, respectively. Engineers can thus decide to use one or both to tailor their design and reduce costs.
Why is Antenna Desense an Increasingly Bigger Problem?
Fast Serial Interfaces and Wireless Radios Don't Mix
In an interesting paper from Missouri University of Science and Technology and Google Inc., researchers looked at why USB connectors remain one of the primary sources of antenna desense1. Antenna desense happens when noise near the radio has a frequency that interferes with its operation. The receiver experiences a loss of sensitivity, meaning that it doesn't capture some of the signal destined to reach it. As the video below shows, noise from the USB line can ultimately hinder the Wi-Fi module. Even popular displays or consumer products have suffered from antenna desense and interference, causing great harm to the user experience and the brand. Indeed, while engineers know about this, solving the issue can be complex.
Small Form Factors Make the Problem Worse
Moreover, while the paper above only talks about USB 3.0, its authors knew it was only the beginning. The reason is that antenna desense gets worse because of two significant trends. First of all, form factors are shrinking. As a result, the USB port is getting closer to the Wi-Fi module, increasing the risk of desensitization. Secondly, serial ports are getting much faster. If USB 3.0 was a problem with its 5 Gbit/s, USB 4, Thunderbolt 3, or HDMI 2.1 are even more problematic. Indeed, the 10 Gbit/s means greater noise and thus sensitivity loss. However, the demands for 4K or high dynamic range images and faster data transfers make those interfaces necessary.
Why the ECMF2-40A100N6 and ECMF4-40A100N10 Solve Antenna Desense?
The Right Rejection Frequencies in a QFN Package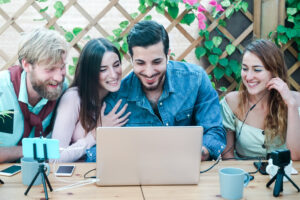 ST released the ECMF2-40A100N6 and ECMF4-40A100N10 to solve these new challenges. They filter the noise from most high-speed interfaces, and their rejection frequencies protect Wi-Fi and Bluetooth modules. Additionally, we chose a μQFN-6L package for the ECMF2-40A100N6 and a μQFN-10L for the ECMF4-40A100N10 to meet the manufacturing challenges of industrial applications. Competing devices tend to use CSP housings, which don't offer the same robustness. QFN packages work with more connectors, whereas competing solutions can only protect against USB ports. Indeed, since the TMDS pull-up lines in an HDMI port use 3.3 V, there's a risk that the ESD protection of CSP devices remains latched, therefore breaking it altogether.
The Ability to Customize a Design
The entire ECMF catalog aims to help engineers tailor their designs. For instance, ST offers common filters supporting a lower bandwidth for applications that don't use high-speed serial interfaces or those that must protect a cellular antenna. Indeed, their lower rejection frequency will help protect 4G modules. Similarly, the ECMF is diverse enough to optimize costs. Some customers don't mind using the same ECMF devices everywhere on their PC's motherboard to filter USB and Ethernet ports. On the other hand, other designers use one ECMF device for the high-speed lines of the HDMI 2.1 port and another for its clock, thus lowering the bill of materials.
A. Huang et al., "Investigation and Mitigation of Radio Frequency Interference Caused by Weak Grounding of USB Type-C Receptacle Connector," 2020 IEEE International Symposium on Electromagnetic Compatibility & Signal/Power Integrity (EMCSI), 2020, pp. 139-144, doi: 10.1109/EMCSI38923.2020.9191587. ↩