After the release of the 1982 TV series Knight Rider, kids and adults alike dreamt of driving KITT, a custom Pontiac Firebird that could talk and use a myriad of car sensors to make intelligent decisions as Michael Knight, the hero, fought crime. Today, people no longer think twice about a mainstream car with a backup camera and sensors on every part of its chassis. What happened in the span of fewer than 40 years? This is precisely what Stuart Ferguson will explain at the ST Developers Conference 2018 during a presentation on High-Performance Sensors for Advanced Vehicle Systems, and we highly encourage you to register while tickets are still available.
This latest talk is also highly symbolic because it will act as a follow-up to Stuart's 2017 presentation on inertial sensors for autonomous cars. Last year, he showed that since the 1980s, MEMS took over to increase the safety of everyone in the car as well as outside the vehicle. For instance, sensors detecting that an automobile is about to go out of control because the driver is over or understeering can engage a mechanism that will brake individual wheels to prevent an accident. Under the umbrella of Advanced Driver-Assistance Systems (ADAS), this feature is a testimony that the idea of an "autonomous car" is nothing new. However, this year, Stuart's talk goes beyond safety and autonomous driving to show how today's sensors cost-effectively enable features that were impossible five years ago.
Accuracy, Accuracy, Accuracy!
For the first time in the history of the automobile, sensor accuracy is now a driving force when it comes to selecting a component. Previously, most manufacturers were primarily focusing on costs, because the MEMS for this particular market were generally expensive. Furthermore, in most cases, the same component must reside on multiple parts of the car, such as the suspensions, or all sides of the chassis, which compounds its cost. However, by controlling all aspects of the design and manufacturing, ST continues to bring the costs of those components down, while also improving their performance. As a result, a new trend is emerging that now allows companies to select car sensors primarily for their accuracy since their cost is now low enough that they are compatible with the high volumes of mainstream vehicles.
A direct consequence of this new trend is the appearance of new applications. As Stuart explained:
"Car manufacturers are now demanding inclinometers with a 0.1º accuracy because they are relying on them as they install a Lidar or Radar. As these systems try to detect what is going on around the vehicle, the inclinometer ensures the correct positioning of the Lidar or Radar to guarantee their precision. Indeed, a 0.5º misalignment can have disastrous effects since the car is going to be scanning hundreds of meters (or feet). By using highly precise and cost-effective inclinometers, manufacturers can now install wider ranging Lidar and Radar systems in even more mainstream vehicles."
What Does Accuracy Even Mean?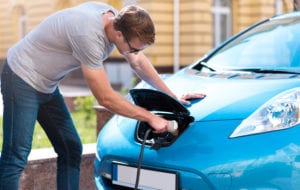 With this new emphasis on accuracy, decision-makers face a new type of challenge: grasping and evaluating the new characteristics that will help them choose the best component for their design. Indeed, since cost is no longer the only significant factor to take into account, some must adapt to new constraints, which is why Stuart will also delve into the Trinity that sustains accuracy: noise, temperature dependence, and repeatability. Noise is an intrinsic element of electronics and sensor design. As a result, a lower noise means that a car sensor will have a higher resolution, which will directly impact accuracy. Similarly, car sensors that can tolerate a wide range of temperatures embark a mechanical system that will offer a steadier output, a feature particularly important for vehicles that must work flawlessly, regardless of the weather or driving conditions.
As Stuart tells us his experience helping car makers understand some of the new realities that shape their industry, he notes that one specification that people in the automotive sector must now grapple with is the Allan variance of inertial sensors. This concept helps them gauge the inherent noise of the component, a value our specification sheets sometimes refer to as "rate noise density." This Allan variance first helped engineers determine the accuracy of crystal oscillators by measuring the stability of the internal clock speed (frequency) relative to a reference clock. By applying a similar time-domain analysis, one can also look at how the average output of a component varies over time to determine its intrinsic bias and better grasp its fundamental accuracy. A few years ago, this was not a key requirement for automakers. Today, it's an essential part of the decision-making process.
Noise Cancellation: From Your Headphones to Your Car
These specifications are of the utmost importance when choosing an accelerometer to apply noise cancellation in the cabin, for instance. At its root, noise cancellation is a method that sends a sound wave with the same amplitude but the inverse phase of the sound wave that people in the cabin will hear. Both waves cancel each other out, thus significantly attenuating the noise in the cabin. Traditionally, noise cancellation uses microphones to capture the sound wave that's the target of the cancellation. However, using microphones alone in a car is imperfect as they can't offer a response that's fast or precise enough. As a result, manufacturers also place many accelerometers all around the chassis to detect the vibrations that will reach the car's passenger, thus enabling noise canceling systems to send anti-noise faster and use the microphones to tune the canceling signal.
This method is far from new since many headphone manufacturers use it, but it is a testimony to a rising trend in the automobile industry. Technological accomplishments in the consumer market make their way into cars, continually shaping the features that drivers and passengers experience. As Stuart said:
"In a lot of instances, a technology that experiences mass adoption in the consumer market is likely to penetrate the automotive industry. One of my jobs is to look at the core capabilities ST develops for other fields, such as the consumer and industrial markets, and show how they can penetrate all sorts of vehicles. This approach allows us to offer an economy of scale that few of our competitors can afford since the volumes of the other markets enable us to perfect our technologies and processes to offer highly precise and cost-effective components to car manufacturers.
Data Is King
Stuart's presentation will thus draw from his experience and knowledge of the industry, and we can't stress enough how critical his talk will be for professionals and enthusiasts who want to understand where cars are heading. There's a common saying in the industry: "In God we trust, all others must provide data." However, we feel that recently, automakers makers require more than just data, but highly accurate data, and for many years, Stuart has been showing them how to get it. To attend his lecture, register to the ST Developers Conference 2018. Please note that space is limited.