In a market study published by Gartner in 2014, STMicroelectronics is listed as one of the members of the semiconductor industry that will benefit the most from the rise of the commercial drone market. ST's unique position is the result of its wide range of components governing almost every aspect of these popular flying objects. From the gimbal to propeller controls, from one end of the drone to the next, ST's components offer improved performance, easy implementation, and lower power consumption. To showcase the breadth of components ST puts at the disposal of engineers and manufacturers, we will focus on two major categories : The flight control unit, and the analog products. Within each category, we will only offer a brief high-altitude overview of three components that are used to propel designs to incredible levels. There are too many products to list them all here and too many fascinating technological advances to offer an in-depth description of those we selected. Rest assured, though, we will offer more details in future posts.
Flight Control Unit
The Flight Control Unit is the drone's brain, but a brain unable to interact with the outside world is useless. Here we list three components that offer accurate and important information on the drone's surroundings to the central system.
The LSM6DSL is a low power six-axis MEMS (Micro Electrical Mechanical System). It includes a three-axis accelerometer and a three-axis gyroscope. Despite this high level of accuracy, it only needs 0.4 mA to operate in normal mode and 0.65 mA in high-performance mode. This means that more sensors are integrated into a small packaging that can be more easily used in all sorts of designs. To go the extra mile, the LSM6DSM is pin to pin compatible with the LSM6DSL, and similar in specification, but includes an auxiliary signal peripheral interface (SPI) that can use the data from the accelerometer and gyroscope to act as an optical or electronic image stabilizer. This means that the pictures captured by the photo sensor are sharper and images are brighter in low light conditions.
The

STA8088

 Teseo II is a single-chip positioning system capable of working with a wide range of constellations (GPS/Galileo/Glonass/QZSS). Integrating 32 tracking channels and 2 fast acquisition channels, it relies on an ARM946 MCU (MicroController Unit) functioning at 208 MHz. The STA8088's ability to acquire the position, velocity and time data from all major global navigation systems greatly improves the position accuracy and navigation in poor satellite visibility conditions, such as in urban canyons. This explains why the STA8088 is not only used in drones, but also in vehicles and tracking navigation devices. The Teseo II SoC offers additional flexibility thanks to the three on-chip voltage regulators that can be used to power the transmitters and the core logic. However, if the engineers decide to reduce the power consumption of the STA8088, it is possible to bypass the internal regulators and decrease the supply voltage from 1.8 V to 1.2 V.
The VL53L0X is the smallest Time-of-Flight sensor on the market today at 4.4 mm x 2.4 mm x 1 mm, which makes it a great asset in drones of all shapes and sizes. The chip is able to take measurements in about 30 ms minimum and at up to 2 meters (6.56 feet). This type of sensor is often used in autofocus and obstacle detection. The increased speed and distance means devices can react quicker to their environment. The VL53L0X also represents a big leap forward since the previous family of sensors only had a range of about 60 cm (2 feet). Finally, the fact that it doesn't require additional optics and only demands a single power supply facilitates its integration.
Analog Products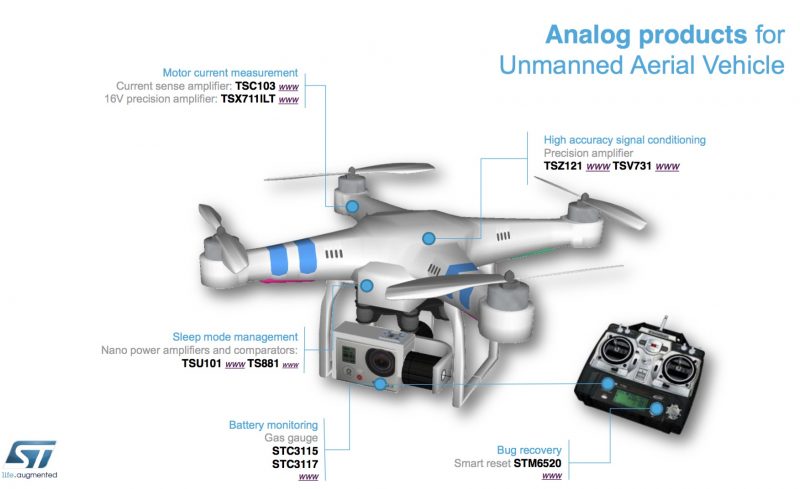 Power management is essential in these small devices running on tiny batteries. These analog products make sure designs are not only stable, even in the harshest conditions, but also extremely efficient so users can extract the maximum amount of run time.
The TSZ121 is a precision amplifier that offers an offset voltage of only 5 µV at 25 ºC and 8 µV over its full temperature range (–40 ºC to 125 ºC). It's great accuracy and low power consumption (40 µA at 5 V) make it a great tool in battery-powered drones because its performance is almost unaffected by temperature variation. Such a component is crucial in a drone to allow the outputs of sensors to be correctly conditioned and amplified before they are processed. Usually, such components require manual calibration, but the TSZ121 offers high DC precision without calibration.
The TSU101 is a nano power 5 V CMOS operational amplifier that is essential for sleep mode operations. Ideal for signal conditioning, engineers can design systems that will consume very little energy and still wake up when sensors pick up a specific signal. With a current consumption of only 580 nA per channel at 25 ºC, the TSU101 has about a 42-year lifetime if it is supplied by a 220 mAh coin type Lithium battery. Thus, engineers can design deep sleep mode that will greatly conserve battery life and allow drones to wake up when needed.
The STC3115 is a very small (1.4 mm x 2 mm) and low-cost battery monitoring system relying on the OptimGauge algorithm. This means that not only are the Coulomb counters offering highly accurate measurements to determine the state of charge of the battery, but the algorithm adapts the charge and discharge operations to improve performance and prolong the life of the battery. The STC3115 also includes an internal temperature sensor to help engineers easily benefit from a temperature compensation system. This is critical to ensure the drone returns to base before the battery is discharged.