To improve the accessibility of our content, please find the audio version of this blog post.
ST will take part in the first electronica South China, from November 3 to 5, 2020. To prepare for the event, we will look at some of the upcoming highlights from our booth. Out of the hundreds of ST demonstrations onsite, we picked a handful of symbolic solutions. We wanted to focus on platforms or devices that solved new problems and brought practical solutions. Such a list also allows us to offer our worldwide community a glimpse of upcoming trends and shifts.
Our presence at electronica South China will revolve around three competence centers: Smart Mobility, Power & Energy Management, and IoT & 5G. However, many will notice that the solutions we do showcase often borrow from each other. For instance, one can't talk about IoT without using efficient power management devices. Our goal is thus to show how ST technologies come together and to jumpstart new projects. We also invite attendees to reach out to our engineers and experts. Visitors wishing to check out the ST booth should register in advance.
electronica South China: Smart Mobility
New Class D Amplifier
Among the many demos at the show around smart mobility, ST will try to change what drivers hear. Infotainment systems can often run into temperature limitations that influence the overall system. An audio platform must, therefore, watch out for overheating on top of signal interference. Until now, one way to work with such constraints was to offer a system with lower switching frequencies. However, electronica South China will be unique because ST will be presenting a new generation of Class D amplifiers for HD audio that only requires a simple heatsink.
The development board supports a high switching frequency of up to 2.2 MHz instead of 400 kHz previously. Beyond the performance improvement, the increase in frequency will also enable the use of smaller output filters. Hence, designers can bring the bill of materials down and offer more cost-effective solutions. Similarly, the system supports an audio bandwidth of up to 80 kHz instead of 40 kHz/20 kHz previously. Engineers will also find digital inputs with a wide range of input sample rate frequencies. Finally, the full diagnostic capability will help technical support operations to reduce costs further.
Two Accordo Demos
ST would also like to change what drivers see, so one of the Accordo demos will show a two-wheeler cockpit. Accordo is a family of infotainment devices, and the Accordo 2 embarks a Cortex-R4. The device itself is capable of 720 MIPS. Moreover, when combined with the TouchGFX framework, designers can create rich UIs for cockpits. Indeed, the TouchGFX 4.15 framework enables complex effects and transitions on a small embedded memory. One such feature is partial frame buffering, which stores only the piece of the screen that will change. Similarly, CacheableContainers are bitmap caches that can vastly optimize performance. Ultimately, the Accordo 2 demos allow engineers to rethink what they can do with an embedded system that fits in the cockpit of a two-wheeler.

Another Accordo demo will focus on the passengers' experience by showcasing a GUI for seat remote control. It runs on the Accordo 5, which uses a dual Cortex-A7 architecture and a 3D OpenGL-ES 2.0 renderer. Users can see a faithful representation of their seat and adjust the headrest, lumbar support, backrest, ventilation, and many other features. The system supports a resolution of up to 1080p, and it dedicates a 450-MIPS DSP to audio effects. Some Chinese carmakers already expressed their interest, and we expect to see this system in high-end vehicles.
electronica South China: IoT and Automation
Aftermarket Wireless Digit Reader for Metering

Smart meters are quite mature nowadays, but some utility companies still can't justify the costs of installations. Replacing a traditional meter often means interrupting service and deploying a lot of technicians. Hence, when customers live in rural areas, the returns are often too low to justify the expense. The problem is even more striking in a vast country like China, where attending to particularly large regions is challenging.
ST is offering a solution to the cost challenge with its aftermarket wireless digit reader for metering. The demo uses a QVGA CMOS sensor and image recognition algorithms to read the numbers on a traditional meter. The system then sends the information to a cloud using a sub-gigahertz network. Instead of having multiple MCUs, the board only uses the STM32WL55JC, the first MCU with an embedded LoRa transceiver. This demo is thus highly symbolic because it shows how far AI on embedded systems has come. Not only can we run a machine learning algorithm on a Cortex-M4, but embedding the transceiver makes the system so cost-effective that it becomes an alternative to traditional smart metering.
KNX with a Bluetooth Low Energy Application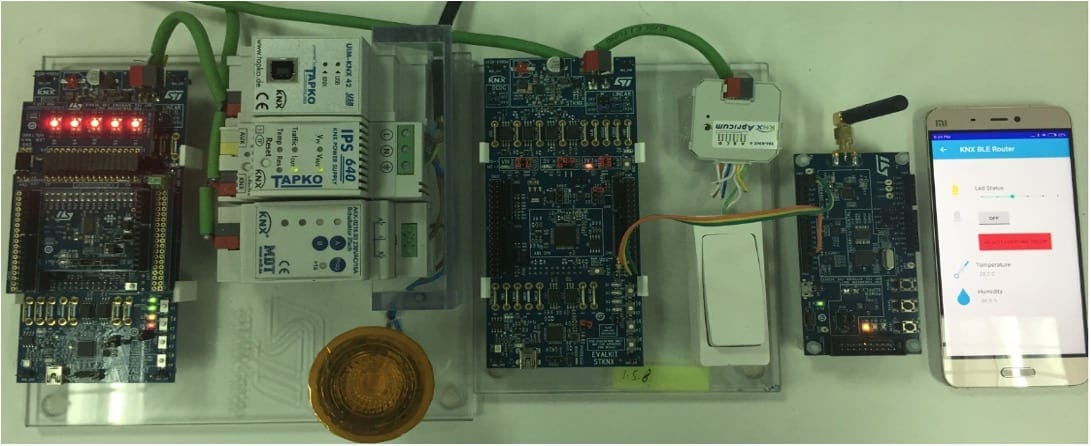 As the years go by, KNX demos remain highly popular. Last year, the smallest KNX transceiver made a significant impression on the STM32 Summit. This year, ST's booth at electronica South China brings a new solution that makes the protocol more accessible. KNX enables industrial or home automation on a large scale. The standard can, for example, help users monitor the energy consumption of units in a smart building. However, developers still spend a lot of time on interfaces to make the system more practical. Hence, we are showing a mobile application that communicates with a KNX system using Bluetooth LE. A BlueNRG-2 development board, the STEVAL-IDB008V2 talks to an STKNX sensor board (EVALKITSTKNX) via a UART interface, enabling the Android application to send a command or receive information.
The demo is also an excellent opportunity to update the community on the latest KNX trends. Indeed, customers in Singapore and China showed interest in our demo, and ST teams will continue to optimize it. One of the reasons the demo is attractive is because it has the advantage of building on current solutions. Developers simply need to add a BLE stack to their project and use ST's device to create their mobile solution. It thus makes the creation of a wireless control system far simpler.