STMicroelectronics and Alibaba are combining their hardware and software solutions to help students from universities in China learn all the aspects of cloud computing. Dubbed "Future Engineers," the initiative targets makers inside and outside the classroom by making IoT relevant and accessible. As a result, students will get their first experience with one of the most popular cloud platforms in the world and some of the most sought-after microcontrollers and sensors in the industry. It'll thus be the best opportunity to prepare undergraduates for what they will face once they get into the workforce. Alibaba and ST are committing to invest in the courses and training programs that will benefit more than 1,000 universities and 2 million students within the next 3-5 years. There will also be events to promote the best student projects and offer them more visibility.
Future Engineers: A Comprehensive Hardware and Software Approach
Alibaba Cloud, also known as AliCloud or Aliyun, is a global platform that is very popular among some universities thanks to the Alibaba Cloud University Cooperation Program. The initiative offers courses, labs, and affordable access to many AliCloud services to make it easy for students to develop their first IoT system. Additionally, they also get access to AliOS Things, a derivative of AliOS (Alibaba's Operating System) that focuses on IoT and mobile applications. Students are thus able to master a Linux environment while also benefitting from an ecosystem that puts a tremendous amount of resources at their fingertips. Indeed, instead of getting solutions from different vendors, having one company that takes care of the entire software stack is not only remarkable but similar to the philosophy we apply to our hardware, which explains why we partnered with them.
Indeed, AliOS Things is a great system to help students learn how to take advantage of our STM32 Open Development Environment, which is one of the reasons why we demonstrated our solutions last September at the Alibaba Computing Conference. We have plugins to generate AliOS Things projects that use our STM32 MCUs. We also have sensors as well as Bluetooth mesh networks stacks, wireless charging and power management solutions, which we certified for AliOS Things. For example, we had a 3D Cube demo of our B-L475E-IOT01A, a Discovery kit IoT node that connected to the Internet via Wi-Fi to dynamically change lights in responses to variations in temperature, humidity, and motions, among others, thus displaying multiple LED lighting effects in real-time. Partnering with Alibaba to bring STM32 MCUs, ST MEMS, and STM32 ODE solutions to students in China was, therefore, the logical next step.
STM32: A Hardware and Software IoT Platform in Universities Around the World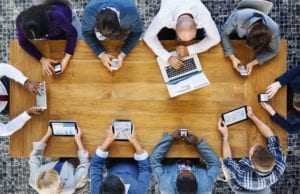 Inside the classroom, ST and Alibaba are working with faculty and professors to help young adults graduate with the experience and knowledge that will help them stand out. As a result, we are proud that a Chinese university holds the first course based on a textbook that uses Alibaba Cloud solutions and ST hardware and software tools. Taught to second-year and fourth-year undergraduate students, it uses the C programming language and goes over low-level drivers, API calls, Hardware Abstraction Layers, and the various algorithms that will ensure that students can get the most out of these development platforms.
Hence, the course can be broad to the point of attracting some graduate students who didn't have the chance to experiment with these solutions earlier. It also demonstrates the desire by Chinese universities and colleges to ensure their students are ready to lead the IoT revolution by the time they get their diplomas.
The "Future Engineers" initiative is also part of our global strategies to have ST Technologies in Universities. Professor William Kaiser at the University of California, LA, holds an Introduction to Embedded System with SensorTile, which teaches first-year undergraduate students how to approach IoT, while Professor Yifeng Zhu from the University of Maine has a textbook and a class on Embedded Systems in Assembly Language and C that uses our discovery boards. Similarly, we developed a step-by-step guide to STM32 in English with various post-secondary establishments in France, like the École Centrale de Marseille, to ensure that any student, maker, or self-taught enthusiasts can join the IoT revolution. Our emphasis on education is strong, and it was thus natural to bring this same passion in China and the rest of Asia with our long-time partner Alibaba.
Alibaba and ST: Building a Spotlight for Tomorrow's Leaders
The next step in our "Future Engineers" initiative with Alibaba will be to hold events that will involve educational institutions, other partners, and local administrations to promote the innovations that will transform the industry and our way of life. It will also be an opportunity to shine a light on the dynamic Chinese and Asian makers community as well as include more companies and establishments to our Partner Program to help create an effective network that can make the difference when bringing a product to market.
Additionally, we are also working with Alibaba on an "Embedded IoT Course," which targets IoT developers. We are creating training materials together that will rely on the STM32L4 as well as Alibaba cloud connectivity and data management principles. Moreover, we are jointly developing mobile apps that will complement this course. Since we recently launched an STM32 Online Store at Alibaba's Tmall, our boards and components will also be more easily accessible to these students and makers, thus strengthening this vibrant IoT community. Stay tuned to the Life.Augmented Blog as we'll cover upcoming events and feature the best projects that come out of our "Future Engineers" initiative.