Design contests are a great way for start-up innovators to get attention – which is always nice – and to demonstrate new ideas which go beyond the linear, predictable "faster, better, cheaper" model of many technological advances and product introductions. That's especially true when the contest entries are more than lab prototypes and especially when they are products that allow smaller companies and their design teams to show how they have seen a problem as an opportunity, and met it by using existing components in unique ways.
That's what we saw with the finalists of the recently concluded "IoT Innovation World Cup® 2018" in Barcelona (for which ST was a sponsor). The 32 finalist projects showed how companies and their engineers have understood unique problems, then provided innovative approaches to solving them. Entrants were in six categories: City; Retail; Home & Lifestyle; Healthcare; Industrial; and Transport. In addition, the World Cup featured two special categories: the LoRaWAN™ Challenge powered by the LoRa Alliance™, and Gemalto's Security Award.
Contests such as these help bring much-needed and truly deserved recognition to the hard work of these engineers. The can also inspire students to look at STEM disciplines (science, technology, engineering, and math) for their studies and careers. They do this by showing students that "engineering" is much more creative, exciting, and hands-on than just sitting at a keyboard and coding an app, while making it very clear that it takes hardware (electronic and mechanical components, circuits, systems) plus software to take an idea and make it do something. Too often, the "image" of an engineer they see on TV or in movies is someone hunched over a keyboard, hacking their way to success or danger – an image that is orders of magnitude from the reality of seeing engineering challenges and overcoming them.
ST products were used in more than half of the winning projects, with components and tools that provided the needed functions, features, performance and, yes, pricing. These products ranged from basic single-function building blocks to advanced sensors and processors, all which play a vital role in the design and production release of an actual product.
For example, the StethoMe (Poland, http://stethome.com) is a home stethoscope optimized for use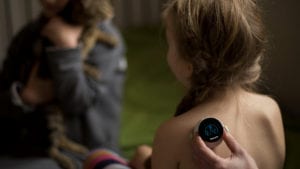 with children. This wireless-linked device allows non-contact measurement of body temperature while monitoring cardiac sounds, analyzing the data, and potentially even notifying medical professionals. It uses a wide range of ST products, including an ultra-low-noise LDO; a MEMS-based audio sensor as an omnidirectional digital microphone; an STM32L4 MCU with floating-point unit; and an always-on 3-D accelerometer and 3-D gyro.
MyClose (Italy, www.myclose.net) developed a new generation of smart locks which fully protect property and vehicles with innovative features such as worldwide tracking, full monitoring, and mobile alarming to smartphones. Their product uses an ultra-low-power STM32 microcontroller from ST with integrated ADC and DAC channels, as well as 128 Kbyte, SPI-based EEPROMs.
For live tracking of contestants in outdoor sports events, Tech4Race (France, www.tech4race.com) is a GPS tracker with online tracking interfaces. It provides real-time monitoring of all participants, regardless of the event's duration. Among the ST products used are an electronic compass, an STM32MCU embedded inside a LoRa module, and LRWAN radio software.
Other winners who used ST components included:
the Al Bicchiere smart wine dispenser (with IoT connectivity) by beexlab srl (Italy, www.albicchiere.com) designed for wine lovers who open a bottle yet end up drinking only one glass contains numerous ST components, including an STM32L4 MCU, a Bluetooth module, pressure and humidity and inertial sensors, and a dynamic NFC tag, among others;
the digimondo shaft monitor (Germany,

www.digimondo.de

) uses an STM32 as the control for a battery-operated device that internally inspects water mains and monitors water level and temperature, then reports in real time via a wireless link; and

the Colibri AI-based solution from iotech swiss (Switzerland, http://www.iotech.swiss) which identifies, analyzes, and predicts weather and overall flying conditions that may lead to accidents, then notifies pilots of the situation and to enable early corrective action uses an STM32 MCU.
Each finalist entry represents a serious, carefully engineered product that has just been released to the market, mostly from companies you've likely never heard of – at least not yet! You can never tell in advance which ones will "hit it big" and be successful in their niche, and perhaps be a "game changer" for their target application.
Find out more about the IoT Innovation World Cup®. You'll be surprised, impressed, and perhaps even amazed at what creative minds and teams can do, especially when supported by an array of the right components and tools.