Here's a new video showing what to do once you open the box, how to connect the battery, how to link the SensorTile.box to a smartphone, and how the module fits in the developer's journey. 
We are launching today the SensorTile.box, the spiritual successor of our famous SensorTile module that remains so popular, and we will hold our first public demos at the IoT World conference that will take place in Santa Clara, California, on May 13. Instead of only releasing the same board as the original model, but with new sensors, ST is offering a completely new approach that manages to speak to novices and experts alike. Anyone can take the SensorTile curriculum online and very quickly learn how to write applications for the first module while also benefitting from life lessons and a better understanding of embedded systems. However, with the SensorTile.box, we are enabling the use and configuration of our module without needing to enter a single line of code, thus considerably enlarging its appeal and enabling more people to partake in the IoT revolution.
As the name suggests, the most apparent transformation of the new system is its form factor. The original SensorTile had a cradle to support the sensor board, and a plastic case to house the solution. The new SensorTile.box completely revisits its approach and encapsulates everything in a plastic case to resistant water splashes (IP54) and measuring only 57 mm x 38 mm x 20 mm. Despite its size, it offers a microSD card slot to use a memory card of up to 64 GB to store a lot more data than previously possible, it includes our lithium-ion battery charger STBC02 to facilitate the creation of mobile applications, and it is even compatible with ST-LINK V3, the latest architecture of our in-circuit debugger/programmer. Let's now examine what's inside this box.
The SensorTile.box
More Power, More Features, More Polyvalence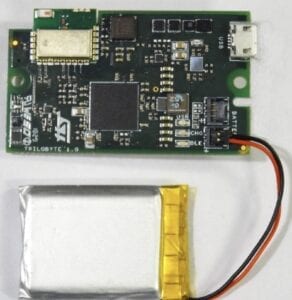 Beyond having more sensors, the SensorTile.box uses new MEMS that enable it to perform tasks that the previous model couldn't do. For instance, it integrates an LSM6DSOX, the first inertial sensor ever with machine learning, and a LIS3DHH, an ultra high-resolution three-axis accelerometer. Experts can thus create systems that are a lot smarter and more efficient, especially since ST also integrated the LIS2DW12, a 16-bit femto accelerometer that consumes only 50 nA. The new sensors are also significantly more powerful. The previous generation used a barometer capable of a maximum operating data rate of 75 Hz whereas the LPS22HH can climb up to 200 Hz.
The SensorTile.box is also highly symbolic because it is the culmination of recent strategies and an answer to the latest market trends. The SPBTLE-1S is a Bluetooth LE module that embeds a Cortex-M0 and is compatible with our Bluetooth mesh software pack. The HTS221 is a hygrometer present in the sensor board we recommend for predictive maintenance, and the STTS751 is a low-voltage temperature sensor in our IO-Link evaluation board. Similarly, the new product uses a LIS2MDL, the magnetometer in our flight controller unit for toy drones, meaning that teams can use the SensorTile.box to create consumer or industrial projects. It's this desire to be outrageously polyvalent that also moved ST to include the STM32L4R9, which includes 2 MB of Flash, 640 KB of RAM, and 144 pins as well as a crypto core to accelerate 256-bit AES encryption schemes.
Entry, Expert, and Pro Modes
If we had stopped there, the SensorTile.box would already be an excellent tool for developers as it would allow them to create applications that weren't possible before. However, in our desire to bring IoT to all, we are also shipping a software platform that offers two unique modes: Entry and Expert. Entry mode provides a list of applications that tailor the SensorTile.box to various situations. The user needs to launch our mobile app and select among a list of tasks (Pedometer, Vibration monitoring, Data recorder, Environmental monitoring, Asset tracking, Level, Compass, Baby Crying) to start taking advantage of the new module. Hence, people with absolutely no experience or coding knowledge can start using the SensorTile.box for asset tracking, predictive maintenance, motion sensors, and pattern recognition, making the SensorTile.box a genuinely unique system.
The Expert mode is more complex, but still doesn't require an IDE or the input of C code. A user creates an application through our graphical interface that uses blocks to represent specific functions. For instance, the software can use this mode to wake a sensor after a particular event, or record data in memory after a delay, turn on an LED or use sensor fusion to increase an application's accuracy. Expert mode will even allow the user to use machine learning to run inferences, making it a true power-user tool accessible to enthusiasts that are just starting to familiarize themselves with IoT platforms. It's also a great teaching tool for students that want to visualize a program before using the available Pro mode to code it in their IDE.
The Story Behind the SensorTile.box
A Problem of Accessibility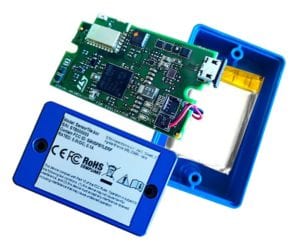 If many reasons and factors led us to create something as unique as the SensorTile.box, one of them takes its roots in a university in Italy. Students in a business course had to study the reasons behind the loss of goods that felt off tracks as companies loaded and unloaded them from trucks. The professor resorted to using a competing sensor module that cost around a thousand US dollars. When he met with our teams, he was ecstatic because he saw that the original SensorTile could do everything he needed and more at a fraction of the price. However, when we revisited the university, we were surprised to see that the professor was using the expensive sensor module and explained that his students had no technical background and didn't have the time to create applications for the SensorTile.
A Solution From ST and Our Partners
The experience above led us to reconsider our assumption and understand that our SensorTile platform had significant technical advantages, but that it was essential to make them available to an even wider audience. However, creating a user-friendly interface as well as the Entry and Expert modes weren't enough, so we are also launching a new commercial strategy. Unlike the original SensorTile, the SensorTile.box from ST will not be available for purchase online. Instead, we are leveraging our Partner ecosystem to make our new module even more accessible. By letting partners license and sell their versions of the SensorTile.box, we allow the market to come up with additional features, form factors, and applications to bring this new platform to even more users while guaranteeing the quality of the solutions that will appear on the market.
ST will have a reference design that we will showcase and share during conferences and special events, but it will no longer be the only solution available. We are also releasing a mobile application to go along with our ST module to ensure that users who get one have access to all its features. The more enthusiastic users can also direct their attention to FAE Technology, an Italian partner, who should have SensorTile.box modules by September. Distributors will also have limited stocks by June, 2019 and we will advertise new models from other companies as they become available. Hence, the conversation around the SensorTile.box is just beginning.
The SensorTile.box Becomes the Story
A SensorTile.box on Everest with Luca Colli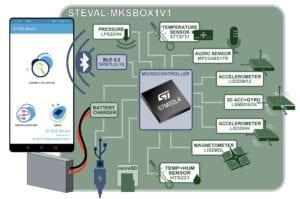 Many wonder what kind of sensor module Luca Colli is bringing as he climbs Everest and we can now reveal that he's carrying an early version of the SensorTile.box in his pocket. We set it to measure his movements, and the memory card will enable us to store a lot more data about his performance. As Luca braves the elements and faces one of the most challenging experiences in the world, the solidity and resistance of our sensors, even in the most extreme conditions, mean that our mountaineer can focus on his climb, rather than the SensorTile.box. As he explained during our interview, climbers would greatly benefit from even more powerful and complex sensor modules and the SensorTile not only brings us closer to this reality, but it also moves more people toward this future.
Building the SensorTile.box Ecosystem
Following the footsteps of the original SensorTile, the new model will receive updates that will take advantage of its more powerful capabilities. For instance, it will receive support for the STM32Cube.AI solution that brings machine learning to STM32 microcontrollers. The original model didn't have the necessary SPI to ensure sufficiently efficient communication between the sensors and the microcontrollers, but the SensorTile.box doesn't have this problem. The mobile application will also enable over-the-air firmware updates to offer patches and new features, as well as the FP-SNS-ALLMEMS2 Function Pack, already support the newcomer, which means that even people interested in the Pro mode will have example applications to jump-start their projects.