Thank YOU all
The STM32 Summit has concluded on a high note. All made possible by your loyal support and strong enthusiasm demonstrated during the 2-day event. We want to thank not only those thousands of people who had attended onsite but also those tens of thousands that had watched the live streaming broadcasts as well as all the good people who had generated further traction for this event through sharing our pictures around the social media world.
Impressive numbers
Day 1 turnout exceeded our expectation with 1740 people registered while day 2 reached 1751 culminating with an increase of 45% over 2018 event.
During the 2 days, we also shared part of the event through live streaming broadcasts and at its peak reached more than 50,000 viewers at the same time. You can view it here.
We also shared live photos throughout the event and the number of people who accessed the website is unbelievable… reaching more than 625,000 on 29 April and the numbers are still growing.
Grooming talent from early years
As you can see from the photographs, these young kids had shown serious interest in our product demonstrations with support from their earnest parents. We cannot be certain if they will be ST's future employees or if they will become the founders of world-renown companies, but we can be certain that ST has helped to plant the seed of curiosity about innovation and technology in their infancy. All said they didn't come in vain as they were treated to soft silky yummy ice cream.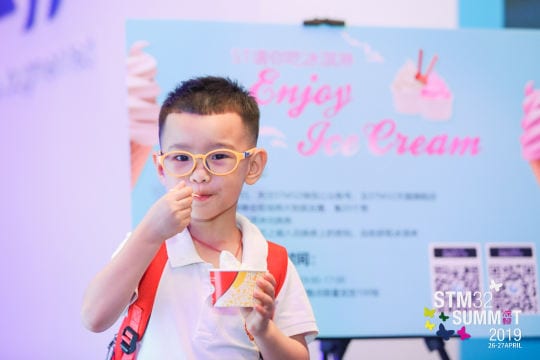 Appreciation of Strategic Partners

This is the first year that we gave out awards to our strategic partners for their long standing collaboration with ST. A total of 9 representing the wide STM32 ecosystem.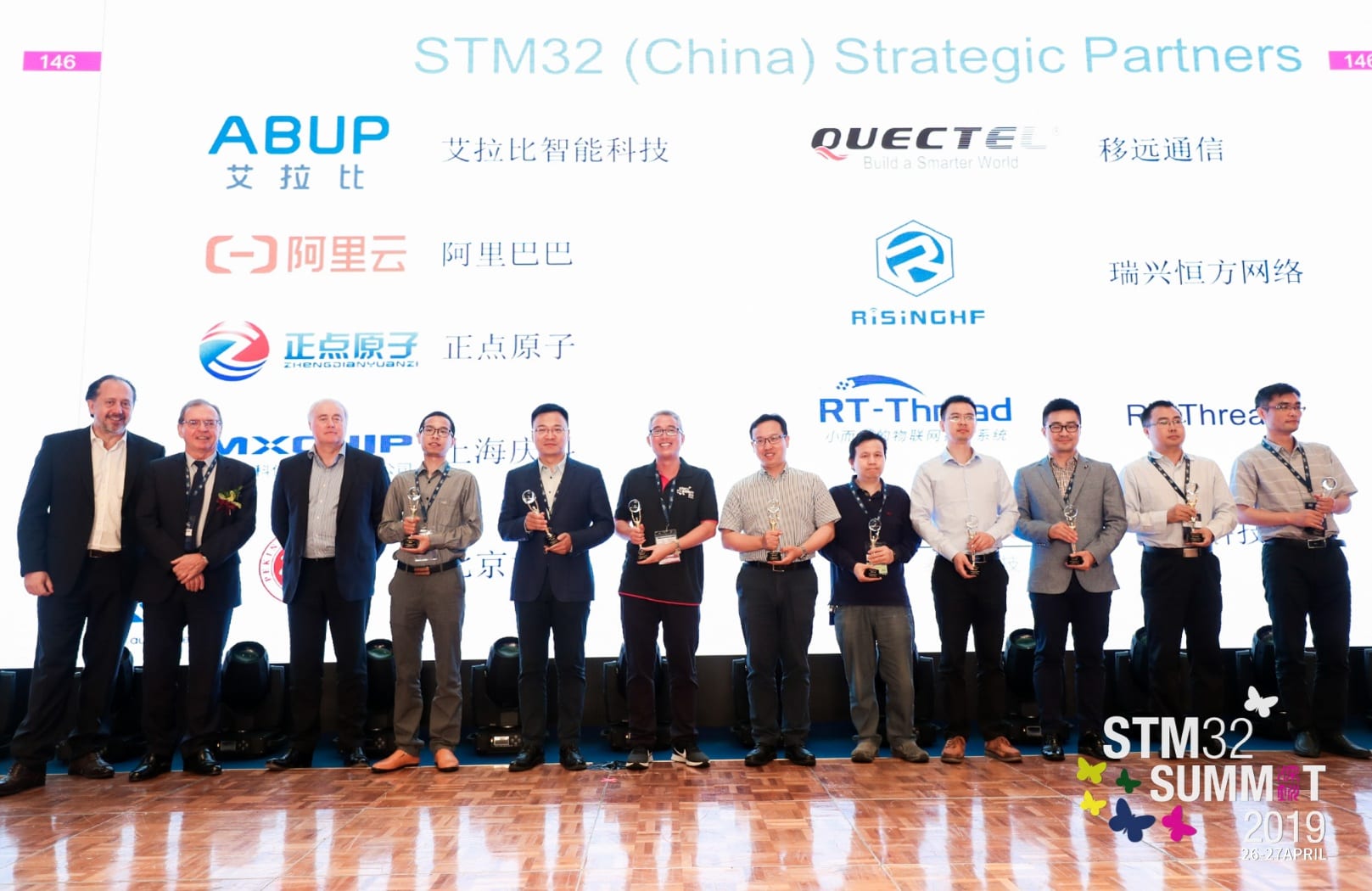 You are what makes us unique
To end this post, we want to share with you an extract of the speeches made by Jean-Marc Chery (ST President & CEO) and Jerome Roux (EVP, Head of Sales & Marketing, AP region) at the plenary. The STM32 ecosystem is today our biggest strength in China and it's built around these key factors:
The STM32 Community with an impressive 100,000 followers just in China, many of whom were attending the event or watching us through the live streaming channels.
Websites and forums where the participants talk about our products in a highly professional way with very positive attributes. Take our STM32 WeChat channel, for example, we are reaching out to more than 67,000 readers on a daily basis.
Within our website, refreshed a few months ago, the ST & MCU China webpage and in our ST Blog, the pages related to the topic of "STM32" are always the most visited. To date, the number of subscribers to the STMCU website has increased by 90% vs 2018.
Nurturing Talent Development that enables the training of tomorrow's developers with early exposure to STM32 via collaborations with Universities, China Ministry of Education and local national contests for students and young engineers to have hands-on experience designing with our STM32 products. Recently, we have worked with our dear partner Alibaba on a "Future Engineers" initiative that will benefit more than 1,000 universities and 2 million students within the next 3-5 years.
Partnership: we cannot forget to mention the many important partners we have in China including the Partner Program we have implemented. Many of whom attended our event – 50 ecosystem business partners comprising Distributors, developers, design houses, and so on.
Last but not the least You are what makes ST unique. You are the driving force to take STM32 onto the next level of success.