Last December, ST launched a new Community at http://community.st.com, to bring partners, engineers, academia, and enthusiasts together around its technologies. Curated by moderators, and enhanced by ST employees, it is a resource for our customers, partners and universities, about them, what they are doing and how they can help one another. It has become a treasure box for people seeking answers, a soapbox for sharing projects, and a toolbox to learn about groundbreaking technologies. In our post delving into some of the Function Packs used to setup a 6LoWPAN network, we came across a free toolchain, System Workbench for STM32 (SW4STM32), and explained there was a community ready to answer questions about STM32 MCUs, as well as other ST products. Today, we'll dig deeper into that community.
ST Community: The Village It Takes to Raise Innovation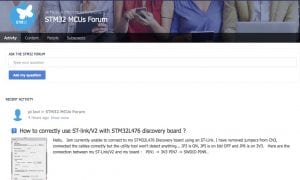 The ST Community gained tremendous traction very quickly with 5,000 new users in only the first 24 hours, and more than 40,000 users today. Built on the Jive-x social community software, it ensures a strong, reliable, and feature-rich platform. For instance, a news stream makes sure the user gets all the latest trends and activities in one panel that becomes a hub for the rest of the platform. It is also possible to customize that stream to better target the most relevant content for the user.
Another feature is the built-in system that rewards participation, commitment, and personal investments. The more a user posts comments, helpful tips, and solutions, the more that person receives points. It helps build a trustworthy community where newer users know who the experts are, while also allowing anyone with knowledge and experience to be quickly recognized as a valued contributor.
The most common and straightforward feature of the community is its forum. There are sections according to major products and services, and it makes asking a question, or sharing information extremely simple, and efficient. For example, one glance at the STM32 MCU Forum will reveal the quality and generosity of the community. Whether you need expert advice on choosing a programming language, or you can't read or write to the Flash and need someone to point to a modification in your code, you will meet thousands of like-minded people that will greatly enhance your experience using ST products. Furthermore, as the eDesign Suite section of the forum also shows, it is a great way to be kept abreast of the latest ST advancements and releases, like the integration of the Würth's Smart Transformer Selector a few weeks ago.
The Main Areas of This Big City
However, the ST Community is also much more than a simple forum. One of its most interesting features is that it is divided into smaller communities (STM32 MCUs, MEMS and Sensors, Automotive MCUs, Universities, and STM8 MCUs). These sections ensure the ST community as a whole is more pertinent and interesting. Each sub-community offers a selection of relevant forum posts, but users also benefit from a calendar of events. Whether it is a seminar, workshop, conference, or meet up, each community can easily advertise major events that will interest their followers. Hence, they are lively environments that foster growth, and ensure everyone can take advantage of the opportunities available.
Furthermore, because every single member of a community is valuable, we offer each and everyone a special Share Project feature. Whether you are making a product or an application, organizing an event, or you published a video to help fellow members use a particular component or function pack, you can click on Share Project, and use the form to make your contribution known to the world in a powerful way. Hence, each community member is also a community leader in the making, and to spot the most productive and expert users of a sub-community, the landing page for each of them has a special panel showing the top participants for the month, the week, and all-time, and we can't wait to see your name at the top.
Academia and Partners
Finally, ST Community provides a major innovative platform in the form of the ST University Program, which allows schools working on ST products to share courses, events, and students' projects. An establishment can contribute to a sub-community, and it also has its own independent section on the Community to showcase everything it is doing. Hence, students now have a great place to apply their knowledge, more easily understand concepts, and show the world their next big idea.
But the ST Community is also continuously evolving. A special section for ST Partners will be up shortly, enabling them to better shed light on their upcoming projects, share their designs, the technical decisions they had to face, and what makes their products or applications so great. Training resources will also soon enrich employees and users. In a nutshell, the community is growing, already greatly benefiting its users' experience, and it's only the beginning.
ARVE Error: Mode: lazyload not available (ARVE Pro not active?), switching to normal mode