We recently announced the ST31P450, currently the smallest secure microcontroller using the Arm® SecurCore® SC000™. Built on a 40 nm process node, it embeds 450 KB of Flash, an RF interface, and is compliant with the ISO/IEC 14443 Type A and EMVCo standards, which destines it mainly for dual interface bank cards, meaning cards that can both perform contact and contactless transactions. While its small size will help card manufacturers integrate it in new designs, the 30% increase in transaction times and better compatibility with any type of readers open the MCU to a lot more markets around the world. Furthermore, as MIFARE® licensee, ST provides a unique guarantee to companies that wish to open their design to the world and have the assurance that their product will offer a genuine experience.
The ST31 series of secure microcontrollers established ST as an active player in banking, identification, pay TV, and transport, among others. The fact that we can load a secure operating system at our factories is a tremendous saving for card manufacturers. Moreover, the ability to load any secure OS in a non-secured environment through a specific flash loader offers greater flexibility to customers that can work within the constraints of their existing supply chain. Our ST31 MCUs are also at the heart of our STPay platform strategy, meaning that we provide complete solutions and work closely with all major banking actors to understand the end-users' needs. The ST31P450 is, in fact, an answer to the challenges that our customers and partners face when dealing with markets that don't always use standard readers. Let's thus explore how the ST31P450 solves this problem.
ST31P450: Better Performance For a Better User Experience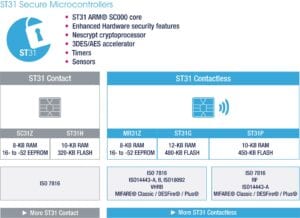 ISO/IEC 14443 part 2 determines that the minimum operating magnetic field strength (Hmin) of card readers must not drop below 1.5 A/m RMS while its maximum threshold (Hmax) must not exceed 8.5 A/m RMS. Card manufacturers test their system against these values, but unfortunately, readers in some countries do not follow them and may drop below the standard Hmin. When that happens, cards often enter uncharted territories as manufacturers don't necessarily test for these conditions, and less efficient microcontrollers may not work correctly, leading to failures and poor customer experience. The ST31P450 is more robust and interoperable than our previous generation of devices, meaning that it will still work great if the reader's magnetic field strength drops well below the standard Hmin. In optimal situations, the new device can tolerate magnetic field strengths as low as 0.5 A/m RMS.
The ST31P450 also improves transaction times by 30% with readers that meet the current specifications. For instance, while Visa and Mastercard demand that the microcontroller take less than 300 ms to process a contactless transaction, our new component comfortably takes less than 200 ms. It's essential for card makers because it means that they can trust this device for years to come and not fear that it may soon be obsolete. The available headroom is a guarantee that the ST31P450 can still meet standards even if institutions start to require more complex cryptographic mechanisms and computations become more intensive.
ST31P450: Better Hardware and Software Compatibility For Easier Operations
The ST31P450 offers an entirely independent application domain from the banking software to enable the use of the same card for another unrelated program. Readers in these settings are even more prone to low Hmin, meaning that its robustness is more crucial than ever. Additionally, as the only MIFARE licensee, ST offers unprecedented support for a vast number of applications already in existence. The specification developed by NXP is at the center of countless contactless system for public transportation, loyalty cards, and even government IDs around the world. By implementing MIFARE® DESFire® EV2, MIFARE Plus® EV1, and MIFARE Classic®, the ST31P450 ensures that bank cards that use our ST31 microcontrollers are the only ones capable of offering a genuine MIFARE experience. Card manufacturers can thus more easily convince their clients around the world to adopt their solution.
The additional RF headroom of the ST31P450 allows for wider variations in antennas. The RF of contactless smart cards operates at 13.56 MHz and antennas try to get as close to it as possible to offer the best results. We even provide recommended specifications. Unfortunately, some manufacturing processes can introduce variations and not all the antennas are as precise as they should. Hence, when a card manufacturer receives a sheet containing a large number of antennas to add its card on its assembly lines, the company must sometimes reject some of the lesser precise ones because the cards' modules demands very strict specifications. On the other hand, the ST31P450 is much more flexible and robust, therefore tolerating greater variations and greatly facilitating a card maker's operations.
When Technology Facilitates Creativity
Beyond its performance, the new microcontroller opens the door to more unique cards. Thanks to its robust and flexible RF behavior, card manufacturers can easily integrate it in original and innovative designs like metallic or transparent bank cards while maintaining an excellent contactless user experience. Additionally, thanks to a double source manufacturing strategy that rests on two large 12-inch wafer fabs, ST can supply high volume projects. The ST31P450 is genuinely a new and exciting chapter in the history of the ST31 family.
« MIFARE, MIFARE DESFire and MIFARE Plus are trademarks of NXP B.V. and are used under license »