Luca Colli reached the top of Mount Everest on May 23, 2019, with a SensorTile.box in his pocket and we decided to sit down with him to learn more about his experience. Before he left, he told us about the challenges that went into preparing for such a trip and the lessons that he had learned along the way. Before his departure, we gave him two SensorTile.box, our new modules with powerful sensors and three user modes, to show how our devices would perform in some of the harshest conditions in the world. Many of our readers followed Luca's adventures, his arrival at Base Camp, and his struggles. This Everest season was also one of the deadliest with many news outlets reporting outrageous lines. We thought it would thus be a unique opportunity to sit down with someone who was there and saw it all.
Climbing Everest: The Mental Challenge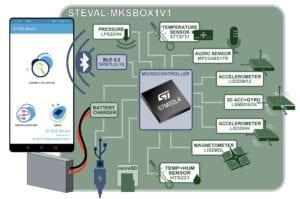 The Life.Augmented Blog: Luca; welcome back! We've followed your adventures; you are a seasoned mountaineer with now six out of the seven summits under your belt. What were you not prepared for when you undertook Everest?
Luca Colli: I don't think you can ever be ready for the psychological stress that comes with this experience. Climbing the tallest peak in the world is, in itself, one of the toughest mental challenges, but on top of it, you have to deal with bureaucracy and uncertain weather. Every mountaineer knows that the weather can be unpredictable, but it's incredibly challenging to stay motivated when logistical issues and bureaucratic red tapes delay your progress. There's so much more to it than just getting a permit and going your merry way. Out of the 60 days I was in the region, I spent 45 days training, mostly because we were waiting for authorities to clear us out.
Climbing Everest: The Physical Challenge
Blog: 2019 was one of the deadliest seasons on Everest. What happened?
LC: A cyclone in Bangladesh had massive repercussions on Everest. Traditionally, the weather window gives climbers ten days to ascend, but strong winds afforded us only two days. You can thus imagine that everyone up there tried to climb at the same time, which led to lines, delays, and deaths.
There are two sides to Everest: the Nepalese and Tibetan or Chinese side. The former is "easier" and therefore hosts the largest number of climbers. It was also the one that saw the longest lines and the highest number of deaths. I climbed the Tibetan side, which was less crowded. Nevertheless, I still suffered queues and a 40-minute stall on my way down as I was waiting for people to ascend the mountain.
Blog: How did you deal with it? Were you able to reach the summit without oxygen?
LC: The bad weather hampered our acclimatization process. Before the ascent, no one had been able to go above 7,000 meters (23,000 feet), which forced me to make more stops than I had anticipated. I started the ascent from 6,000 meters (19,700 feet) and was able to climb without oxygen except for a short time at 8,600 meters where a line brought my ascent to a halt, and I had to protect myself against frostbite. Other than that, I only used the mask on my way down from the peak. Waiting in line has a hugely detrimental impact on the human body and most deaths this year happened to people who could climb but weren't prepared to wait this long.
Preparing for Everest: Luca's Advice
Blog: What should climbers be mindful of when training for Everest?
LC: The human body is incompatible with such harsh conditions. My tent mate was very fit and a great athlete, but he almost lost his life on his way down from a climb to Advanced Base Camp due to altitude sickness. People who want to try Everest should first climb 4,000-meter peaks (13,100 feet), then 5000 meters (16,400 meters), and so on. Every thousand meters, the human body changes, and it's essential to understand how. I'd also recommend that people interested in Everest first try Denali, in Alaska, as the climate is probably the closest to Everest. Finally, it's crucial to focus on cardiovascular training. Climbing Everest requires great lungs and a great heart.
Blog: What advice would you give to people who will climb Everest next season?
LC: Drink a lot of fluids and electrolytes. Above 6,500 meters (21,300 feet), people understand that they will feed on cyclists' gels. However, many aren't ready for the impact that altitude has on the body. I lost 10 kilograms (22 pounds) in just 60 hours because of how brutal climbing Everest was on my body, and my tent mate lost 16 kilograms (35 pounds). Most people don't think about their kidneys, but proper hydration is one of the surest ways to prevent altitude sickness.
Technology on Everest: Luca's Sensortile.box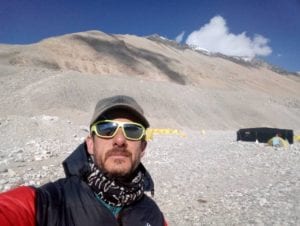 Blog: How was your experience with the two SensorTile.box we provided?
LC: It was great. I just kept them in my pocket during climbs. On the day of the ascent to the top, I think one of them had a charging issue because a red light was flashing. In any case, I was able to use the second one to track my ascent. I just kept it in my pocket and was able to forget about it. There was no interaction necessary and could focus on my ascension while it was running. Upon my return, ST engineers told me that everything looked great.
Saving Everest: More Technology, Fewer Deaths
Blog: Yes, indeed, everything looks great. Our teams are now parsing the data, and we hope to have exciting information for you within a couple of months.
LC: I dream that one day, climbers can have a device like this to track their heart rate, blood pressure, oxygenation levels, and report the data immediately to a physician who could remotely follow the mountaineer's physical condition. Too often, we underestimate the stress that our bodies go through. For example, many people think that the ascent is the hardest part, but the descent can be as dangerous, if not more.
Blog: What happened on your way down?
On my way down from the summit, my mind was playing tricks, and I kept hearing a sensual voice telling me to stop, sit, and enjoy the view. Exhaustion is a real problem and many climbers don't realize it. When I had to halt my descent and wait for climbers to go up, I sat and fell asleep in a matter of seconds, not even realizing it. Without proper supervision, it could have turned deadly.
Most accidents happen on the way down, but this year, one hit close to home. One fellow climber on the Tibetan side reached Mount Everest and even climbed down. After spending some time in camp, he complained that he was tired and went to his tent, only to die in his sleep. A monitoring system connected to a physician could help in preventing some of these tragic losses.
After Everest: Luca's Next Challenge
Blog: What's next for Luca Colli?
I'm hoping to climb Mt Vinson in Antartica in a couple of years, thus completing my seven summit circuit. In the meantime, I'm getting back to normal life, giving training and motivational speeches.