The STEVAL-LDO001V1 is the first evaluation platform combining four different Low Drop Out (LDO) development boards into one solution to help engineers find the right component for their design. We pride ourselves in delivering ultra-low power solutions and components with energy saving modes that can drop current consumption by one order of magnitude or more. For instance, the recent STM32L4+, for wearables and embedded systems, needs 43 µA/MHz, but its shutdown mode drops the current consumption to a mere 33 nA. We even offer industry-leading tools, like the STM32 Power Shield, to ensure teams can better test their design's power consumption. However, to take advantage of such low power modes, a circuit must use the right LDOs, and choosing the appropriate device for the job isn't an easy task.
One LDO Evaluation Board to Rule Them All
At some point, a circuit will need to take the electrical current from the power source and lower its voltage before it can power specific components. If the voltage drop is relatively high, a standard linear or switching regulator will often do. However, when the drop is low, such as powering a 3.3 V circuit using a 3.6 V battery, LDOs offer a lot more precision as their fast error amplifier corrects any voltage variation from the source to regulate the output. However, engineers have to wrestle with form factors, performance under light load, and many other constraints before they can determine which LDO will work best for them.
This is the reason why ST offers the STEVAL-LDO001V1. Made of four detachable boards, it uses the same connector for all four LDOs, which means that engineers can build one prototype and swap one of the four boards without any changes to their design. It also helps teams deal with components that are very small, and thus difficult to handle manually. When it comes to prototyping, swapping a board and reusing its connector is a lot simpler than having to solder a new LDO measuring less than a millimeter in width or length. Indeed, the STEVAL-LDO001V1 is the closest thing the industry has to a four-in-one plug-and-play solution, and it remains so affordable it's also accessible to enthusiasts and students.
LDBL20: When Size Matters
The STEVAL-LDO001V1 is also interesting because each of its boards serves a different application. Hence, swapping one LDO for another means looking at a design from a different perspective, which will help engineers better determine if their assumptions were correct, or if they need to approach their application from a different angle. For instance, the LDBL20–25R (top left) and the STLQ020PUR (bottom right) both use LDOs that offer an output current of 200 mA: the LDBL20, and the STLQ020, respectively Both also have a wide range of output voltages from 0.8 V to 5 V for the former or 4.5 V for the latter, both in 50 mV steps. They also tolerate wide operating temperatures from –40 ºC to +125 ºC.
However, the LDBL20 is the smallest of them all, thanks to its STSTAMPTM package of just 0.47 mm x 0.47 mm, and its thin design means it can fit in smart cards. Thanks to its quiescent current of 20 µA, despite such a form factor, this LDO also opens the way for medical applications that function inside the human body, like insulin pumps. It also offers a low enough dropout voltage of 200 mV to ensure that the PCB can efficiently use small batteries, while its total power consumption of 0.2 µA in shutdown mode guarantee great efficiency when the application is not running. Hence, if your product has severe constraints in size, especially in thickness, the LDBL20 will most likely offer one of the best performance-per-millimeter ratios.
STLQ020: When Quiescent Current Matters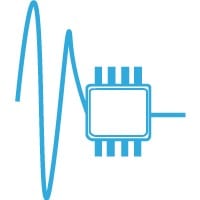 On the other hand, the STLQ020 is the biggest LDO mounted on the STEVAL-LDO001V1, but it has the lowest quiescent current (IQ) on the market today at just 300 nA at no load and 100 µA at 200 mA. In mobile or IoT application, quiescent current is a key specification since it measures the current consumption of a device when it is in a quiescent state, meaning that the load is very low, or non-existent. Since these circuits are often shut down or in standby, waiting for an event to trigger a wake-up function, it is essential that the quiescent current at low loads be as low as possible. Otherwise, the system would just waste a tremendous amount of energy, which would end up draining the battery a lot quicker.
The STLQ020 has a low quiescent current thanks to a dedicated low power design and its impressive adaptive circuity that regulates the LDO's power consumption depending on the load variations, resulting in much better dynamic response than other low consumption devices on the market. Furthermore, its architectural optimizations mean that it only requires 5 nA in shutdown mode, one of the lowest current consumption in the industry today for such a device. Finally, although the STLQ020 on the STEVAL-LDO001V1 uses a 2 mm x 2 mm DFN6 package, a small Flip-Chip4 version measuring 0.8 mm x 0.8 mm is already available. ST's documentation also shows that smaller SOT323–5L and STSTAMP packages are also in preparation, but there are currently no release dates.
LDLN025 and LD39130S: When Noise and Mobility Matters
Similarly, the LDLN025J33R board on the top right of the STEVAL-LDO001V1, uses the LDLN025, a remarkable LDO because it has one of the best output noise figures in the ultra-small LDO market at just 6.5 µVRMS. Comparatively, the LDBL20 has an output noise voltage of 45 µVRMS whereas the STLQ020 reaches 135 µVRMS. Despite such levels of performance, the LDLN025 still has a quiescent current at no load of just 12µA, and a low dropout voltage of 200 mV. It is thus a perfect LDO for mobile applications that require the cleanest signal possible, such as the CMOS sensor of a smartphone's camera or the motion sensors of a smartwatch. In these types of circuits, the tolerance for noise if very low and having such an architecture in a component too often overlooked can make a real difference.
The LD39130SPUR board (bottom left) also uses an LDO that is very popular in mobile devices, the LD39130S. Its primary feature is its ultra-low quiescent current of 1 µA at no load and 45 µA at 10 mA. It's easy to see that it's not as low as the STLQ020 at no load, but it's already available in DFN6 1.2 mm x 1.3 mm packages as well as Flip-chip (four bumps) devices measuring 0.69 mm x 0.69 mm. As a result, it's quite popular in smartphone designs, Bluetooth earphones, and other wearables. Despite its performance and size, it still has a low dropout voltage of 300 mV, as well as fast transient responses to quickly switch from its low power mode to its normal operating state, which is essential to guarantee an optimal user experience when waking from sleep.
Which LDO Is for You?
The STEVAL-LDO001V1 is already available for purchase at a suggested resale price of about $10. Let us know in the comment section below which LDO would most likely serve your design best and how this four-in-one solution would simplify your prototyping operations.