At the just-concluded ST Developers Conference in Santa Clara, California presenters and enthusiasts shared their passion for smart and powerful technologies. More than 600 attendees had a front row seat to major innovations happening in the Internet of Things, and saw many breakthroughs taking place in the cloud and in consumer and industrial electronics.
STM32L475 Speaks Cloud Like No Other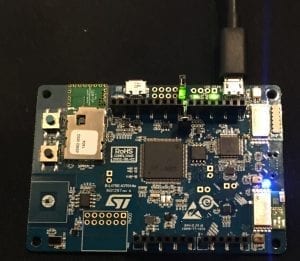 The sweetheart of the conference was undoubtedly the STM32L475 Discovery IoT Node, a new board that includes an STM32 MCU, sensors, Wi-Fi connectivity, microphones, Bluetooth Low Energy modules and software containing all the TCP/IP and connectivity stacks. It's an all-in-one solution that can connect to a cloud service right out of the box and even has Arduino connectors available so developers can add still more features.
The demonstration showed an STM32L475 sending data in real time to an Amazon Web Service and also triggered certain functions on the board after receiving messages from the cloud. Attendees were impress seeing the capabilities of the board.
Further evidence came from the maximum capacity in the afternoon hands-on session with the board, where ST engineers walked attendees through the different features of the STM32L475 using its (free) development environment. The lucky participants also received a free board so they could play and develop on it at home.
Your Heart's Content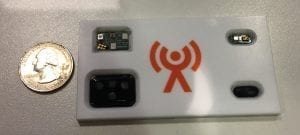 Another very impressive innovation "stole the heart" of attendees. Exhibiting-partner Valencell demonstrated its heart-rate and activity monitor, which uses advanced photoplethysmography, a technique that shines light on particular blood vessels and measures the light reflected back to determine blood flow. Valencell's technology is comparable to comparing chest monitors among themselves.
On top of that, its amazing accuracy enables the collection of other biometric data, such as a person's VO2 Max, a measurement of cardiovascular fitness. Valencell developed the firmware and algorithms and now offers reference designs using ST's MCU and MEMS devices to meet their customers' requests for simple, high-performance, and low-powered units they could easily incorporate into their products. ST's components allowed Valencell to offer extra features including step counting and other activity-based tracking that would have otherwise been too costly to develop independently.
Shockingly Innovative
Another exhibition partner, WiTricity, worked with ST to announce a collaboration targeting a wireless charging technology that uses high-frequency resonance instead of the traditional induction charging technologies offered by ST (and others) today. Thanks to an element called the impedance matching network that can generate a high resonating frequency using an optimized coil (6.78 MHz for consumer electronics applications), this wireless charging technology can deliver higher power over greater distances and with greater spatial freedom than induction charging.
Indeed, unlike all the typical wireless chargers, WiTricity's technology can charge a device even if the transmitter and receiver aren't perfectly aligned. The first reference designs for laptops allow a spatial freedom of +/- 30 mm on the X and Y axes, and future versions should tolerate even greater distances. Even more impressive: the charger and the device can be separated by a (non-conducting) desk, countertop, or table and still charge very efficiently. This allows WiTricity's magnetic-resonance technology to enable homes without visible wires, where device chargers could be placed underneath a table or countertop to effortlessly charge whatever is placed on top of it.
Moreover, Witricity's technology is highly scalable and targets products from wearables to automobiles. The reference design for cars offers much greater spatial freedom and the ability to transfer up to 11 kW, something unheard of today as wireless inductive charging is mostly limited to laptops and smartphones.
In total, the many attendees to ST Developers Conference saw products, tools, and technologies they can use today, to develop the exciting world of tomorrow.