The doors of the first ST Developers Conference just closed, and the excitement is still palpable. Thanks to the more than 600 attendees, 25 partner booths, 35 workshops, and several announcements, the event successfully brought together corporations, engineers, developers, makers, and enthusiasts around exciting technologies.
SensorTile's Flexibility Impresses
One recurring theme of this year's Conference was the Internet of Things (IoT) and ST's central contributions to this expanding market. ST's BlueCoin, SensorTile, and Bluetooth Low Energy were front and center and created big buzz. The workshop on SensorTile was very well attended and attendees were impressed by the Core System packing a high-performance STM32 MCU, MEMS microphones, an accelerometer, a gyroscope, a magnetometer, a barometer, and a Bluetooth module in a board  only 13.5 mm square.
They also saw how this system could function as a standalone product when using Bluetooth to collect its data with a smartphone, or could be attached to the provided cradle either by plugging it in or soldering it. This flexibility lets developers pick up the Core System and place it onto different development boards, or solder it onto one board when testing applications that require more robust setup.
Security and Connectivity in IoT
ST also addressed the increasingly important security in IoT, which is too often overlooked. Speakers — and demos — helped attendees understand the fundamental challenges of securing data to protect consumers' and companies' reputations. They saw how ST's Secure MCUs could accelerate encryption operations or provide secure elements to protect devices from intrusion or corruption. ST aimed to help attendees leave the Conference with better ways to assess the many threats inherent to connected products and the balance between cost and security that makes designs more useful and efficient.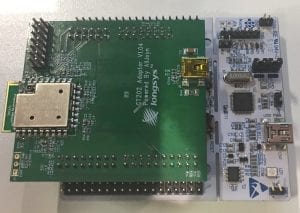 The Developers Conference also emphasized some of the many partners joining the IoT movement by building solutions on ST platforms. One example was Qualcomm that demonstrating a Wi-Fi n expansion card for STM32 Nucleo development boards. Since the TCP/IP stack as well as the network- and application-level encryption are handled by Qualcomm's chip on the expansion card, developers can easily offer Wi-Fi n compatibility for IoT consumer devices, and, at the same time, end up with more resources available on the MCU for their application.
There were many other sessions and demos focused on IoT, including a presentation from Samsung on its ARTIK platform and another offering an IEEE exposition on IoT standards and open-source initiatives. These high-quality presentations and the technology-packed exhibition area all contributed to bringing attendees closer to the exciting innovations that made this Developer Conference unforgettable and useful.