With its three new STM32MP1 modules, bytes at work, a Swiss company and member of the ST Partner Program, will offer new platforms to a broader range of engineers looking to prototype their application on ST's first STM32 MPU. The bE-STM32MP151C-650-R256-S128-I will serve as a low-cost solution while the bE-STM32MP153C-650-R512-E8 targets the mainstream market and the bE-STM32MP157A-SPEED-800-R1024-E8 focuses on high performance. The company also provides a development kit and can customize the PCB as long as orders exceed 100 units. Developers that potentially started experimenting with a developer's kit, such as the STM32MP157C-DK2 that was recently at the center of our presentation at AWS re:Invent, can thus use these modules to get closer to their final design. bytes at work also offers additional engineering services to help teams reduce their time to market.
Launched at the beginning of the year, the STM32MP1 has the advantage of integrating one Cortex-M4, besides its two Cortex-A7, which means that transitioning from an embedded system is a lot simpler. On the one hand, designers can port their existing Cortex-M4 applications with minimal effort while enjoying its large RAM to run powerful software such as a motor control code. We even offer a version of Zephyr OS for the Cortex-M4, which is a great starting point for developers that can use its drivers and layers to develop applications. On the other hand, teams also benefit from a GPU capable of driving a display while its support of the Yocto Project enables the creation of custom Linux systems. Hence, bytes at work quickly realized that companies were approaching the STM32MP1 differently from other competing microprocessors, and decided to release three new boards.
bytes at work and Hardware: 3 Modules for 3 Different Power Needs
The bE-STM32MP151C-650-R256-S128-I is a response to the popularity of the STM32MP1 in cost-effective applications. It's easy to look at the available power of an STM32MP157 and think of complex graphical user interfaces or demanding applications. However, bytes at works told us that many customers flock to the STM32 MPU to run an HTTP server without a GUI or an industrial program. These solutions don't need a lot of memory and would benefit from a more cost-effective configuration, which explains the presence of 256 MB of RAM and 128 MB of serial NAND in this particular module.
As Markus Kappeler, CEO of bytes at work, explained:
"Since 2010, we've worked with ST on modules that use an STM32F0 or an STM32F4, among others. As soon as we heard of the STM32MP1, we jumped on the opportunity because it was such a straightforward transition from embedded systems. For instance, you can easily configure pins, and the development environment is similar enough that we were able to design our first two STM32MP1 modules, the bE-STM32MP157_650_R512_E4_I and the bE-STM32MP15x_SPEED_800 R1024_E8_C,I, relatively quickly."
The mainstream bE-STM32MP153C-650-R512-E8 offers 512 MB of RAM and an eMMC storage of 8 GB. It also comes with secure boot. The more powerful bE-STM32MP157A-SPEED-800-R1024-E8 runs an STM32MP157 at 800 MHz and offers 1 GB of RAM as well as 8 GB of eMMC storage. bytes at work also ensure that their hardware is accessible by providing a development kit that makes use of 100 pins, with 40 destined to a Raspberry Pi connector, while 60 are standard pin headers. Software developers can thus run debug operations without soldering components.
bytes at work and Software: Transmitting Knowledge and a Competitive Edge
Markus highlighted that bytes at work goes beyond the hardware. As he told us:
"Our team sets up the Yocto environment for customers so they can focus on their application. We develop the layers and set up a Linux distribution with only what they need so they can start with an optimized system that closely resembles the end product. It may include adding scripts, tools, or working on a hardware abstraction layer in C++. We also spend time transferring our know-how so our clients can build software by themselves."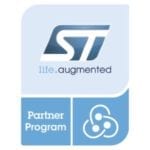 Developers that use an STM32MP1 module can thus focus on high-level APIs to control the hardware, such as changing the brightness or modifying a PWM setting. It removes a lot of the complexity inherent to the design phase, showing what an STM32MP1 and an ST Partner can help engineers focus on what they're trying to accomplish instead of how to do it.