---
To improve the accessibility of our content, please find the audio version of this blog post.
ST is launching today the STM32WB5MM-DK, a Discovery Kit built around the new STM32WB5MMG. The board takes advantage of all of the MCU's peripherals and provides an OLED display, a touch-sensing button, a Time-of-Flight sensor, an external flash, two environmental MEMS, and an infrared LED, among other things. It thus serves as a comprehensive reference for engineers integrating the first STM32 wireless module into their Bluetooth LE, Zigbee, or Thread applications. In fact, today's kit passed many wireless certifications. As a result, teams that replicate it will more rapidly obtain regulatory approvals for European, American, and Asian markets. The STM32WB5MM-DK is available for purchase at distributors, and designers can watch ST's webinar to quick start their project.
STM32WB5MM-DK, The Object Lesson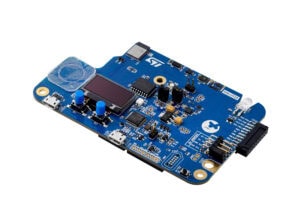 The STM32WB5MMG module is a solution for teams that must delegate the most complex challenges behind wireless designs. It houses the antenna, crystals, and everything else necessary to use the embedded RF. Engineers don't have to spend time tuning their setup or outsource the RF. Moreover, the package is small enough to save space on the PCB compared to a discrete implementation. The STM32WB5MM-DK Discovery Kit serves as an object lesson for the small footprint of the module itself as it sits on the top left of the board. The STM32WB5MMG module will also help engineers size their applications. Indeed, developers can host their code on the dedicated Cortex-M4, thus avoiding the use of an additional MCU.
STM32WB5MM-DK, The Development Booster
The new Discovery Kit ships with pre-flashed firmware. Hence, users can immediately turn it on and use it in conjunction with the ST BLE Sensor mobile application. Furthermore, the embedded application comes with a streaming audio service. Put simply, the board can record audio and stream it wirelessly to the iOS or Android app using Bluetooth LE. Developers can then study our software's source code by downloading the FP-AUD-BVLINKWB1 package. It will show them how to implement a full-duplex communication system or a stereo music streaming service over Bluetooth 5.0. The new STM32WB5MM-DK thus represents the quickest path to a proof-of-concept and a way to jump-start developments.