As the Money20/20 conference opens its door in Las Vegas on October 27, we are announcing the release of STPay-Topaz, our new contactless or dual-interface payment solution, which integrates an ST31P450 MCU, our new JavaCardTM based operating system, and the latest versions of the major payment applets. Companies that want to offer payment cards can focus on the customer experience knowing that the STPay solution meets all the necessary certifications, thus alleviating the need for expensive development operations and saving them from the burdensome management of security schemes life cycles. Moreover, since the secure MCU uses a 40 nm process node and decreases transaction times by 30%, compared to the former generations, STPay-Topaz can integrate cards with an expiry date up to 2031, in accordance with the Visa certification scheme, while offering a great user experience more than a decade after the platform's launch.
STPay-Topaz: A Flexible Platform and Easier Personalization Through Industry Partnerships
Launching a new platform, such as STPay-Topaz, is just the tip of the iceberg because to go from the module itself to a usable payment card, ST works heavily with inlay and package providers. We supply STPay-Topaz, but they are responsible for connecting the module to an antenna and integrating it onto the physical card itself. We thus work with providers, such as Amatech, SPS, and Linxens, to help them and others worldwide qualify our solution and embed them in a broader range of models. Card providers thus get a lot more design choices, which in turn allows them to enjoy a more extensive selection of models to fit better the market they are targeting. Whether they are aiming to satisfy the more cost-conscious consumers or more diverse demographics, our work with inlay providers means they can enjoy more flexibility without qualifying multiple secure modules.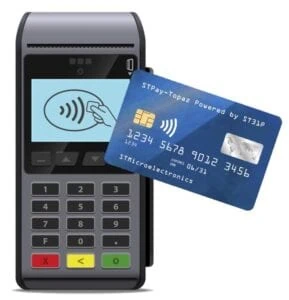 Personalization bureaus are another key player in the payment card industry. They are responsible for securely loading the unique and private information of a user onto the module, among other things. In North America, Entrust Datacard is an undeniable leader of the card issuance systems that personalization bureaus use to transform a blank card into a functioning payment solution made for a particular individual. Since 2015, we are a member of Entrust Datacard's Card Partner Program, which means, among many other things, those card bureaus can download tools and scripts to facilitate their testing, validation, and personalization processes. Additionally, our offices in the United States increased their STPay support staff to assist all actors in this industry further and shorten the time it takes to put a card with a STPay-Topaz module into the hands of the final users.
STPay-Topaz: New Payment Schemes and Updated Security
STPay-Topaz is highly symbolic because it shows to our desire to also promote local certifications and work with regional financial institutions to promote and expand their various solutions. Our new payment platform obviously supports international payment schemes, such as Visa, MasterCard, American Express, Discover, JCB, and CUP. However, just like our previous STPay generation, we are also compatible with RuPay(India), Interac (Canada), BankAxept (Norway), eftpos (Australia). We are also happy to announce the addition of ELO (Brazil), MIR (Russia), and the Thai Bankers Association. Several more are under discussions. Hence, STPay-Topaz can provide international and local schemes, which means that certifying one module can integrate multiple regions around the world, thus greatly simplifying operations and enabling companies to open their designs and cards to new markets.
The fact that we can support so many payment schemes is also a testament to the power and flexibility inherent to STPay-Topaz. A payment card looks deceptively simple, but given the millions of transactions that they undertake every day, each certification demands state-of-art protection against the latest spoofing or hacking threats. A weak scheme could end up costing inordinate sums of money and would squander the trust of its customers. The fact that STPay-Topaz offers the latest applets for international and local schemes means that it can satisfy the newest and most rigorous demands from financial institutions as well as the security community. ST will also continue to work with more local actors to increase the list of compatible schemes and bring our secure solution to more markets.
Beyond Banking
Another avenue of differentiation is the ability for banking institutions to offer a card that does more than financial transactions. Reaching younger demographics is crucial and one way to do it is to offer a payment card that can also serve as a transportation pass, among other things and it's an STPay-Topaz feature that helps our solution stand out from the competition. As the only IC manufacturer with a genuine MIFARE 1 license, our solution is compatible with MIFARE Classic®, MIFARE Plus®, and MIFARE® DESFire®, as well as Calypso2® technologies, and can offer independent application domains that guarantee the security of the payment applets while also enabling other uses.
MIFARE, MIFARE Classic, MIFARE Plus and MIFARE DESFire are registered trademarks of NXP B.V. and are used under license. ↩︎
Calypso is an open and multi-application transport/mobility ticketing standard developed and promoted by the Calypso Networks Association ↩︎