The Tactigon is a very small board (49.9 mm x 15.2 mm x 5.5 mm or 2″ x 0.6″ x 0.2″) packed with ST sensors, such as the LPS25HB barometer, the LIS3MDL magnetometer, or the LSM6DS3 six-axis inertial module, among others. It's the first project of its kind by Next Industries, a young Italian startup that traditionally focuses on industrial sensors for building monitoring as well as real-time tracking of massive infrastructures such as pipelines or environments prone to landslides, for instance. We thus sat down with its CEO, Massimiliano Bellino, to discuss why his company decided to enter a completely new market with the Tactigon and how they used the ST WESU reference design to do it.
ARVE Error: Mode: lazyload not available (ARVE Pro not active?), switching to normal mode

The Tactigon is an Arduino board that engineers can use as a remote control, an interface for virtual or augmented reality, or as a wearable device. The presence of an STM32L151VE microcontroller (MCU) means applications benefit from 512 kB of Flash, 80 kB of RAM, and a Cortex-M3 core running at 32 MHz that offers an interesting computational throughput to really drive the Tactigon. Similarly, BlueNRG-MS facilitates connectivity to a smartphone as we already saw with the Snuza Pico, thanks to a high-output power of +8 dBm. Yet, both the MCU and the Bluetooth module have an ultra-low power consumption to ensure products such as the Tactigon can do more while using a small battery. Nevertheless, beyond the specifications, what attracted us the most was the story behind the Tactigon and how this company went from paper to product in a relatively short time.
Step 1: Prototyping the Tactigon
Massimiliano shared his experience during the first steps of prototyping and explained that Next Industries had one objective in mind: reuse as much of the WESU reference design as possible to accelerate developments. As he told us:
"We chose WESU because we could rapidly prototype our ideas. Our primary applications involve sensors and it was just the perfect fit. We used accelerometers from other companies in the past, but we found ST's to be the best."
Next Industries also included the STC3115 gas gage and the STNS01 battery charger of the reference design. It is thus a testament to one of the most fascinating aspects of the WESU, which is its ability to serves as a foundation to customers wishing to enter IoT markets. As we can see, the Tactigon builds on this foundation to offer unique features and distinct technologies.
Step 2: Inventing Algorithms
Indeed, the time gained on the hardware was spent optimizing the Tactigon for a better user experience. Massimiliano explained that the high acquisition rate of the accelerometer enabled them to develop proprietary algorithms and patented technologies to increase precision and massively improve the user's experience. By trusting ST for the hardware, they were able to commit to creating outstanding software that could differentiate their products from the competition by better calculating angles to offer more accurate motion detection. As Mr. Bellino told us:
"Our first prototype was very close to the reference design. Hence, by building on the hardware, our internal developers were able to focus on the application and each incremental update was a leap toward achieving the results we have today.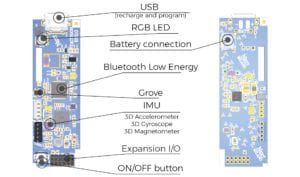 Next Industries also ran extensive power consumption analyses to customize their libraries and increase the Tactigon's power efficiency. Hence, one of its most impressive features is its low power consumption. The company also offers developers an Arduino SDK to ensure that the board is easily accessible to a majority of engineers. It is thus astonishing to see how the Tactigon is able to reach so many communities, which also explains why Next Industries will launch a crowdfunding campaign in October to build on the Tactigon's popularity to encourage the multiplication of prosumer applications, from drones to augmented reality, robotics, and human interfaces.
Step 3: Shipping
Prototyping with the WESU helped reduce the time to market ensuring the engineering teams were able to ship their product faster. Massimiliano told us that one of the lessons he learned during the development of the Tactigon is that there's an incredible gap between the ideas, concepts, or prototypes, and the actual shipping of products, and unfortunately, it's common to underestimate the time it takes to come up with a viable device, manage lead times, and have stocks to meet the demand. Furthermore, a product that has a strong genesis is more likely to bring greater innovations with each passing upgrade.
In the case of the Tactigon, the next evolution will take the form of the Tactigon Skin, a wearable device that wraps around the user's hand and includes a Tactigon board to monitor movements. It is now available for pre-order on the company's website, and it already has interesting applications for modern interfaces and gesture-based interaction. Next Industries is also looking into the Tactigon Sharp, a Tactigon that would attach to pipes, flat surfaces, vehicles, among others, and use a GPS signal or a sub-gigahertz network to send data to facilitate geo-location, preventive maintenance, or basic tracking. Hence, Next Industries is already working on the next chapter of their organization and we can't wait to see what their future holds.
Next Industries will have a booth at the New York Maker Faire that will take place on September 22 and 23, as well as the Rome Maker Faire on October 12 to 14. We encourage you to check out the Tactigon for yourself and see its potential.
ARVE Error: Mode: lazyload not available (ARVE Pro not active?), switching to normal mode