The Life.Augmented Blog loves to share the stories of ST partners that use our solutions in the most unexpected way. Here's a look at the most memorable testimonials of 2018 that show that the true greatness of a platform lies in its ability to surprise, even its creators.
---
If Santa Existed, TechShop in Station F Would Be His Workshop
Techshop opened a new prototyping lab in Station F, and ST had a front-row seat to help engineers start new projects. We offer various Nucleo boards for free to members, such as the NUCLEO-F401RE and NUCLEO-L476RG, and our experts often exchange documentation, suggestions, or guidance to ensure anyone using our solutions can more easily overcome design challenges and bring their ideas to market. Hence, it's a great way to collaborate with the makers of tomorrow and give back to the creators' community.
---
STM32 for All Ages
Photon, by Photon Entertainment, is a robot that teaches the basics of programming to students between the age of 5 and 12. The company cleverly uses an STM32F105 as a primary host and hides an STM32F0 in the head of the machine to pre-process some of the data. The company relied on our components and solutions to hasten the development process and invest more time onto the software tools that help children program the robot. The result is an award-winning toy that won a place in our 2018 Holiday Gift Guide.
---
The Power is in Your Hand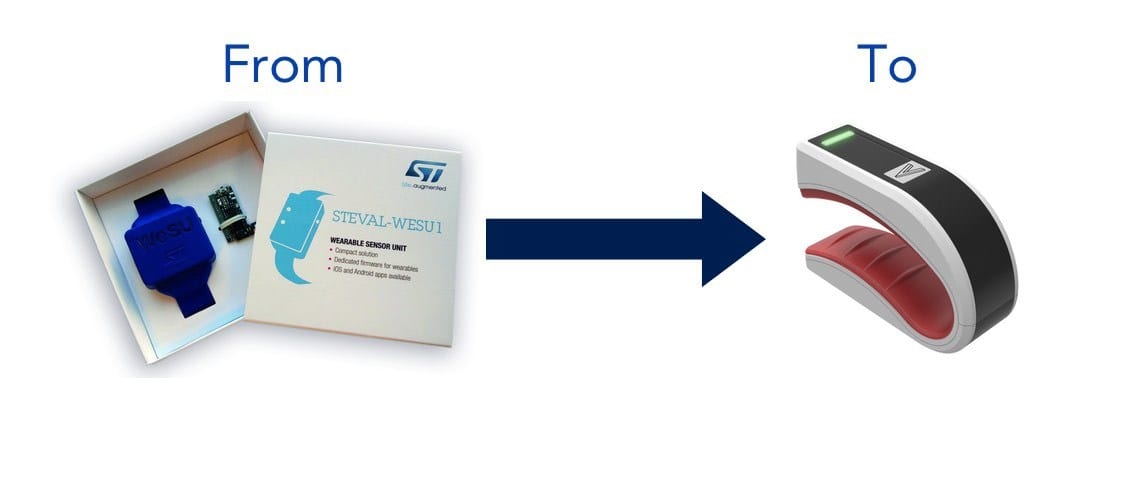 The Tactigon was an inspirational story because it showed us how a company could take our WESU reference design and enter an entirely new market. In this case, Next Industries, a young Italian startup, developed an Arduino board out of our devices and turned it into a solution that can control robots remotely using hand motions. By reusing our hardware, they were able to save time and resources that they applied to the creation of new algorithms that significantly improved their users' experience.
---
Track the "Untrackable"
Stickntrack from Sensolus, a Belgium company, enables corporations to track non-powered assets by sticking a small module that uses our S2-LP sub-gigahertz transceiver. The product is quite remarkable because it is about the size of a pack of cigarettes and lasts up to 10 years in the field. The company chose our product because it is one of the only transceivers in the industry capable of reaching 16 dB, which is great when a system is trying to connect to a Sigfox network.
---
Touch It to Believe It
Neonode is a company that keeps getting a lot of attention because its sensor module can turn any surface into a touch surface. It uses an STM32F401C to process the information from the myriad of lasers that scan a surface to detect the users' fingers. The sensor module is relatively easy to use in an application thanks to its USB HID interface and a practical SDK from the company. Neonode also relied on our support teams to optimize their bootloader and debug some operations, which is also a testament of our desire to support our partners and go the extra mile.
---
Spinning a Successful Design
STYL (Smart Technology You Love) wowed us with their pen spinning tracker. The French company was able to fit the WESU reference design into this tiny pen that tracks its movement to help pen spinners improve their technique and monitor their progress. The company told us that our reference design enabled them to accelerate the prototyping phase and they should be launching their Kickstarter campaign soon. In the meantime, they will be demoing their pen and mobile application at CES 2019.
---
A Weightless Parking Sensor
Nwave was a fantastic story in 2018 because it was not only our thinnest parking sensor, at just 20 mm, but also the first model compatible with Weigthless-N, a new sub-gigahertz standard. The company relies on our S2-LP transceiver and its Direct Polar Modulation mode to better implement DBPSK schemes that get a cleaner and more efficient signal. As a result, one of the strengths of their parking sensor is this ability to support the new Weightless-N standard to offer excellent performances.
---
Communicate Better with your Microcontroller
TapNLink, from the French company IoTize, is an innovative way to communicate with an embedded system, because it uses our ST25DV-I2C Dynamic NFC tag to read and write data directly onto the MCU, thus enabling unprecedented access to our hardware with a simple mobile application. It dramatically simplifies prototyping because it bypasses a lot of the complexities that are inherent to processor management. The product is relatively inexpensive, and it can bring powerful features, such as cloud connectivity, to almost any embedded system, which makes it truly a game changer.
---
The Prettiest SensorTile Product
Smart Barakà is the first piece of jewelry that uses a SensorTile module at its core. Made by an Italian jeweler, it is indeed a testament to the ease of use of our system that a company that has no experience in electronics can so easily integrate our devices into a fantastic product. Aimed at business professionals, the Smart Barakà tracks movements and can even serve as a remote control for PowerPoint presentations or record voice memos thanks to its mobile application.
---
The Cow Is Really Laughing Now
The smaXtec is changing agriculture in the most unexpected way. This health monitoring is a bolus, a sort of capsule that contains an STM32L431KC and our LIS2DW12 and that sits in one of the cow's stomach to track its temperature, movements, and pH, to determine, among other things, if she's in heat. It can significantly improve the results of insemination, thus saving farmers a lot of time and money. The system connects to a base station that sends data to a cloud platform. Thanks to our low-power solutions, the product can stay inside a cow for four years, which will be the typical timeframe within which a dairy cow is productive.