For the first time ever, ST was a sponsor at the 4L Trophy, a rally featuring the famous vintage French car Renault 4L. On February 15, 2018, 1,243 teams began a 6,000 km (3,730 miles) race, crossing France, Spain, and Morocco, to deliver school supplies and funds in a remote area. There were two persons in each team, all college or university students between the age of 18 and 28, and the goal was to race efficiently, reaching each checkpoint by driving the shortest distance possible while dodging treacherous desert traps and other obstacles along the way. The event's organizers worked in collaboration with Children of the Desert, a charitable organization that helps children in the south of Morocco get access to education and healthcare, and that will use the funds collected during the rally to build three schools for special needs students.
David Voge and Jean-Jacques Fagot were the two scholars representing ST during the 2018 4L Trophy. David is finishing a Master's Degree in Digital Communication and is doing an internship in the Marketing Communication Department of our Microcontroller Division (MCD). Jean-Jacques is a third-year doctoral student, working on a thesis on Emerging Memory Technologies in collaboration with our Technology Research and Development Department in Rousset, France. Both collected school supplies from the local municipality and local grade school in Rousset, but their biggest challenge was getting the funds in time to enter the competition. They organized fund-raising events, got some support from local organizations and generous donors, but they still needed to cover most of their registration costs, and they only had six months to do it. That's when they turned to ST.
From Our Microcontroller Division…
Realizing the urgency of the situation, their colleagues came to their aid and support to ensure they could get the necessary funds in time. The process within ST started when David brought up the 4L Trophy project to his colleagues at MCD, and they quickly rallied management. Daniel Colonna, Marketing Director for MCD, was instrumental in ensuring that the process moved along swiftly. This was the first time the division partook in such a project, and it wouldn't have been possible without the leadership that brought all the necessary approvals and signatures together in a record time for this humanitarian effort.
As Daniel gladly explained:
"Our STM32 (MCD's main product) butterfly's wings have to support our students in great projects such as this one. We are all very proud to have made this adventure possible. Sponsoring David and Jean-Jacques' project gave our company and its products visibility to thousands of students, and they are our future. This event was the occasion to mix philanthropic action and brand communication. Although we generally do not participate, this time we did, as the project was led by two of our students and supporting them made sense to us."
…To ST France…
Furthermore, beyond members of the microcontroller division, people in other divisions also gave invaluable help, such as Nelly Dimey, from our Corporate External Communications Department, who ensured our drivers talked to the right people and got all the support, help, and promotion they needed. As this story shows, more than just products and technologies, ST is about people who will move mountains for a good cause.
We strive to improve access to education through online courses, such as Introduction to Embedded Systems with SensorTile, by reaching academia with events such as ASTDay, or helping makers wherever they are, such as with TechShop in Station F. Nevertheless, sometimes, the spirit that animates us manifests itself in the unity and strength our people display to ensure that two students can deliver funds and school supplies on another continent using a modified vintage French car.
…To ST Worldwide
The next step was to contact our offices and plant in Bouskoura, near Casablanca, Morocco's largest city. Since our drivers were going to cross Rabba, the capital, travel by the Atlas Mountains, then race in the Moroccan desert until they reached Merzouga, a small village South East of the country, it was essential to also partner with our local teams. However, nothing prepared David and Jean-Jacques for the enthusiasm and energy of Fabrice Gomez, General Manager of our Bouskoura plant, who ensured that his site would also contribute funds and give a hero's welcome to our competitors on their way back to France. Bringing our drivers and our people in Bouskoura together was thus a great moment because it celebrated the spirit of solidarity that binds our people, regardless of our geographical location.
Fabrice was also a pivotal agent in putting David and Jean-Jacques in contact with Alain Dutheil of the ST Foundation, our organization in charge of developing, coordinating, and sponsoring projects that bridge the digital gap between populations. Thanks to Alain's leadership, Fabrice's work, as well as David and Jean-Jacques's determination, our organization clearly saw the beneficial impact on the education and livelihood of the local community and didn't hesitate to provide additional funds to sponsor the event. Hence, in less than six months, our drivers had all they needed to compete in this rally, and they made ST proud. They arrived 30th, but most importantly, they carried the aspirations and desires of our entire company across the desert to make a difference in the lives of children and to contribute to the future of special needs students.
Sponsoring Tomorrow Through the 4L Trophy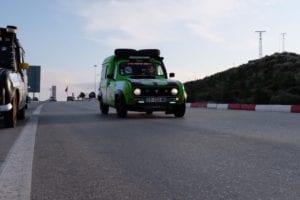 Since 70 % of the registration costs go to Children of the Desert, funding David and Jean-Jacques's race meant directly contributing to the various humanitarian efforts of the 4L Trophy. Furthermore, beyond the immediate the construction projects, the charitable organization will manage the schools for 10 years, training local educators during that time to ensure they can take over when the decade is over and independently run these institutions, thus providing jobs and careers to the local population. The event's organizers also distributed biodegradable bags and organized trash collection efforts to ensure the desert remained pristine. Road Books to guide drivers also used recycled paper, and everything was done to reduce the rally's carbon footprint.
ST also provided more than just funds. We gave pens to school children and T-shirts to our drivers who were the only ones during the race that could change clothes every day. After all, a company with clean rooms ought to have clean contestants. Surprisingly, David and Jean-Jacques told us that the hardest part of that experience was not the long travel in an old car or the difficult terrains, but gathering all they needed to participate. During those six months of preparation, there wasn't a week they didn't feel that their plans were not in jeopardy.
However, through the dedication of so many of our people, we came together to send them on this fantastic adventure. Ultimately, it was all of ST who traveled in their Renault 4L across the desert of Morocco to touch the lives of those children who will, in turn, make a difference in their communities and the world of tomorrow.