ST, a pioneer in the field of motor and motion control, offers a wide range of motor control products covering the requirements of brushed DC motors, stepper motors and brushless DC motors over an extensive range of voltage and current ratings.
Our line-up of STSPIN motor drivers embeds all the functions needed to drive motors efficiently and with the highest accuracy, and includes an advanced motion profile generator to lessen the overhead on the host microcontroller while ensuring robustness and reliability thanks to a comprehensive set of protection and diagnostic features.
Operating from a supply voltage as low as 1.8 V, the portfolio has been extended with the introduction of low-voltage STSPIN motor drivers which enable power savings in battery-powered smart devices thanks to the best-in-class standby current of less than 80 nA.
The benefit of our 10- and 15-year longevity programs are available for our industrial grade STSPIN motor drivers.
ST has extended its portfolio of STSPIN motor drivers with the introduction of four new monolithic devices that simplify design, save space and are optimized for battery-powered stepper (STSPIN220, with a position resolution of 256 microsteps per full step), 3-phase brushless motors (STSPIN230), dual DC brushed (STSPIN240) and single DC brushed (STSPIN250) motors in portable applications.
They operate from a supply voltage as low as 1.8 V, over a wide current and temperature range, and can be forced in a zero consumption state (with quiescent current less than 80 nA), which allows significant power savings for extended runtime of battery-powered IoT devices. Available in a 3 x 3 mm QFN package, they benefit from comprehensive built-in protection features including over-current, over-temperature and short-circuit for high ruggedness and reliability even in harsh industrial environments.
Discover more about the STSPIN220, SSTSPIN230 and STSPIN240 in our blog article:  World Record: STSPIN, the Smallest Single Chip Motor Driver, Still With Even More Features
stmicroelectronics-stspin-motor-control-2018

The 

STSPIN820

 is the smallest 45 V motor driver in the world that can achieve a resolution of up to 256 microsteps.
The STSPIN820 is a stepper motor driver which integrates, in a small QFN 4 x 4 mm package, both control logic and a low RDSon power stage. The integrated controller implements a PWM current control with fixed OFF time and a microstepping resolution up to 1/256th of the step. The device can be forced into a low consumption state. The device offers a complete set of protection features including overcurrent, overtemperature and short-circuit protection.
Find out more information: STSPIN820
Get to know STSPIN820 series.
A silent, high-precision all-in-one advanced motor driver:
Speaking about Motor Control we need also to focus on: "Solution for Drone Propeller Electrical Speed Controller"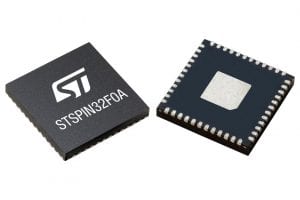 In last few years the use of drones in the consumer, commercial, and industrial markets has increased exponentially, with rapid advances in technology making them faster, more agile, and easier to control.
With the number of manufacturers growing in proportion to this market demand, drone engineers are tasked with designing ever-higher performing drones as rapidly as possible.
The STSPIN32F0 is the innovative solution to these design challenges. A 3-phase gate driver, 12-bit ADC, and 12V linear regulator are fully integrated in the STSPIN32F0, significantly reducing component count and enabling manufacturers to design much lighter and more compact ESC circuits. And to speed up the development process, the STSPIN32F0 has a built-in Arm® Cortex® M0 microcontroller with motor control algorithm library, FOC, and full set of GUI tools provided by ST.
Discover more about the STSPIN32F0 on our blog article: "STSPIN32F0(A): First Versatile Motor Controls with Embedded ST MCU"