The ST25TA, ST25DV, and ST25TV were among the first NFC tags in the industry to pass the Tag Certification Program, just less than a month after the NFC Forum made it public last September 20, 2017. Near Field Communication (NFC) is becoming ubiquitous as more consumers pay with their phones or use the technology to share contacts, files, and other pieces of information. The protocol has its origin in RFID (Radio-Frequency Identification), which dates back to the early 1980s, but only became an official standard in 2003. The original specification defines an operating frequency of 13.56 MHz, and a range of less than 10 cm, for a data rate oscillating between 106 kbps and 424 kbps. The NFC's small radius is one of its main benefits as it significantly limits the possibility of a man-in-the-middle attack and other types of hacks.
Yet, although the standard is 15 years old, the sudden and extremely rapid rise in popularity means there are a lot of different NFC tags as well as continuously new and unexpected applications with sometimes custom implementations that lead to incompatibilities with readers already on the market. Manufacturers thus had a harder time finding a part that could guarantee a level of performance and interoperability with the rest of the NFC products available. To solve this problem, the NFC Forum released the Tag Certification Program, which could be compared to a sort of "quality label" that serves as an assurance that a component passed minimum performance and compatibility tests. This type of initiative promises to increase NFC's adoption since it will now be easier and cheaper to find tags that meet the standard's specification. This is why we felt it was imperative to certify our tags.
Which ST Tags Are Certified?
Within the ST25TA family of products, we first certified the ST25TA02K, the ST25TA02K-D, the ST25TA02K-P, and the ST25TA02KB  to help engineers who need a tag with data retention of 200 years and really high endurance thanks to one million erase-write cycles. Ultimately, certifying these components was essential to show our partners that they can trust the performance, reliability, interoperability, and longevity of our solutions. We also applied for an earned certification for two members of the ST25TV family, the ST25TV02K, and ST25TV64K. The former is a much more cost-effective solution whereas the latter has a lot more memory (64 kb), and both are compatible with the NFC standard ISO/IEC 15693.
Certifying these components so quickly is already quite an accomplishment, but we still wanted to go one step further. As a result, we also submitted our ST25DV64K to the Tag Certification Program, which makes it one of the very few dynamic NFC tag on the market today to be part of this initiative. A dynamic or dual interface tag integrates both NFC and I2C, unlike traditional tags that only use the former. It is thus possible to read data from memory, just like any other NFC tag, but the I2C makes it easy to write information in the memory using the wireless module of an embedded system. As a result, dynamic tags pave the way for whole new types of industrial and consumer applications, such as firmware modifications, which are just not possible with regular tags.
Why the Tag Certification Program Is Important?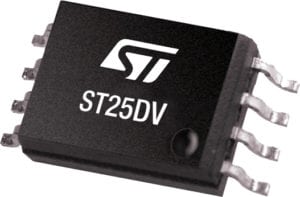 As we can already see, the Tag Certification Program is an excellent way for ST components to distinguish themselves from the competition and objectively show that we have a forward-looking catalog of tags. Indeed, the certification itself is particularly stringent. The Devices Requirements paper of the NFC Forum shows that the tags must comply to precise antenna designs, power requirements, as well as transmission, reception, and signal characteristics such as time, frequency and modulation. Furthermore, data exchanges must precisely match the type of tag that a manufacturer wants to build. Ultimately, this explains why there are currently only two companies in the world with tags that passed the certification process, and ST is one of them.
To ensure objective and impartial results, the NFC Forum uses authorized test labs to verify the compliance of a tag with its various requirements. The process itself is straightforward, and companies can usually expect to get their certification a month after the beginning of the tests; if all goes well. Unfortunately, as more and more manufacturers submit components, backlogs can increase, and firms may not be able to schedule tests as early as they wish. It is also important to note that the certification is valid for the entire lifetime of the product. Even as the Tag Certification Program receives updates over time, the NFC Forum guarantees backward compatibility with the tags that already passed the program to ensure that progress and technological advances do not force customers and manufacturers to struggle with compatibility issues.
The Other Feature of ST's NFC Tags
Hence, certifying an NFC tag is not only a guarantee of its performance, quality, and compatibility, but it's also a way to future proof it. However, ST aims to go beyond the requirements of the Tag Certification Program to offer compelling features, such as a compatibility with the ISO/IEC 15693 standard that was recently adopted by the NFC Forum for Type 5 tags. The protocol still operates at the same frequency of 13.56 MHz, but it can offer a maximum read distance of more than a meter when using powerful readers and large antennas, which explains why its nickname is the "long-range NFC". However, since the industry often favors NFC's short range, due to practical and security reason, the new standard enables manufacturers to shrink the antenna considerably and keep the same read distance as the traditional protocol.
This is particularly useful today because more and more companies use NFC tags on small products. Whether we are talking about smartphones or consumer goods like perfumes, beauty products, or any other small items that require tracking, NFC tags must adapt to smaller environments, and there's no room for a traditional antenna. As a result, these products absolutely need ISO/IEC 15693 tags, and we currently have the most comprehensive lineup of compatible components. In fact, ST is one of the companies that petitioned the NFC Forum to adopt this protocol, which explains why we are leading the industry transition to smaller antennas and new applications.
What application do you think will further increase NFC's popularity? Let us know in the comments section below.