Hard to believe it's been a year since the inaugural ST holiday-season gift guide, but the falling snow in New England is a reminder that the holiday and global gift-giving season is upon us. It seems an especially good time to continue to wish for "peace on earth and goodwill to man." And if you're looking for just the right present for that special someone– of course containing ST products and technologies — read on!
There is no shortage of possibilities for the active person on your list with Smart Things like Samsung's Gear Fit 2 Pro, a smart, water-proof fitness tracker that uses several ST components, including the new water-proof pressure sensor, to take underwater accuracy to new heights. Other wearables are equally attractive: Garmin's Fenix 5X is a multi-sport watch with a GPS mapping function that uses ST motion MEMS, ESD protection, and USB Transceiver and its Forerunner 230 incorporates ST motion MEMS in a smart runner's watch that tracks distance, time, heart rate and VO2Max; the Huawei Watch 2 is a sophisticated Android Wear smartwatch containing an STM32 MCU and ST Motion MEMS.
Active folks also know that it isn't just what's on your wrist that keeps you going. The Hublex self-balancing gyropod scooter can also help keep you moving. Built using STM32 MCUs, ST inertial measurement units, and the motionFX library, the scooter is fun, safe, and easy to use. The gyropod isn't the only gift you can give to people on the go. The Nintendo Switch is a breakthrough home video console that connects to a TV at home or can be used with its own on-the-go handheld. It uses ST MCUs, Motion MEMS, and Touchscreen controllers and NFC controllers and is especially popular with teens!
And safety is important, too. So Revolar is a small wearable built from ST MEMS that can be worn discreetly and used to signal and send GPS coordinates to let pre-defined and programmed contacts know you're safe — or need help. For parents of newborns, a Snuza smart wearable movement monitor can be a godsend. Clipped onto a diaper, it uses ST an ultra-low-power motion MEMS device to measure belly movements and vibrates and sends an alarm if the baby needs attention.  
While real safety is important, active folks might especially like the excitement of protecting themselves in battle with the Dark Side. In that case, Lenovo's Jedi Challenge AR headset could be a great gift. It contains 2 STM32 MCUs, an STM8 MCU, and an ST EEPROM.
Even with all these great gift ideas, not everyone is looking for activity-based presents. Sometimes exercising the mind and creative skills is a better match for your friends and family. So while we can highlight items like the sleekly designed Numworks graphing calculator, which uses an STM32 MCU or a Muse brain-sensing headband, which employs a range of ST products (MCU, BlueNRG, Motion MEMS, and Analog components) to guide meditation based on the real-time state of your brain,
there are also a number of ST items and tools that would be great gifts for problem solvers and the technically inclined. Something really basic but useful: Can't figure out which MCU is the best choice for your project? Of course, there is an app for that! The ST MCU finder. There are also some incredibly useful Discovery Kits, like the recently announced ST B-L475E IOT01A IoT Node, which makes it super easy to build IoT nodes by supporting multiple low-power wireless standards, including Wi-Fi, while integrating a valuable collection of motion, gesture, and environmental sensors.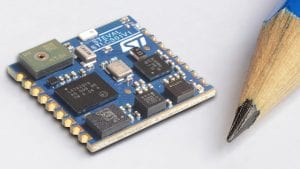 Or how about SensorTile, a highly integrated reference design that can be plugged into form-factor prototypes, adding sensing and connectivity capabilities to new designs through a smart hub solution that features a 3D accelerometer, a 3D gyroscope, a 3D magnetic sensor, a digital-output pressure sensor, a microphone, an ultra-low-power STM32 MCU, and a BlueNRG processor.
BlueCoin is another integrated development and prototyping platform, in this case for augmented acoustic and motion sensing for IoT applications. It builds on the listening and balancing capabilities of the human ear. This tiny starter kit includes a MEMS microphone array with 4 digital mics, a high-performance 9-axis inertial and environmental sensor unit and time-of-flight ranging sensors. With this and the onboard high-performance STM32F446 MCU, its east to enable real-time implementation of advanced sensor fusion algorithms like adaptive beamforming and sound source localization, with ST's ready-to-use, royalty-free building blocks.
While the list could go on, we'll finish by suggesting the STM32 Power Shield, a power monitoring solution for energy-critical embedded development projects–today, what embedded development project isn't energy critical. What makes the STM32 Power Shield especially useful is that it is the same hardware chosen by EEMBC, the industry alliance that manages benchmarks for measuring and comparing system performance.