As we prepare for the STM32 Summit (event page in English and Chinese) that will take place on April 26 and 27, 2019, in Shenzhen, China, we are now looking at the cloud computing solutions that shape this region. It's our last episode in our three-part series that delved into the significant trends that continue to shape the Middle Kingdom, starting with industrial applications and artificial intelligence. Most engineers and decision makers know that ST is unique in this industry thanks to the hardware and software we provide to create efficient cloud platforms. By merely running pre-compiled binaries, developers can send sensor data to a cloud in minutes, and our solutions continue to offer more and more features.
On the other hand, there's another aspect of our cloud strategy that many may be as popular: our local initiatives. At the beginning of the year, our teams in Russia worked with neighboring partners to tailor their approach for this region. Similarly, we are collaborating with Alibaba on a curriculum that aims to assist students by teaching them how to use our boards and microcontrollers to connect to their cloud solutions. Beyond preparing future engineers for tomorrow's challenges, this curriculum will ensure that they become familiar with tools that are pertinent for their region. The STM32 Summit will also be highly symbolic as it will gather telecom operators and many other local cloud providers that weren't present at our first STM32 Summit four years ago.
STM32WB, 6LoWPAN, and BlueTile: Bringing Connectivity to Cloud Computing
One of the more popular demos for businesses will be our Bluetooth mesh application running on our latest STM32WB, the STM32 MCU with a Bluetooth SoC that recently became available. Developers can even experience it for themselves thanks to the source code present in the STM32CubeWB firmware package that runs a demo application enabling the creation of a smart lighting system that relies on Bluetooth mesh. It is thus a great example of our comprehensive hardware-software approach. Thanks to our Bluetooth 5 stack for our microcontrollers, developers can create Bluetooth mesh applications more easily, reuse our code, and simplify the certification process to bring their ideas to market faster. Similarly, our BlueNRG SoCs also have a Bluetooth stack that supports the new mesh protocol and devices already on the market can get a firmware update to support this new technology.
The STM32 Summit will also be an excellent opportunity to introduce game-changing solutions. For instance, we will show our 6LoWPAN pack, which can create a network and send data to the Internet in just a few steps. There are very few vendors in China that support this sub-gigahertz protocol, but its efficiency and simplicity could help a product stand out from the competition. Similarly, we will also be showing our BlueTile (STEVAL-BCN002V1B) and the STEVAL-FKI001V1, two development boards that use Bluetooth and sub-gigahertz networks to bring products to the cloud. The tile even includes sensors and can serve as a reference design to easily create smart solutions. We showcased the BlueTile at electronica China a few weeks ago, and the Summit will ensure more people see what this board can do for them.
Alibaba, Baidu, Gizwits: Bringing China to Cloud Computing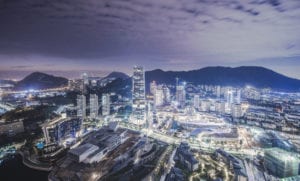 And because we are committed to delivering comprehensive solutions to China, we won't only be showing new hardware, but software packages that enable developers to connect to local cloud infrastructures in minutes. Among these solutions, we will showcase I-CUBE-ALIYUN (Alibaba Cloud), I-CUBE-BAIDU (Baidu Cloud), and I-CUBE-GIZWITS (Gizwits). These software expansion packages offer application examples to help developers test their boards' capabilities immediately and start prototyping their application faster. They all rely on our IoT Discovery kit (B-L475E-IOT01A), which became popular in Europe and North America by enabling developers to quickly connect to the Azure platform from Microsoft as well as Amazon's AWS and IBM's Watson. In 2019, the STM32 Summit will bring the same board, but offer solutions that relevant to Chinese developers looking to take advantage of the systems they already know and use.
Additionally, we are also partnering with local telecommunication companies to make cloud computing more accessible through existing infrastructures. Narrowband IoT is increasingly popular in this region, and it is fundamental to facilitate the work of engineers trying to rely on this network. Moreover, all three major Chinese telecommunication company (China Telecom, China Mobile, and China Unicom) will be present at the STM32 Summit to further strengthen the conference's impact. ST also has the desire to work with smaller companies and will use the conference to show some fascinating projects, like a smart toothbrush that uses our BlueNRG-2 SoC and MEMS or a connected shelf that tracks inventories.
The Other Silicon Valley
If there's one lesson to take away from the STM32 Summit is that it is a reflection of the vibrant community of innovators, engineers, and decision makers, which drives cloud computing in China. The popularity of online solutions, such as WeChat, QQ, or Taobao, to only name a few, shows consumers in the Middle Kingdom are willing to jump onto online platforms at a pace that's often quicker and more impressive than in other markets. Hence, the surge in cloud computing solutions in the last few years is driving manufacturers to offer products that meet the new demands for connectivity and efficiency. It also explains why our strategy to tailor our turnkey solutions to this market continues to be so successful. Thanks to robust hardware, and solutions tuned to the local infrastructures, companies can quickly jump on the bandwagon instead of being left behind.